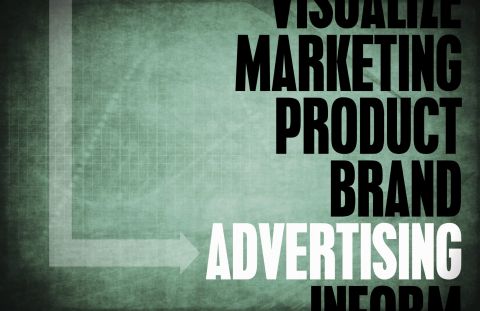 逾8成受訪者表示行業必須重組以提升競爭力,近3成人更認為變革迫在眉睫。


隨著互聯網及流動媒體發展成熟,過去10年間,市場營銷已突破傳統由上而下的單向模式,轉向以消費者主導,講求個人化及互動性。為深入了解市況,CTgoodjobs特意整合各方數據,打造一連3輯《市務人員》系列,從行業趨勢、從業員的薪酬概況和職涯發展三方面,為大家揭示最新行情。
逾8成高管促變革 前瞻行業6趨勢

英國經濟學人智庫(EIU)發表最新調查報告,訪問全球近500位高級市務人員,分別來自北美(33%)、歐洲(30%)、亞太地區(29%)、以及其餘各國等地(9%)。結果發現,逾8成受訪者表示行業必須重組以提升競爭力,近3成人更認為變革迫在眉睫,當中包括以下
6大重點範疇
:
1/ 管理層以往認為營銷的成本效益極低,現卻視之為「收入」來源
2/ 市場營銷將成為客戶服務的重要一環
3/ 市場營銷現強調潛在客戶的互動體驗,以取締舊有的廣泛營銷策略
4/ 企業開始掌握數碼營銷要訣,試圖完善營運模式
5/ 市場營銷須憑藉網絡資源,配以數據分析,與一眾潛在客戶互動接觸
6/ 市場營銷必須加以善用網絡社交媒體,以及實時個人化手機程式,掌控線上網絡營銷,以提高銷售額
職缺佔整體1成 入門職位月薪達$2.5萬

CTgoodjobs執行總監陳麗珠指,綜合2大招聘網站,發現現時約5萬個職位空缺中,1成與市務相關,當中8成為初級、入門職位,工作1年後月薪介乎$1.2萬至$2.5萬不等,反映社會對市務人員需求甚殷。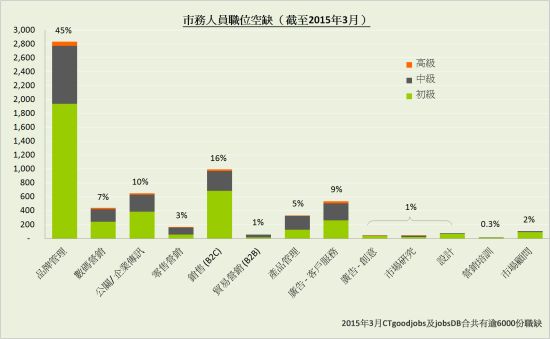 市務人員職位空缺 (截至2015年3月)
如上圖所示,在6000個職位空缺中,品牌管理人才最為渴市,佔其2800個;緊隨其後為銷售人員,共有1000個空缺;企業傳訊及公關類別佔600個;廣告客戶服務員(包括一般及數碼營銷)則有400至600個空缺。
雖然市場營銷看似廣受追捧,然而從業員的薪酬水平卻非想像中理想。下星期,我們將深入探討市場營銷的發展前景,以及業界薪酬概況。
資料來源:經濟學人智庫
上載日期:2015年5月14日
The Next Era of Marketing: Driving engagement, experience and revenue

Marketers have seen their jobs transformed over the past ten years, from mass marketing to engagement marketing. The transformation is happening again — but faster this time. To help provide a big picture of the industry, we have synthesised various sources and data into a series of insights into the new era of marketing. Starting this week, we will kick off a three-week series sharing these insights, from business trends to salary overviews and career development.

According to The Economist Intelligence Unit's survey of almost 500 high-level marketing executives worldwide, more than 80% say they need to restructure marketing to better support the business. And 29% believe the need for change is urgent, and will occur in the following six areas:

Six major trends in marketing:
1/ Marketing is shifting from a cost centre to a revenue generator
2/ Marketing will become the Chief Customer Advocate in an organisation
3/ Marketing is moving from an era of mass marketing and advertising to an era of engagement marketing
4/ Marketing needs to invest in new digital skills and operational expertise
5/ Marketing must leverage technology to succeed in this world of individual engagement at scale
6/ Key technologies like Internet-of-Things and real-time personalised mobile technologies will shape the future of marketing

Diane Chan, Executive Director of Career Times Online Limited, said, "Marketers are in great demand nowadays. Among those 50,000 job vacancies found in the two major job portals as of March 2015, 10% of them are marketing related, of which 80% are entry-level positions with a monthly salary ranging from $12,000 to $25,000."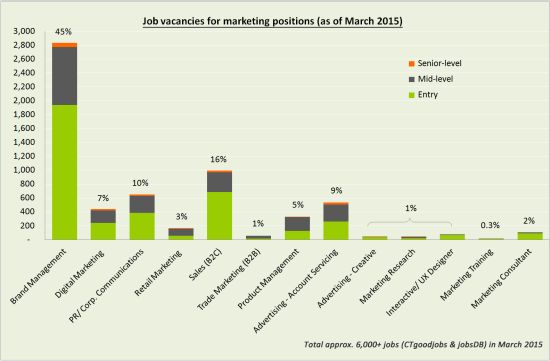 Job vacancies for marketing positions (as of March 2015)
As shown in above figure, the highest workforce demand is in brand management, seeing 2,800 job openings as of March 2015; that is followed by the B2C sales sector with about 1,000 job vacancies, 600 vacancies in public relations and corporate communications, and 400 to 600 empty spots in the advertising account servicing field, including both general and digital executives.

While marketing seems like a sought-after industry, employees in this area are not paid especially well. Next week, we will have a comprehensive overview of marketing career paths as well as the always hot button issue — salary information.

Source: The Economist Intelligence Unit Limited

May 14, 2015

Look out for further updates on our Facebook fan page!