踏入暑期求職旺季,應屆畢業生為勞動市場注入新活力。最新公布的《CTHR畢業生招聘及薪酬調查2016》顯示,畢業生3大首選行業依次為銀行及金融、媒體及傳播,以及政府部門。至於薪酬方面,僱主願意支付予畢業生的月薪中位數為$12,000,然而畢業生期望首份工作的月薪為$13,000,兩者相差千元。

CTgoodjobs人力資源專頁CTHR於本年6月進行《CTHR畢業生招聘及薪酬調查2016》*,訪問涵蓋16個行業、共205名僱主,以及269名應屆畢業生和58名本科生,分別探討他們的招聘意欲和求職期望。

畢業生期望月薪$1.3萬 較僱主預算多千元
調查顯示,近3分2(64%)受訪僱主將於未來3個月招聘應屆畢業生,其中超過一半表示無論大專、大學或以上學歷的求職者均會考慮。願意聘請畢業生的主要理由是「願意跟隨指示工作」,其次為「擁有較低的期望薪酬」和「能夠處理更多挑戰」。


薪酬方面,僱主願意支付予畢業生的月薪中位數為$12,000,然而畢業生期望首份工作的月薪為$13,000。按僱主預算比較,專上非學位畢業生與大學畢業生的月薪中位數分別為$11,000及$12,350。
畢業生首選行業:金融、傳媒擊敗政府工
受訪學生方面,77%表示會於3個月內尋找全職工作,3大首選行業依次為銀行及金融(25%),媒體及傳播(16%),以及政府部門(14%)。調查亦發現,僱傭雙方均認為「事業發展機會及在職培訓」、「薪酬及福利」和「公司環境、文化、名聲」為應屆畢業生求職時的首要考慮。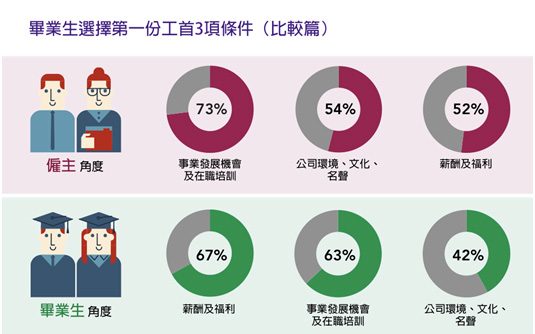 6成料服務1至3年 逾半對前景感樂觀
工作年期方面,大部分(61% )畢業生預計自己會在首個工作崗位服務1至3年,時間與僱主期望相符。

對於未來個人事業發展,55%受訪畢業生持樂觀 / 非常樂觀的態度,其中對個人能力有信心者佔31%,看好市場強大需求及行業發展前景者各有兩成以上,分別佔25%及22%。

另外,僱主於訪問中亦就畢業生的個人特質和專業水平給予評價,當中得分最高的項目為「學習態度」(以10分為滿分,得分6.3),其次是「勇於接受挑戰」和「工作態度」(兩者得分均為6.1)。CTgoodjobs執行總監陳麗珠分析指,畢業生雖樂於學習和面對挑戰,但缺乏獨立工作能力,或須在此方面加以改進。她建議僱主可考慮為他們提供各方面的在職培訓,包括語文能力、團隊精神和情緒智商等。

其他重要發現:
-85%僱主招聘畢業生時並沒有特定的大學偏好
-受訪僱主對畢業生的面試技巧和專業水平評價一般
-僱主與畢業生的招聘意向和求職期望大致相符

下載詳細報告

上載日期:2016年7月26日

Fresh graduates in demand, survey shows
The majority of Hong Kong employers plan to hire fresh graduates over the next three months – but the young jobseekers' salary expectations are slightly higher than companies' going rates, the results of the new CTHR Recruitment and Salary Trends Survey – 2016 show.

Nearly two-thirds of the employers surveyed (64%) said they intended to hire fresh graduates over the next three months, at a median rate of three new graduate recruits per company, according to the poll of 205 employers across at least 16 industries, 269 fresh graduates and 58 undergraduates. Employers who planned to recruit fresh graduates cited "willingness to follow instructions" as their main reason, followed by "lower salary expectations" and "able to handle more challenges".

Of the graduates who took part in the survey, 77% said they would start a full-time job search in the next three months, with their preferred industries being banking and finance (25%), the media and communications (16%) and government sector (14%).

Employers pegged median starting salaries for graduates with bachelor's degrees at $12,350, while the graduates themselves expected HK$13,000.

Slightly more graduates (46%) were optimistic about their future careers than those who were pessimistic (38%), and the vast majority of both employers and fresh graduates expected graduates to stay in their first jobs no longer than one to three years.

Just over half of the 132 respondents who planned to hire graduates in the next quarter said they planned to recruit a mix of candidates with bachelor's degrees and higher and those without degrees.

The employers scored fresh graduates on a range of personal and professional attributes, with the highest ratings being "willingness to learn" (6.3 out of 10), "willingness to face challenges" (6.1) and "work attitude" (6.1).
Other key findings were:
-The bulk of the employers did not have a preference for a particular university when recruiting
-Employers and fresh graduates largely saw eye to eye regarding top considerations when looking for a job
-The surveyed recruiters did not rate graduate candidates' interview skills or professional qualities exceptionally highly
26 July 2016
Look out for further updates on our Facebook fan page!