Property / Construction
A bright star in Hong Kong's engineering fraternity
by Wendy Shair
Edmund Leung
managing director
Hsin Chong Construction Group Ltd
Photo: Lewis Wong
Industry guru sets strong example for budding engineers

A lifetime as a passionate and committed mechanical engineer reached its pinnacle for Edmund Leung who was appointed Justice of Peace in 1996 and was subsequently awarded the government's Silver Bauhinia Star in 2009.

Ir Leung, currently managing director, Hsin Chong Construction Group Ltd, has built his career in the field over four rewarding decades, after graduating from The University of Hong Kong in 1967. He kicked off his career at China Light and Power Company Limited, at a time opportunities for engineering graduates were scarce. "But, early on I was given responsibility for overseeing the construction of new power plants." he recalls. "This particular project gave me great exposure during my first five years with the company."

With such a solid foundation, he decided to go it alone and set up his own business in the manufacturing sector, but after three years returned to engineering, believing that this was where he could use his full potential, first with The General Electric Company of Hong Kong Limited where he was involved with a number of planning, design and construction projects for the first phase of the Mass Transit Railway (MTR).

Over the next few decades, Ir Leung worked for several engineering and construction concerns, rising through the ranks and finally becoming chairman of Hyder Consulting. Although he partially retired in 2003, he kept his professional life going as a part-time advisor and independent director for a number of firms, contributing to, in particular, professionals areas involving corporate governance and public services.

A wide impact

An industry veteran known for his commitment to supporting the industry's growth, Ir Leung has much to offer. "Having worked in the sector for so many years, I'm equipped with a broad range of skills covering the power, railway and construction industries," Ir Leung notes, adding the he enjoys mentoring up-and-coming professionals in mechanical engineering, with the expectation that they will contribute to the profession.

Dedicated to improving and developing the quality of engineering education, he is an honorary fellow of The University of Hong Kong, as well as of Lingnan University. "It's important for young engineers to immerse themselves in the field and to work hands on, getting a feel for the machines we use, but apart from hard skills, they also need the soft skills to make the right judgments. Theoretical textbook knowledge is important, but so is a willingness to learn from mistakes," he stresses.

In 2009, Ir Leung went back to full-time employment as managing director of the publicly-listed Hsin Chong Construction Group Limited, a leading provider of comprehensive construction services in Asia.

He has remained active in public service, with wide-ranging involvement in the engineering and education sectors, and is also chairman of the government's Energy Advisory Committee. In addition, he is a Hong Kong Airport Authority board member and chairman of the Financial Reporting Council's process review committee.

Vital qualities

Engineers these days must have good language and communications abilities, Ir Leung says. "I was lucky to have the opportunity to work with many expatriates in the past and this helped to polish my language skills."

He loves his work and is a self-proclaimed workaholic. "I don't have much time for leisure. A work-life balance doesn't seem to work for me, as I tend to spend my spare time contributing to public service. But I believe good time-management skills are important," he concedes.

Although engineers no longer have to do manual calculations in this computerised era, there are no fixed formulas or answers when it comes to management issues. "Professionals with good management skills should be able to prioritise and delegate tasks efficiently," he notes.

Self-discipline and a serious attitude to the job at hand are crucial attributes for success, as are creative thinking, teamwork and a well-developed set of interpersonal skills. "This industry involves interaction with many people from different backgrounds," he remarks.

Now continuing his role as an active member of the profession, Ir Leung often leads young graduates on site visits to the mainland. "Engineers should not let themselves be restricted by boundaries and newly qualified personnel must be prepared to work outside the confines of Hong Kong," he notes, advising local talent to explore specifically the market potential in mainland China. "Hong Kong is a metropolis, but the mainland is still on a steep growing curve."

Describing his Silver Bauhinia Star award as very meaningful to him, he says, "It showed that my effort had been noted and recognised. Work achievement is a key motivation."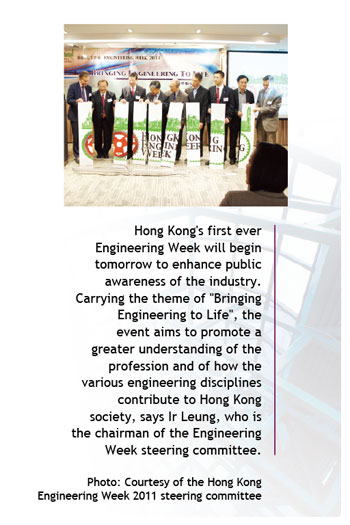 Taken from Career Times 4 March 2011, B3

讚好 CTgoodjobs 專頁,獲取更多求職資訊!