Career Path
A fulfilling flying career
by Ada Ng
Lucy Tsui
inflight service manager and learning and development executive
Cathay Pacific Airways Limited
Photo: Dickie Tam
Working in the aviation industry was Lucy Tsui's childhood dream. Now inflight service manager and learning and development executive for Cathay Pacific Airways Limited, Ms Tsui has come a long way since applying for her first job with the airline.

"I was attracted to the glamour of air travel, the elegant image of flight attendants, as well as the opportunity to work in a culturally diverse environment with global exposure," she recalls. "I didn't think twice before applying for a vacancy with Cathay, a global carrier with a healthy image and strong, reliable international reputation."

Since then, Ms Tsui's career has followed a structured path, progressing from flight attendant in economy class, then business and first class, before moving up to the positions of flight purser, senior pursuer and eventually to her current role of inflight service manager (ISM).

Her current duties entail overseeing safety issues and service delivery across the entire aircraft, ensuring that her passengers have a safe and enjoyable journey.

Aside from communicating with colleagues, pilots and ground personnel, crewmembers provide service to passengers from many different nationalities. "One great thing about our job is that we interact with people from many different backgrounds and cultures. This is a great way to learn about the world," she says.

Holistic picture

Flight attendants do much more than simply greeting passengers and serving meals, Ms Tsui stresses, adding that they play an important role in the success of an airline.

While their prime role is to ensure passenger safety, they must also be knowledgeable about almost all facets of air travel, including technical aircraft knowledge, operational procedures, safety and security compliance, customer service preparation and delivery, first aid and medical conditions, and emergency procedures.

"With such a wide range of responsibilities, our hearts really have to be in our jobs," she remarks. "More importantly, we need to think on our feet and anticipate passenger needs."

She believes in conducting flights with "happy crew and happy passengers". A competent cabin attendant should be proactive in offering assistance and services straight from the heart before passengers even have to ask, and always seek to go the extra mile to make them feel special, she adds. It is also vital to remain calm and positive when dealing with passengers who need additional attention and at times accommodate special requests in order to help them to relax and enjoy their flight.

Staying in control is particularly important in Ms Tsui's current position, as both passengers and crew look to her in the event of unforeseen circumstances or emergencies. "It is expected of me to stay calm and act smart in any given situations," she emphasises.

It can be challenging for crew members to work closely, and for long periods of time, with colleagues they may never have met or worked with before. One of Ms Tsui's jobs is therefore to establish a positive working atmosphere, promote teamwork and reinforce a shared goal.

Cabin crew usually meet 90 minutes prior to departure, at which point she discusses with them objectives, procedures and other specifics related to the upcoming flight. This is followed by meeting the flight deck team and then proceeding to the aircraft for other preparations, such as checking safety equipment, meals, entertainment system, cleanliness and aircraft security.

Ms Tsui believes in hands-on leadership and helps her colleagues where she can. "Once airborne, we're in an environment with limited resources, so we've got to work together," she stresses. "Every individual's effort is invaluable for a safe and successful flight."

Take off

A top performer, Ms Tsui has been appointed as learning and development executive to truly "preach what she practises" via offering coaching and training to new crew members. "Cathay Pacific runs a comprehensive training and development programme to familiarise employees with aircraft safety procedures and inflight services," she says.

New recruits undergo six weeks of induction training to acquire knowledge and skills. This comprises e-learning, classroom facilitation, experiential learning, case studies, role-playing, aircraft simulation exercise, as well as an on-the-job learning. The programme makes certain that trainees obtain all the necessary skills and knowledge through an interactive blended learning approach.

Flight attendants have ample opportunity to refresh their knowledge and skills via annual refresher workshops and they benefit from targeted training programmes for skills enhancement and promotion along their own development path. The array of such programmes cover staff progressed to operate different types of aircraft, to work in business class or promoted to a higher rank.

"Flight attendants work around 85 hours a month, which includes flying time as well as credit hours for training and annual leave," Ms Tsui reveals.

The job is as challenging as it is exciting and rewarding. "Apart from making my flying dreams come true, the job has paved the way to lifelong learning and personal growth," she adds.

The opportunity to move laterally within the company has been equally rewarding. "It's a great experience to assist new trainees to build their careers in the airline industry. Their progress gives me a sense of satisfaction and motivates me to improve my own work," Ms Tsui notes. "Furthermore, the company has also given me full support for my postgraduate studies alongside numerous opportunities to widen my horizon."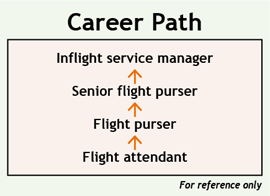 Taken from Career Times 3 September 2010, A12

讚好 CTgoodjobs 專頁,獲取更多求職資訊!