MT Opportunities
A full complement of teams
by Grace Chan
Hong Kong telecom carrier to launch global search for talent with imagination and flair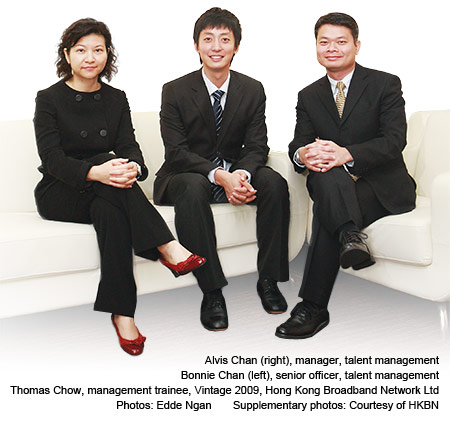 Forward-looking companies are constantly looking to inject new blood by recruiting young talent with a breadth of thinking that extends beyond local horizons. Over the past 10 years, Hong Kong Broadband Network Ltd (HKBN), a wholly owned subsidiary of Hong Kong and NASDAQ listed City Telecom (HK) Limited, has groomed numerous young executives via its unique "CXO of The Future" management trainee (MT) programme.

In order to meet the rapid pace of development in the telecommunications market, the company extended the programme to 18-months in 2007 and this year strengthen its overseas recruitment drive, offering successful candidates an attractive package that comprises a monthly pay packet of HK$20,000 to HK$22,000 with a gratuity bonus in addition to a chance to take an exciting career path.

"We aim at bringing in talent from different cultural and academic backgrounds," says Alvis Chan, manager, talent management. "Our belief is that this will bring fresh dimensions and creativity to our business."

"To help meet our future recruitment needs, we've built a new e-recruitment platform to facilitate online application and selection," says Bonnie Chan, senior officer, talent management, HKBN. She adds that only candidates that demonstrate a genuine passion in their application will eventually stand out.

Stretching potential

Competition for an HKBN trainee position has been keen. Ms Chan advises job candidates to show their true enthusiasm for HKBN and academic strengths as well as personal traits in their applications.

After a series of written tests and a group interview, about 10 shortlisted candidates are immersed in experiential training during which their strength of character, independent and lateral thinking, as well as leadership are tested.

Once recruited, trainees experience job rotations at all 40 of the company's business divisions during the first 12 months and are tasked with challenging duties and ad-hoc projects that help bolster the skills and knowledge required in the field and to challenge their adaptability and flexibility. The final six-month placement will be arranged in line with the trainees' career aspirations. Trainees have the opportunity to shadow William Yeung, the company's CEO and may qualify for the role of personal assistant to the company's chairman Ricky Wong.

Three major challenges incorporated in the programme include sitting the Chartered Financial Analyst (CFA) Level I exam five months after signing on with the company, running a half marathon two months afterwards and digesting at least one management book each month throughout the training. The CFA qualification is required since our future executives are expected to be able to speak and understand the "business" language.

"Apart from weekly self reflection, we collect feedback from their mentors and big brothers or sisters. We also invite comments from their peers via an online platform," Ms Chan explains. "Continuous feedback from different perspectives is essential for the trainees' personal development."

In spite of the endless challenges, dedicated trainees will be rewarded with an accelerated career path and personal enrichment." Our talent are encouraged to keep looking for opportunities within HKBN," Ms Chan confirms.

At HKBN, management trainees are trained to be generalists with prospects for future roles such as the company's CEO, CFO and CTO, according to Mr Chan.

Permanent positions are not guaranteed after the programme and MTs have to submit their resumes to internal departments for a job within the group.

Thomas Chow, Management trainee, Vintage 2009
Qualification: Bachelor of Social Sciences, The University of Hong Kong

Today's young graduates look for continuous learning and development opportunities in their future careers. More often than not, they examine a company's corporate culture before sending off an application.

"I'm impressed by HKBN's uncomplicated corporate structure and innovative thinking. Most important of all, its performance-based assessment system offers a non-traditional promotion route to those striving for the best," he adds.

Mr Chow won over more than 500 applicants and became one of the company's three management trainees last July. His tip for success is simple: be extremely well prepared.

"I studied the company's website and in my application letter tried to align my university experience with HKBN's core values. I also acquired some knot tying skills before going on the experiential training and at the final interview, I asked a business-related question which was based on a thorough research of the company," he recalls.

Over the past eight months, Mr Chow has had amply opportunity to learn the ropes. In particular, he was assigned as the CEO's personal assistant for a month. He was also given the responsibility to present to a Korean telecom company's delegation on HKBN's network development and to help out in the MT recruitment. "I can see myself growing personally and professionally, with business acumen honed and communication skills enhanced," he says.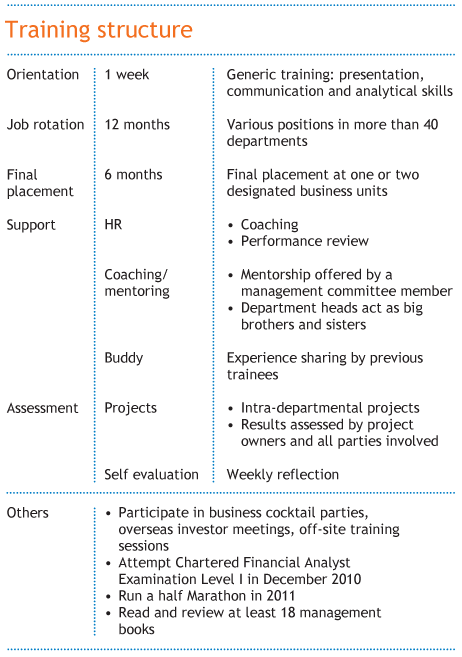 Taken from Career Times 19 March 2010, A15

讚好 CTgoodjobs 專頁,獲取更多求職資訊!