Education
A global horizon for executive education
by Grace Chan
Chris Chan, assistant dean (MBA)
Faculty of Business and Economics
The University of Hong Kong
Photo: Leung Chun-ki
MBA programme offers unprecedented flexibility of studies

Global business acumen in addition to general management knowledge and a plethora of people skills are expected of today's business executives. For this reason, aspiring individuals pay premiums to obtain qualifications that come with a full package of these and more.

"Internationalisation and diversity have always been our university's traditional values," says Chris Chan, assistant dean (MBA), Faculty of Business and Economics, the University of Hong Kong (HKU). "It's our worldwide recognition that attracts students from all over the world to enrol in our MBA programme," he notes.

International exposure

In a bid to facilitate the integration of a global perspective into the intensive learning process, the university's MBA programme provides its students with an opportunity for a four-month study stint at the world's leading business education institutions such as London Business School, Columbia Business School in New York and Fudan University in Shanghai.

"Aside from the experience and networking opportunity, students also gain international business and cultural exposure as well as alumni status and certificates awarded by these top business schools," Dr Chan emphasises.

Students looking to train their sights on China business may opt for related courses that incorporate field trips and company visits to mainland cities such as Beijing or Shanghai. Similarly, those taking courses like international business and global business environment can expect to take part in study trips to European cities including Paris and Brussels.

Dr Chan reveals that some 20 per cent of the programme's full-time students are locals and the rest of them hail from countries like Switzerland, Spain, Japan, the US and the UK.

"Expatriates make up bout 30 per cent of the programme's part-time students and around a tenth of them are from across the border," Dr Chan says, adding that the number of mainland students has been increasing since the university started to offer weekend classes two years ago.

Executive skills

The MBA programme comprises eight core courses designed to impart a comprehensive range of knowledge and skills across the business spectrum. These include accounting for business decisions, managerial economics, strategic marketing management and global economy.

Interpersonal skills are, more often than not, crucial to the successful management of business complexity. In view of this, the programme incorporates four courses that cover business communication, business law and ethics, creativity and business innovation and leadership. "Business executives across the board may possess similar academic qualifications. It is their flair for the softer side of the business that really sets them apart," says Dr Chan.

Students are required to complement their core learning with eight electives based on their own interest and career aspirations but with about 30 options currently on offer, they are spoilt for choice.

He notes that a high level of practicality adds values to the learning experience. In particular, the university's research affiliation Asia Case Research Centre (ACRC) immerses students in business case studies and discussions, helping them to develop strategic thinking and decision-making capabilities. Top executives from reputable multinationals are also invited to address students and share their expertise.

The MBA curriculum is regularly reviewed by a panel of business experts and academics so as to keep students abreast of change and new challenge on the corporate landscape. Courses on social corporate responsibility and green business are among the latest additions.

Flexible learning

Applications for the annual MBA intake could reach as many as 400 but the class sizes are kept small—about 50 students for the full-time class and 70 for both the part-time weekday and weekend ones.

The programme can be completed full-time in about 14 months, or part-time in a maximum stretch of four years. Part-time students may join weekday classes twice a week or weekend classes held on Saturday.

"Part-time classes are offered on a modular basis with each module lasting around five weeks. Students who find themselves tied up with work or personal commitments may defer a module or two instead of the entire semester," Dr Chan points out.

Despite this, students are expected to commit time and effort since assessment is usually accomplished by having students undertake team projects in addition to some coursework and exams.

Upon completion of the programme, graduates may apply for overseas internships or job offers arranged by the Career Development Office. According to Dr Chan, some 90 per cent of the full-time graduates last year secured a job and two thirds of them received job offers through the Career Development Office.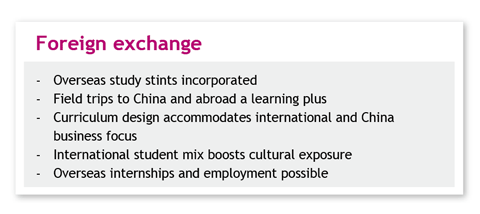 Taken from Career Times 19 March 2010, A9

讚好 CTgoodjobs 專頁,獲取更多求職資訊!