Education
A global means of communication
by Isabella Lee
Martin Warren, programme leader
Master of Arts in English for the Professions
Department of English
The Hong Kong Polytechnic University
Photo: Raymond Yick
Outstanding English skills can enhance careers in every industry

The transfer of Hong Kong's sovereignty to the Chinese government in 1997 may have given the international city a world of possibilities, but good English skills remain essential in various, if not all, aspects of the Hong Kong way of life.

Although the city has a distinctive trilingual status, English is still the most important business language in the current economic environment, says Martin Warren, programme leader, Master of Arts in English for the Professions, Department of English, the Hong Kong Polytechnic University.

Hong Kong people learn English not only to speak to people from Western countries. In many cases, the language is regarded as a common link between people with different mother tongues, for example in commercial activities with people from countries such as Japan, Korea and Thailand, Professor Warren explains.

Practical skills

The university's MA in English for the Professions programme is designed primarily for mid-level managers who need to be highly proficient in English in order to carry out tasks effectively, appropriately and confidently in a professional context.

The curriculum includes subjects on the principal language systems such as grammar, discourse and phonology.

It seeks to sharpen awareness of how communication functions in organisations, giving students a better understanding of the underlying concepts and skills involved in using English across different organisational and cultural settings.

"The programme focuses strongly on communication," Professor Warren says. "People need more than grammar and vocabulary to communicate effectively. They need to learn to be competent in different genres, contexts and cultures. When people are in contact with counterparts from other cultures, miscommunication is not always directly language related, so we also strive to improve students' awareness of such differences in a number of areas in this programme."

Students are provided with an effective repertoire of practical communication strategies that help them to deal with demanding managerial tasks in their day-to-day working life. Those choosing to embark on research studies as part of the programme are equipped with the necessary skills to complete and write up their projects.

"There are very few professions in Hong Kong where English is not needed for career success, particularly once the person has spent a few years in the job. When engineers begin their professional careers, for example, they may need mainly technical skills. But once they're promoted, they need enhanced communication competence to manage others. This applies to most professions," Professor Warren points out.

Mastering the skills

As good English skills become increasingly important when professionals move up the ladder, people who do not have undergraduate language degrees may encounter difficulties. The MA programme is therefore recommended for applicants from all professional backgrounds especially those who do not already have higher-education qualifications related to English communications.

By the end of the programme, students will have acquired the skills that enable them to cross previously existing language barriers, helping them to meet their organisations' expectations and to become better professional communicators. This is particularly useful once they take on managerial roles or move into more senior positions.

Professor Warren notes that networking is an important aspect of business, not only in Hong Kong but everywhere in the world. He adds, "When people from a wide range of backgrounds get together, it provides a fantastic networking opportunity."

Over the last two decades, the programme has attracted students from all walks of life. Students have benefited from the expertise of the department's Research Centre for Professional Communication in English (RCPCE), which is hosted in collaboration with members and associates involved in a broad spectrum of work in the area of professional communication.

This is a subject area where research and development work can yield important theoretical insights, as well as practical outcomes, Professor Warren says. The RCPCE is therefore able to provide valuable input into language and communication training programmes such as the MA in English for Professionals. The majority of lecturers in the programme are also active contributors to the research centre.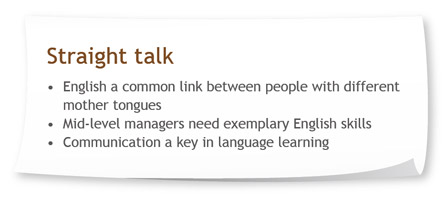 Taken from Career Times 26 February 2010, A6

讚好 CTgoodjobs 專頁,獲取更多求職資訊!