Career Path
A hands-on approach to recruitment
by Pascale Seiler
Mark Ellwood
managing director
Asia (ex Japan)
Robert Walters
Photo: Louis Lam
Hard work and commitment go a long way in business and the career of Mark Ellwood, managing director, Asia (ex Japan), Robert Walters, bears testament to this.

Mr Ellwood came from Manchester and started his career in the 1990s up north in the UK, getting a foothold in the recruitment industry through hard work and enthusiasm.

He believes that job enjoyment and satisfaction are key to success and these have helped him pave the way towards a career in recruitment. An open mind and a "can-do" attitude have been instrumental in his move up the corporate ladder. After moving to London, he tapped into the recruitment industry. Mr Ellwood initially found that the buzz on the trading floors and excitement of meeting new people around the world create a dynamic and exhilarating career environment.

Making it work

From early on, Mr Ellwood has found his role to be varied and fulfilling. He likes the idea that every day brings something new.

Opportunity came knocking in 1999, when global recruitment consultancy Robert Walters approached him to head up its banking team in Singapore. He soon proved himself within the organisation and the possibility of running the Singapore office became a distinct reality. In 2001, he took up the position of managing director of Robert Walters' office in Singapore.

As the financial crisis hit, Mr Ellwood rose to the challenge with a resilient and committed approach to service delivery and Robert Walters went on to win a number of recruitment accolades in Singapore and other Asian countries, reinforcing the firm's position as a recruitment specialist of choice.

Mr Ellwood's role was broadened in 2006 to encompass the group's Malaysia business and in 2008 to include Thailand. In April last year, he was appointed managing director for Asia, overseeing the company's operations in markets including mainland China, Hong Kong, Malaysia, Thailand and Singapore.

"Success in recruitment largely boils down to the talent and people within an organisation," Mr Ellwood believes. "Employees are the movers and shakers of the business," he says, adding that he never loses sight of this fact.

He is therefore committed to developing people, not only through a tailored training programme, but also by creating opportunities for staff to work overseas within the group.

"Graduates who enter the business don't have to stay at a junior level. The key is to be proactive, work hard and demonstrate a commitment to the job and everything it entails," he adds.

Embracing success

In the recruitment industry, the rewards are there for the taking, Mr Ellwood observes. "Look further than financial compensation," he advises. "In this industry, you have the opportunity to be responsible for your own profit and loss and to go further to manage a team, set up a new division and subsequently head up a new team. The world's your oyster in every sense of the word."

In order to truly understand the sector, newcomers must ensure that they gain a clear idea of the competition in the marketplace, as well as competitors' brand positions and market values, Mr Ellwood notes. People should also examine their own preferences, including establishing whether they enjoy working in an individual or a team environment.

"There's great opportunity within recruitment to take the bull by its horns and to be successful in a new field," he says, adding that he is excited about the possibilities for growth and prospects offered by the expansion of emerging markets.

"To be a true market leader, you have to assert yourself as a global force and that's what we pride ourselves on having established," Mr Ellwood stresses.

Even with a clear, mapped-out career path, the journey to the top is not always straight, he advises. "Hard work and an unconventional approach will take you far, ensuring unlimited rewards and possibilities."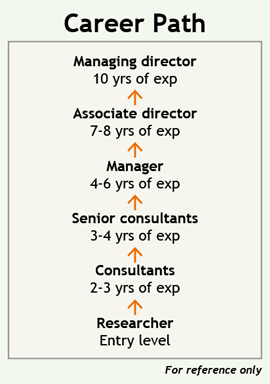 Taken from Career Times 19 March 2010, B13

讚好 CTgoodjobs 專頁,獲取更多求職資訊!