Self-enhancement
A road paved with gold
by Aldric Chau
Hard work pays off with greater role in business achievements
Jack Chow
partner, audit
KPMG China and HKSAR
Photo: Wallace Chan
In the Career Times' seminar on "The Accountant's Road to Success II" held last week, three leading accounting professionals from internationally-renowned accounting firms shared with the audience their experience and personal perspectives regarding industry development, tax advisory services and business risk management services.
Transforming industry
Jack Chow, partner, audit, KPMG China and HKSAR told the seminar-goers that accountancy is far more than calculating a firm's total assets and accountants' responsibilities continue to grow.
With more than 20 years of experience with KPMG, Mr Chow has seen a tremendous change in the industry. "'In the past we focused on working for manufacturing firms," he said. "After the economic restructuring, now most of our clients are from information technology or finance sectors." As well as the change in type of target customers, Mr Chow explained that another transition for accountants is that they are no longer bound to work locally but often all around the world.
He said KPMG is always sending staff abroad to learn about other countries' accounting expertise so that new ideas can be brought back into the firm and improve knowledge in the international arena.
However, in the midst of globalisation, he emphasised that it is important for accountants to find their niche and position in the market. For instance, he noted, accountants in Hong Kong are continuously facing challenges from their counterparts across the border. "In the past people might have thought that those from mainland China were not proficient enough in English and lacked global exposure. But now the picture is completely different," he said.
Mr Chow pointed out that as accountants on the mainland are evolving to be professional leaders in the industry, local accountants must put extra effort into enhancing their competitiveness to survive. "You must gain a great deal of job knowledge and professional qualifications, but how well you can communicate the technical knowledge to your clients is the key to success," he stressed.
Global intelligence
Peter Ng, partner
tax services
PricewaterhouseCoopers Ltd
Photo: Wallace Chan
Peter Ng, partner, tax services, PricewaterhouseCoopers Ltd demonstrated his superior communication skills, sharing with seminar attendees the passion he has for his job speciality — tax advisory services.

PricewaterhouseCoopers' tax advisory services can be broadly divided into compliance service and tax consulting service, Mr Ng explained. Compliance service is about following regulations when a company makes tax payments to the government and answering enquiries from the Inland Revenue Department for a client, and tax consulting is about answering enquiries from clients themselves. Since there are only three main kinds of tax in Hong Kong, namely profit, salary and property, such services sound simple. However, Mr Ng noted, it can become complicated when a company's branches are in other countries which impose different forms of tax.

Providing sound taxation consulting services requires strong analytical powers and an ability to see beyond what is stated in a company's books. Mr Ng advised budding accountants not to simply believe in what is presented but to search for the reasons behind the figures.

He told the audience that training is paramount for accountants and that PricewaterhouseCoopers put significant resources into this area. Each member of the firm's staff receives more than 100 hours of training annually though training is particularly intensive for fresh graduates. They are considered to be blank sheets of paper that will be painted with different colours as they undergo training and accumulate industry experience.

To allow accountants to gain greater international exposure, the firm regularly sends staff overseas for a period of three months to two years. Of the 9,000 PricewaterhouseCoopers staff in Hong Kong, 300 are currently seconded to branches of the firm in the US, UK and Canada.

Mr Ng recalled how he benefited from international exposure, joining a leadership programme in Yunnan, China, where he received training in leadership skills while making contributions to the local community. He said that such training programmes are a great platform to improve relationships and morale among the firm's big team.

In addition to the numerous professional qualifications that accountants have to attain, Mr Ng told listeners there are many other hurdles on the path to success in the industry. However, he noted, the hard work will bear fruit when they have gained the trust and recognition of their clients.

Minimising risks
Patrick Rozario
principal, business risk service
Grant Thornton Hong Kong
Photo: Wallace Chan
As business always comes with different kinds of risks, another role of an accounting firm is to provide risk management services. Patrick Rozario, principal of business risk services at Grant Thornton Hong Kong believes that it is the accountant's role to minimise and manage clients' risks so that they can focus on their businesses.

During the seminar Mr Rozario introduced four main ways to achieve this aim: First, prudent corporate governance and a good internal control environment can reduce business risks, and this can be achieved by building a healthy relationship among owners, employees and management. Second, buying insurance can help a company share and transfer its business risks. Third, buying derivatives and hedging can work to minimise risks. The final, though least preferred, is that the way of reducing risks is by avoiding certain kinds of business.

Mr Rozario explained that to effectively minimise business risks it is important to know what kind of risk a company can withstand. For instance, there are strategic, operational, financial and information technology risks. He pointed out that Grant Thornton has a proud history of successfully assessing its clients' risks quantitatively and qualitatively through financial analysis and thorough study of their business models.

He added that another indispensable task for accountants in managing risk is to prioritise risks with regard to their significance and likelihood. For example, risks from natural disasters such as an earthquake can cause significant damage to business but is relatively unlikely to occur.

To aspiring accountants Mr Rozario emphasised the value of mature communication skills and extended this to include other soft skills such as organisation skills and language skills, which help accountants to interact smoothly with clients. He said that soft skills can be especially challenging to master and advised candidates to brush up on them when preparing for job interviews.

He added that a technical background and industry knowledge are also vital for success. He said Grant Thornton prefers candidates with past experience in accounting or in information technology for positions in technical risk management.

Mr Rozario also emphasised the significance of corporate governance and ethical practice in an accounting firm. He noted how important an accountant's role is in improving and maintaining prudent corporate governance, particularly since the scandal involving US company Enron. "Accountants can contribute in many ways and it is essential for them to assist clients in complying with accepted industry standards," he said.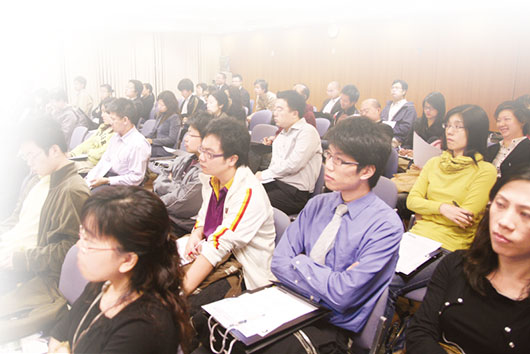 Taken from Career Times 09 November 2007

讚好 CTgoodjobs 專頁,獲取更多求職資訊!