Career Path
A spotless career in hospitality
by Charles Mak
Grace Lo, executive housekeeper
Hyatt Regency Hong Kong, Tsim Sha Tsui
Photo: Edde Ngan
When the Hyatt group decided to reopen the Hyatt Regency Hong Kong in bustling, tourist-laden Tsim Sha Tsui, Grace Lo was among the first to witness the rebirth of the legendary hotel. However, that was not her first. Over the last decade, as a Hyatt executive housekeeper, Ms Lo has helped furnish several Hyatt properties across the greater China region.

Ms Lo started her housekeeping career in 1986 at one of Hong Kong's swankiest hotels. A few years later, her growing competence was met with a challenge—the grand opening of the Grand Hyatt Hong Kong in Wan Chai. "I felt sufficiently equipped for a move and thought the Hyatt group would offer me better prospects," she recalls.

It did. Over the course of her Hyatt career, she steadily rose from the position of executive floor team leader responsible for a team of six, through the ranks across properties and regions, managing a diverse and hectic daily schedule peppered with recruitment, training, coaching and management duties.

Her first eight years on the Grand Hyatt Hong Kong executive floors prepared her for the launch of the group's first Grand Hyatt brand hotel in up-and-coming Chinese cosmopolitan Shanghai where she stayed for 10 good years during which she broke down language and cultural barriers and helped to transfer, set and maintain the Grand Hyatt standards.

"Back then, Hyatt was an unfamiliar brand on the mainland and I parachuted into the community with little local knowledge. To my relief, I was among friendly colleagues so I faced every challenge with a positive mindset and approached every task with increased confidence," she says.

Executive moves

Like everything else that bears the Hyatt logo, a career with the international hospitality group also comes with a promise.

"Handwork, dedication and achievements never go unnoticed at Hyatt," confirms Ms Lo, who a year earlier came back to Hong Kong to assume her position as a key member of the Hyatt Regency Hong Kong, Tsim Sha Tsui launch team.

The sphere of her current responsibility encompasses people management as well as that of the hotel's public areas, restaurants, laundry room, staff linens and guestrooms. Her typical days stretch from eight o'clock in the morning to around six in the evening, starting with a morning briefing and checking overnight logs.

She also plays an instrumental role in facilitating cross-departmental collaborations. "For instance, we may prepare a suite for a media photo shoot organised by our marketing and communications colleagues in the morning and help the events management teams with arrangement for a corporate event in one of our function rooms later in the afternoon," she says.

Staff management, in Ms Lo's opinions, is a challenge of a different stratum. "I need to be on the floor sometimes," she explains. "There may be guest issues, and if not, I'd just like to make sure my colleagues are doing fine and see that I'm fully engaged with the operation."

Ample work opportunity in the hospitality industry means that staff turnover can be alarmingly high. "We pull out all stops to retain loyal and competent staff," Ms Lo says. "It takes time to build up someone who works to our standards so if ever a member of staff expresses grievances, we try and offer solutions."

Bright futures

As Hong Kong's hotel industry develops, Ms Lo believes young people looking to enter the field can expect a stable environment complemented with exciting prospects. She remarks: "I've seen young colleagues take on increased responsibility, transfer horizontally to other departments or be stationed at the hotel's overseas properties." She advises people in junior positions to "hang on in there and seek to add value to your job by means of self enhancement."

New entrants to housekeeping usually start as room attendants. After a two-day orientation and a week-long one-on-one training, floor staff are then expected to be fully geared for a series of daily tasks, which includes maintaining optimal cleanness of guestrooms.

Ms Lo exercises caution and rides on her people management experience when assessing a job applicant. "We enter guests' rooms every day. Integrity is a priority in our line of work," she notes. "I also pay attention to job candidates' attitude, appearance and hygiene as well as interpersonal communication skills."

The job may not be glamorous; it nevertheless entails challenges and a level of job satisfaction on par with other front- and back-of-house functions. "Guest compliments are common," Ms Lo says.

She emphasises, however, that customer segments differ from brand to brand, location to location, and that people working in a hotel group such as the Hyatt must develop a level of adaptability alongside their specialist skills. "Guests staying at Grand Hyatt, Hyatt Regency and Park Hyatt may have different expectations and our properties under these three brands may therefore have varying standards to follow," Ms Lo notes.

In her spare time, Ms Lo likes to drive around town or go to the cinema. "Unlike the old days, Hyatt staff now work only five days a week. So I have plenty of time to tend to my other obligations and even clean my own flat," she chuckles.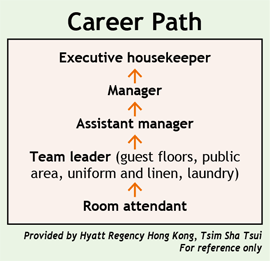 Taken from Career Times 25 June 2010, B12

讚好 CTgoodjobs 專頁,獲取更多求職資訊!