Self-enhancement
A time to build
by Howard Ho
In the recent construction boom, aspirants will not only be able to see the world; they will help build it
Shen Li-yin, professor
Department of Building & Real Estate
The Hong Kong Polytechnic University
Photo: Wallace Chan
To all the childhood Lego fanatics and aspiring architects, designers, engineers, and building professionals: It's time to take your career off the drawing board and into the largest construction boom in recent history.
The hallmarks of any booming economy are soaring skyscrapers and remarkable infrastructure. With the rapid expansion of regional economies in Asia and the Middle East, it seems as though such structures rise by the dozen. For this reason, demand for construction professionals has never been greater. At the recent Career Times seminar "Big Construction Boom Boosts Talent Demand," three seasoned professionals in the construction and property industry underscored the need for such talent and identified where young professionals may find valuable opportunities.
Across the border
In Hong Kong alone, the 10 major infrastructure projects outlined by Chief Executive Donald Tsang is expected to create 250,000 jobs. Prospects across the border are even more abundant. As Professor Shen Li-yin of the Department of Building & Real Estate at the Hong Kong Polytechnic University revealed, China's 74 million construction professionals create around RMB 1,500 billion in public works annually. He said, "There are also more than 1,000 construction firms, 13,000 design firms, and 6,300 project supervision firms. In the next 15 years, new construction works will amount to 30 billion square metres."
Professor Shen believes that university graduates from Hong Kong carry certain advantages, such as good education, solid professional training, and a generally productive attitude. Furthermore, Hong Kong graduates are exposed to international building and construction practices, therefore are perceived to be more valuable. In fact, of the 233 foreign construction design firms in China, more than 60 per cent have their headquarters in Hong Kong.
He also spoke of several important measures to ensure fulfillment. "First and foremost, professionals must show an active interest in China and take time to get to know the country thoroughly. Second, they must identify specific professions that they wish to pursue. Finally, they must identify their own areas for improvement and work on these through means like additional training," Professor Shen said.
Beyond China
Eddie Yeung
managing director
Chung Wo Foundations Limited
Photo: Wallace Chan
Overseas, the demand for talent is equally strong. Eddie Yeung, managing director of Chun Wo Foundations Limited, noted the ample opportunities in two emerging markets: Abu Dhabi and Vietnam.

While much of the Middle East spotlight is cast on Dubai, Abu Dhabi remains the largest and richest of the United Arab Emirates. While Dubai boasts architectural marvels like the Burj al-Arab and the Palm Islands, Abu Dhabi's skyline has been relatively modest — with the tallest building at 40 storeys. However, there lies the opportunity, Dr Yeung said. He illustrated Chun Wo's property development and foundation contracting businesses in the UAE and offered a glimpse into the lives of the firm's Abu Dhabi team, all of whom are from Hong Kong.

From Chun Wo's work in the UAE and Vietnam, it is clear that demand for quality architects, designers, engineers, and project managers spans across national borders. Dr Yeung said, "Building and construction professionals will have the opportunity to be frequently immersed in different cultures."

Global thinking
Paul Jenkins
director
Mott Connell Limited
Photo: Wallace Chan
As a child, Paul Jenkins often marvelled at bridges, road networks, and buildings, yearning that one day he would be involved in the creation of such structures. Now, as director of Mott Connell Limited, Mr Jenkins has spent the last 30 years living out his childhood dream.

Mott Connell, a Hong Kong-based engineering consultancy, has been engaged in a wide range of projects, from buildings to infrastructure. Aspiring to become the consultant of choice in the global marketplace, the firm is clearly determined to lead the international stage. This goal, as Mr Jenkins remarked, cannot be achieved without the "drivers of excellence", or the people of Mott Connell. The firm's past projects range from the Channel Tunnel and Wembley Stadium in the UK to the Hong Kong International Airport and the Lantau Link. It has also been involved with major infrastructure construction in Korea, Taiwan, India, and South Africa.

With such a promising future ahead, Mr Jenkins believes: "There has never been a better time to be an engineer in the world."

While the three speakers represent different fields — academia, real estate development, and engineering consultancy — they converge on one single truth: the time is now for young professionals. The rapid rate of urban development will drastically alter the skyline of many emerging markets, and the driving force behind this will be the dedicated teams of expert engineers and designers. Young professionals from Hong Kong are endowed with the international exposure that will help them take advantage of this growth. However, to find fulfilment amidst abundant opportunities, they must remain keenly interested in new countries and cultures, all the while keeping up with professional training to constantly better themselves.

On the rise
Hong Kong graduates boast superior skills and international exposure
Ample opportunities in China, Abu Dhabi and Vietnam
Perfect time to tap into the profession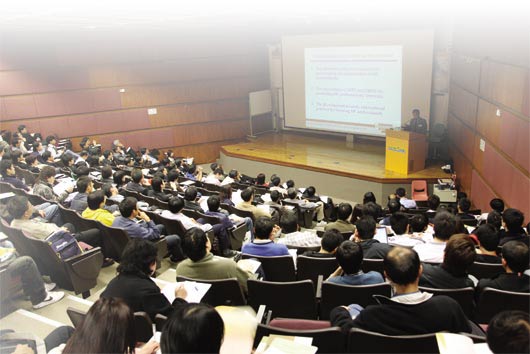 Taken from Career Times 14 March 2008

讚好 CTgoodjobs 專頁,獲取更多求職資訊!