Financial Planning / Wealth Management
A winning streak
Jenny Wong (right) with, Chan Ka-keung (middle), Secretary for Financial Services and the Treasury, and Jondy Yiu, senior business planning and product development manager, Hang Seng Bank Limited
Photos: Wallace Chan
All-round experience makes the difference for private banker, Charles Mak writes

Nothing screams success louder than a full complement of professional talents. In Jenny Wong's case, this is buoyed by good practice, ethical understanding, and a strong desire for knowledge. Currently a vice president at Hang Seng Bank's private banking department, Ms Wong takes pride in her work and numerous rewarding relationships, which she has fostered over the last 10 years with a discerning group of high net worth clients. Her rich experience in managing the wealth management needs of this specific customer segment was acknowledged in the awards presentation ceremony of this year's Hong Kong Institute of Bankers Outstanding Financial Management Planner Awards where she grabbed grand titles.

Secluded clientele

First winner of the grand award and best presentation award in the inaugurated group C category this year, Ms Wong says that proper preparation equals success. "The competition put my analytical and presentation skills under scrutiny," she adds.

Thanks for the bank's training and exposure, Ms Wong has gained substantial experience in the field but the competition was an experience on its own terms. "The third-round assessment required me to prove my competence in a 15-minute presentation, so I had to make sure that I'd come prepared." she recalls.

"What I did was to convince members of the judging panel of my acumen the way I do my customers," Ms Wong reveals winning tips. "Assert yourself and manage time well to keep their interest but then again you must know your audience and understand their objectives."

Over the last six months, Ms Wong had plenty of opportunities to review her planning techniques and customer strategies with help from colleagues and friends. Her comprehensive approach to client servicing proved triumphant.

"A typical face-to-face client meeting can be conducted in a more relaxed ambience because you can never rush your customers into a quick sale," she explains. "Clients are by and large reluctant to share sensitive personal information so you must prepare them psychologically, cultivate a trusting relation and project a professional image."

Ms Wong is fairly content with her career and she welcomes increased management responsibilities. "I believe I could pass on my knowledge and skills to bring new colleagues up to speed with the overall banking environment," she says.


William Leung
executive director and head of personal banking
Hang Seng Bank Limited
Continuous endeavour

William Leung, executive director and head of personal banking, Hang Seng Bank Limited, believes that the judging panel has made a wise decision.

"Planners that serve high net worth clients have to be resourceful and they need superior market sensitivity among other professional attributes in order to help clients streamline their financial portfolio," Mr Leung states. "Jenny has over the years seen her share of market ups and downs, and shows that she is versed in the business."

In his opinions, truly competent financial planners like Ms Wong demonstrate attributes characterised by a high level of professionalism and a heightened sense of responsibility. "An ideal career platform will need to accommodate these as well as the individuals' aspirations," he continues. "We don't consider our frontline staff as salespeople. Rather, we furnish them with ample support so that they can focus on delivering results and fulfilling their career objectives."

In view of the fast-rising volume of cross-border investment, Mr Leung advises that people looking to tap into the growing affluence of Chinese retail investors must seek to identify with the differences between customers from the two regions, particularly in terms of culture, investment behaviour, risk appetite as well as language.

He affirms the bank's support for future HKIB efforts. "The HKIB Awards drive professionalism and industry success through advocating ethical principles and good practice," Mr Leung emphasises. "We let our action speak."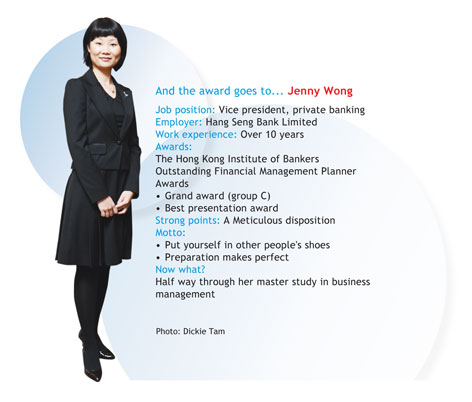 Taken from Career Times 5 November 2010, A8

讚好 CTgoodjobs 專頁,獲取更多求職資訊!