Self-enhancement
Accountants rise to the top
by Martin Williams
CEOs and CFOs need breadth and depth to succeed
Tony Osude
head of learning and development
ACCA
Photo: Johnny Kwok
Finance managers are increasingly taking up key leadership roles and the typical promotional path is not always linear. In high positions responsibilities often become extremely complex and challenging so a solid grounding is of paramount importance.
This was the main focus of the recent conference "Success through Employability and Leadership" organised by the Association of Chartered Certified Accountants (ACCA). During the conference, Tony Osude, ACCA's head of learning and development, analysed a recent ACCA research report: Paths to the top — best practice leadership for finance professionals.
Mr Osude said that today, many CFOs are stepping up to the position of CEO, and several financial controllers are becoming CFOs. Yet, these people trained as technical specialists, not as leaders. "What makes the difference between a good organisation and a great organisation is the quality of leadership," he noted. Indeed, companies that invest in enhancing leadership skills tend to be more successful over longer periods.
The ACCA survey covered around 3,400 members in 16 countries, as well as interviews with 20 CFOs. The results were broadly similar worldwide — though in Hong Kong, financial professionals had better chances of securing leadership roles much quicker than their international counterparts.
Mr Osude explained that the concept of leadership is all embracing, requiring various skills and a range of behaviour. Stakeholders have different expectations of CEOs and CFOs. The former devise business strategies and may give sophisticated presentations. CFOs are expected to be more formal and often considered as bastions of trust responsible for regulatory compliance and, especially over the past five years, ethical issues and sustainability. They also help devise strategy, and should be good communicators able to make complex ideas simple. "Finance leaders must do a CEO's job and more," Mr Osude said.
Looking at finance managers who are now CFOs, the survey found that they usually have strategic business insight. "They can step back from their day-to-day roles, and see the context in which they're operating," said Mr Osude. Regulatory knowledge is important, especially in the financial services industry.
In addition, the survey revealed that CFOs must deal with change management. "This was a very interesting result," explained Mr Osude. "They were trained as financial people to keep things stable. Yet it's all about transformation for organisations in today's complex and fast-changing business environment. CFOs tend to be at the forefront of managing that transition."
Broad outlook
Technical expertise is crucial early in the career development of an individual set on becoming CFO, yet the more senior the position, the less important it is to know all the details. Seniority requires a broad background and the ability to ask the right questions.
"CFOs need vision," said Mr Osude. A willingness to delegate is also essential as is the ability to function as good team players, being inclusive, positive and optimistic.
Regarding leadership development, the survey found organisations were not especially focused on coaching and mentoring, even though these initiatives have proved successful. Certain leaders in Hong Kong nowadays hold high office despite lacking relevant experience. The survey also found that an individual's visibility played a major part in securing leadership roles.
"Timing is everything," emphasised Mr Osude. "Five years after qualifying, you should have a firm career development path. Networking is important, internally and externally, and you need broad experience."
Effective leadership
Vincent Chan, senior manager, financial control
Hang Seng Bank Limited
Photo: Johnny Kwok
Vincent Chan, senior manager of financial control, Hang Seng Bank Limited, began by noting that from 1985 to 2000, a third of Fortune 500 companies vanished without a trace. "Poor financial leadership was a key reason," he explained.

Mr Chan added that sound financial leadership can help companies survive by making them "better, faster and cheaper." Sound financial organisation, processes and people alongside faster responses to problems and more cost effective operations all add value to a company. "To secure a leading position, an enterprise needs innovation and renovation," he said.

The problems in the US mortgage market have spread widely and rapidly, affecting every investor. Mr Chan showed a US report, in which 76 smaller banks in the US were rated as being at risk of bankruptcy. "It is scary but it can be managed through effective leadership," he noted.

According to Mr Chan, there are two broad forms of leadership: Thought leadership includes keeping an open mindset to drive change, inspire trust and demonstrate the courage to lead transition.

Operational leadership, meanwhile, encompasses the execution and achievement of operational excellence. "You must manage collectively — the leaders can't do all the work," Mr Chan said.

In his opinion, financial leadership should chorus with financial management, the two being complementary. Key objectives of good financial leadership are maintaining a trustworthy and credible organisation and satisfying stakeholders, including analysts who greatly influence share prices.

New regulatory systems are creating fresh challenges for financial leaders, especially within the financial services industry. "There are extra costs and a lot of work," said Mr Chan. "We must consider profits after meeting requirements."

Mr Chan explained that in a large organisation like Hang Seng Bank, financiers are involved in corporate planning, governance and the work of CFOs: "It is a great joint effort, with people working to support the leaders, so executives at the top can continue to make the best decisions."

CFO qualities
Excellent communications skills
Change management skills
Business vision
People network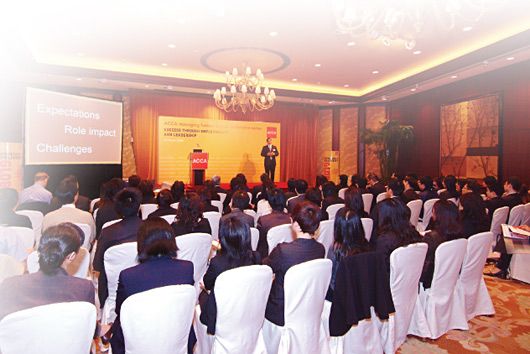 Taken from Career Times 28 March 2008

讚好 CTgoodjobs 專頁,獲取更多求職資訊!