Self-enhancement
Accounting professionals play leading roles in global trade
by Aldric Chau
Three industry leaders provided in-depth insights into the highly competitive accounting field at Career Times' third Accountants' Road to Success seminar
Kelly Chan, president
ACCA Hong Kong
Photos: Wallace Chan
Mainland China's burgeoning economy is contributing to an increased demand for skilled accountants on both sides of the border. Research shows most of the 140,000 accountants in Hong Kong and the mainland work overtime, reflecting the labour shortage in the market, Raymond Chan, assurance partner, PricewaterhouseCoopers (PWC) told the seminar delegates. He added that an additional 170,000 qualified accountants are needed to satisfy current demand on the mainland and that PWC alone hires more than 1,500 new accounting employees every year.
Changing role
Accountants face a number of challenges, including the changing industry situation on the mainland, plus increased financial activity and new developments in the accounting field. Globalisation, leading to increasing cross-border activity and the movement of both professionals and capital around the globe, is also generating a greater need for accounting services.
Reviewing the accounting situation in Hong Kong, Kelly Chan, president, ACCA Hong Kong, noted that 77.4 per cent of accountants work in the commercial sector and 16.9 per cent work for accounting firms while the remaining 5.7 per cent are employed by the government.
The increasing standardisation of industry regulations across the globe benefits the accounting industry, Ms Chan said. However, at the same time financial disclosure related to corporate governance and financial reports has increased the burden on companies' in-house accountants.
The changing job environment has led to accountants' roles becoming more challenging, Ms Chan remarked. "These days more managers come from an accounting background, and accountants must take part in strategic business planning activities," she said.
Employers demand specialised skills. Apart from their bookkeeping role, accountants may also sometimes be involved in tasks related to the law, information technology and human resources. They are expected to demonstrate high levels of accountability and self-control and to follow numerous guidelines. For this reason, ACCA has included a new module on professionalism and ethics in its examination syllabus.
Accountants these days also must consider the impact of business activities on society and the environment, and be aware of ethics, social responsibility and sustainability.
Close relations
Raymond Chan, assurance partner
PricewaterhouseCoopers
Business activities such as initial public offerings (IPOs) and auditing, which have taken off in mainland China over the past decade, have opened up the field for accountants working on the mainland. Every IPO requires the professional services of bankers, lawyers and accountants, Mr Chan pointed out.

In addition to the many IPOs issued in Hong Kong last year, China's QDII (qualified domestic institutional investor) scheme allowing investors to invest in foreign securities markets through approved institutions, the "through-train" scheme for individual mainland investors to invest in Hong Kong, the strong Renminbi and the government-approved move to develop an Islamic finance platform in Hong Kong have all created a growing demand for accounting services.

Increasing numbers of IPOs and mergers and acquisitions (M&A) are leading to a growing demand for auditors. "During the Bank of China IPO, for example, about 1,000 accounting professionals were assigned to the project," Mr Chan said.

Regulations stipulate that every listed company needs a qualified accountant and auditor, and enhanced internal controls mean that internal auditors have become key figures.

He added that foreign companies investing in China often set up holding companies in Hong Kong, employing Hong Kong accountants and auditors. At the same time, foreign investment and overseas expansion by mainland companies also create new opportunities for accounting firms.

Apart from the labour shortage, new accounting and auditing standards introduced on a regular basis also present challenges, Mr Chan said, pointing out that a basket of new standards introduced in 2005 changed the face of the industry on the mainland at the time. Accountants must stay abreast of these changes and also keep their clients informed. They often rely on auditors to support them and keep them updated on new accounting standards affecting the reporting environment, he stressed.

"Clients are looking for trusted business advisers rather than just auditors," Mr Chan emphasised. Auditors are therefore expected to help their clients foresee the accounting impact of every decision and advise them on structuring business deals in accordance with complicated accounting standards.

In order to be successful, auditors should have sound technical knowledge, bilingual language skills and multidisciplinary know-how, as well as mobility and a global as well as a China-focused perspective, Mr Chan said, explaining that different skill sets are required for accountants and auditors. It is therefore advisable for candidates to choose their stream early on.

Mr Chan cautioned new graduates who may find a big difference between classroom knowledge and real practice, where people skills can sometimes be more important than technical knowledge.

Forensic science
Derek Lai, Southern China leader, financial advisory services
Deloitte Touche Tohmatsu
International accounting scandals over the past years have led to changes in the industry worldwide, with big accounting firms spinning off or selling off their consulting divisions. However, Deloitte Touche Tohmatsu has retained its consultancy services.

The firm is optimistic about the future of its consultancy services, said Derek Lai, Southern China leader, financial advisory services, Deloitte Touche Tohmatsu. "Unlike auditing, financial advisory services providers do not have a checklist to refer to, making the task more subjective and challenging." He added that this specific discipline traditionally attract fewer new recruits than the accounting and auditing sectors.

Junior staff members often start their careers in the valuation sector, which provides a rather high-risk-bearing service as it involves subjective judgement. The valuation sector is separate from the commercial due diligence sector, which looks at clients' assets and liabilities and the wording of sales and purchase agreements, making sure that no disputes can arise in future, Mr Lai explained.

The background-search service line is responsible for foreseeing industry trends and looking at the backgrounds of potential joint venture partners, so as to advise clients whether a new investment in a particular industry with a certain partner is worthwhile. The merger integration team is responsible for sorting out issues regarding company mergers.

Mr Lai also explained the role of the forensic and dispute services team, which is involved in investigations, risk compliance, business intelligence and the application of analytic and forensic technology. An example of a specific task would be to trace deleted computer data in order for liquidators and government departments to retrieve evidence.

The expert witness service is related to the legal field and requires team members to provide evidence in court, for example in fraud cases.

Many commercial decisions are made by the financial advisory service team, Mr Lai pointed out. Staff working in this sector therefore must have excellent negotiation and presentation skills.

It can take 10 to 12 years to rise to the position of partner, Mr Lai said. New recruits start off as associates, with the potential to move on to becoming senior associates, managers, associate directors, directors and finally partners.

At all times, a major challenge is to establish the truth, he stressed, adding that much skill was needed in dealing with clients to successfully extract essential information.

While the different service lines operate separately, it is common for staff to move between sectors, Mr Lai said, but he advised candidates to consider their skills and interests carefully before choosing an area to specialise in.

Seven roles of finance leaders
Delivering financial value
Upholding regulatory requirements
Shaping business strategy
Managing people effectively
Creating a credible public perception
Managing sustainability issues
Managing ethical issues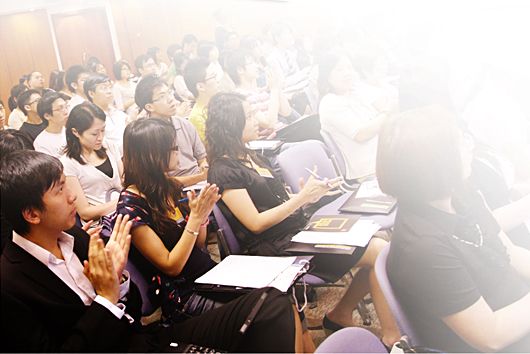 Taken from Career Times 27 June 2008, p. A19

讚好 CTgoodjobs 專頁,獲取更多求職資訊!