Self-enhancement
Acting differently on a Monday morning
Text by Lotus Lau
Photos by Edde Ngan
Training Consultancy Team Building Asia joined hands with CTgoodjobs to deliver a wonderful workshop on motivation and team building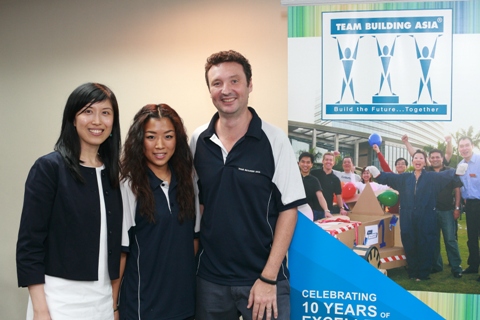 Team Building Asia
On 16th August, 2013, CTHR.hk, an extension of recruitment portal CTgoodjobs, collaborated with Team Building Asia and pulled off a successful workshop on motivation and team building. The professional instructor Alistair Lamont guided the participants through a series of activities aimed at increasing their understanding and effectiveness in key concepts including communication, motivational planning and problem solving. More than 80 human resources professionals of various industries attended the workshop and had a great Friday afternoon.
Diane Chan, Executive Director of CTgoodjobs, regards the collaboration with Team Building Asia as an instant click. "As CTHR.hk is always endeavoring to help companies enhance their organizational performance via effective human resources management, we believe motivation and team building should be a top priority among all HR matters."
Understand your true motivators

The fruitful afternoon was divided into 2 parts. During the first half of the session, participants were invited to fill in a motivation grid. They were asked to list out 10 factors of the workplace by which they can be motivated, after which a ranking of the 10 factors was produced to demonstrate their relative importance.
Alistair stated that a good understanding of the true motivators of your staff could create a profound impact on their morale. That is because when managers delegate, they can explain it in the language suitable to a particular person.
Imagine that you have to transfer a staff member to Singapore and he is unhappy about it. If he is found to be more motivated by "the fun factor" than potential "on-the-job creativity", he will be better persuaded and consoled by others telling him that it is going to be a lot of fun working in Singapore and that he is going to meet many exciting people, as compared to suggesting that he will have a creative job there.
Importance of team work

The second part of the session, "Need for Speed", took the participants back to their childhood. They had fun building cars using a box of blocks.
This may just be putting up children's cars, but never underestimate the enlightenment that this simple game can bring. Participants were asked to perform a set of tasks, ranging from competing against each other in 12 teams, swapping the "MVP" of their teams with one another, to only allowing blindfolded team members to touch the blocks.
Finally all 12 teams joined forces as one single organization to build up a set of cars from a huge pile of blocks. According to Alistair, the goal was to encourage the teams to be more collaborative. During the final challenge, opinions varied when it came to deciding on the best strategy to complete the task. The big team eventually succeeded in completing it within the benchmark time, which signified a perfect ending to the session.
Act specifically
At the end of the day, Alistair encapsulated the essence of the whole event in his final remark, "what are you going to do differently on a Monday morning?" He stressed on the importance of transferring the knowledge learnt into actual practice, and of being specific. "If the action is not specific enough, you won't do it," he added.
Becky Yu, Senior Human Resources and Development Manager of Arrow Asia Pacific Limited, thinks that the workshop is out of her expectations. "I initially thought that it would be in the form of lectures. But it turned out to be very interactive, which I really enjoyed."
Harry Lee, Senior HR Supervisor of UPS, agrees that the tools shared in the workshop are useful and practical. "I have shared the motivation grid with the entire HR department on how to better understand the motivational needs of the staff."
Iris Li, Corporate Services Manager of The Hong Kong Academy for Gifted Education, expresses she is very pleased with the event arrangements as well as the services provided by CTgoodjobs. "The details of the workshop are well explained and the event ran smoothly. Besides, I have a great account manager who handles our job openings very well."
Alistair is grateful to see the workshop being a knockout. He believes that all set objectives have been achieved, "I want to give people a tool to allow them to measure and understand their own motivations. I want them to experience a team development activity that is fun and can get everyone moving, and I want to encourage them to think of something they can do differently on a Monday morning." he said.
Related post:
讚好 CTgoodjobs 專頁,獲取更多求職資訊!