Education
All systems are go
by Grace Chan
Li Duan, professor, systems engineering & engineering management;
chairman, Department of Systems Engineering & Engineering Management
The Chinese University of Hong Kong
Photo: Edde Ngan
Cross-discipline studies provide a wider perspective on IT, engineering and management

All complex structures, from railway links to logistics and banking networks, require sophisticated computerised systems to ensure efficient operation. There is therefore a growing demand for engineering professionals with IT skills who can increase companies' cost effectiveness and organisational efficiency.

"Engineers with a few years of work experience may want to equip themselves with management competence for better career prospects," says Li Duan, professor, systems engineering & engineering management; and chairman, Department of Systems Engineering & Engineering Management, the Chinese University of Hong Kong (CUHK). "At the same time, business graduates without formal engineering training may also need to learn how to harness the latest engineering technologies."

In response to these needs, the CUHK has been offering a master's programme in systems engineering and engineering management (SEEM) since 1997. The programme aims at providing advanced training for engineers and professionals aspiring to take up more management responsibilities.

Students are required to complete three compulsory and five elective courses. The mandatory subjects include principles of engineering management, information technology management and models and decisions with financial applications. The wide range of additional choices includes advanced engineering economics, project and technology management and computational finance.

Unconventional approach

While traditional engineering disciplines revolve around product manufacturing, the design of the SEEM curriculum emphasises the engineering of decisions and solutions through up-to-date information technologies.

"It's an engineering programme covering no physical products. Rather, it's more about management skills and decision making," Professor Li stresses. "Compared to an MBA programme, the SEEM focuses specifically on training students to deliver solutions that require sophisticated analytical skills."

Developing an online gaming model, for example, needs advanced computation with the aid of IT to produce an effective business solution. Other examples include transportation systems and the cash-flow systems of banks.

Mainland China is relying increasingly on its service industry, which is resulting in a growing demand for professionals with engineering management skills, Professor Li points out. Therefore, in addition to the two-year, part-time programme catering mainly for Hong Kong students, the university has also been offering a one-year, full-time programme aimed at mainland participants since 2008.

The response from mainland students has been overwhelming, with the CUHK receiving about 70 applications in the first year and numbers tripling in 2009.

All applicants are required to have a bachelor's degree in engineering, science or business administration. Hong Kong applicants tend to have two to six years of work experience, while their mainland classmates are mainly fresh graduates.

"The programme offers an opportunity for intercultural and cross-disciplinary exchange between local students and their counterparts from across the border," adds Professor Li. Mainland students often start their own businesses, particularly in the logistics field, once they graduate, while Hong Kong participants typically take up more managerial responsibility in their workplace.

Alternative platform

As for people wanting to enhance their scope of knowledge in information and logistics technologies, they may consider the university's master of science programme in e-commerce and logistics technologies.

Launched in 2007 under the university's Faculty of Engineering, the programme requires students to take four core courses covering the fundamentals of e-commerce technologies, electronic payment systems, logistics management and engineering economics.

They may choose from a wide range of elective subjects dealing with internet and information systems, as well as enterprise solutions. These include e-commerce data mining techniques as well as mobile commerce and mobile logistics.

E-commerce is a source of new business opportunities, Professor Li points out. The programme aims to be relevant to the industry, discussing and comparing recent successful online business models, particularly from a management and decision making perspective.

Students also gain hands-on experience in studying and developing actual systems for e-commerce through a newly launched project-based elective subject. "Once they have built up their fundamental knowledge in the classroom, they can apply it in a real business context," Professor Li adds.

The new elective involves working on projects such as online banking and financial systems, internet shopping or electronic payment systems run by the Faculty of Engineering's Centre for Logistics Technologies and Supply Chain Optimisation.

Similar elective courses will also be incorporated into the SEEM programme over the next few years, Professor Li says. "We intend to arrange more company visits and facilitate discussion and interaction that help students to solve specific problems. Our ultimate aim is to narrow the gap between classroom learning and the real business environment," he concludes.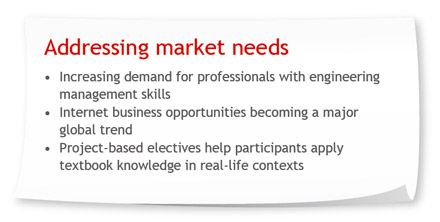 Taken from Career Times 26 February 2010, A8

讚好 CTgoodjobs 專頁,獲取更多求職資訊!