Career Path
An ongoing quest for quality
by Charles Mak
Fiona Fung
quality management manager
Hong Thai Travel Services Limited
Photo: Raymond Yick
Quality management manager of Hong Thai Travel Services Limited Fiona Fung is a person of principle. Ms Fung holds firm in her belief not only in quality business management and administration process, but also in life balance. "I manage a nine-to-six daily schedule," she explains. "Quality constitutes personal effectiveness and workplace efficiency and doesn't cause unnecessary overtime."

Keen to be run off her feet, Ms Fung, now in her early 30s and leader of a four-staff team, has a natural knack for time management and project management. "My staff are capable of handling the execution side of things so I'm pretty hands off in that aspect and so can devote much of my time to management responsibilities like project planning," she says.

Managing her team becomes a breeze with her showing respect to the individuals' personalities and putting trust in their strengths. She adds, "I give them motivation and space to work things out. The key is to make my objectives and expectations clear. My staff understand this and they know they must deliver quality."

Members of her team hail from different academic backgrounds and contribute their strength to projects of various nature. For instance, one of them was an operations management graduate who now dedicates her skills to building the company's knowledge management infrastructure. "Quality management (QM) is a dynamic profession. It requires an amalgamation of academic skills, work experience and common sense," she points out. "Another one of my staff is now working towards a formal qualification."

Depth and breadth

With the annual internal and external audit over and done with earlier in June and a mystery shopping programme in the pipeline, Ms Fung has her fingers in quite a lot of pies. "We now work beyond the realm of ISO documentation and procedure review, and are progressively adding breath and depth to our QM system," she concedes. "Aside from an ongoing series of enhancement programmes, the scope of our duty encompasses customer experience management and a range of more in-depth follow-up QM services and analyses."

Confidence and business acumen don't develop overnight. Ms Fung compares herself to a blank slate when she signed up for an operations trainee position with Hong Thai in 1999. Shortly afterwards, an opportunity to fill in for the secretary of Hong Thai's general manager Susanna Lau came knocking on her door. It was a big shoe to fill, but the stint eventually turned permanent. "The job called for a huge volume of interaction with internal and external parties," she recalls. "I felt disoriented to start with but soon got the hang of it because I was able to build a people network and this in turn helped with my own development."

In 2002, heartened with Ms Lau's encouragement, Ms Fung took on extra duties as deputy to a designated management representative for the company's ISO quality system management. Four years later, she assumed her current position.

"When I accepted the job I already had plans for further studies," she reveals. Her expertise is not purely textbook though. In fact when she returned to school for a master's degree in quality management, practical work experience stood her in good stead. More fortunate still, she had the full support from the company. "I could always make time for learning," she notes.

Covering all ground

The sphere of QM is vast and its intricacy ensures all systems go, according to Ms Fung. "You can apply it to anything from workflow management to company management system," she says. To set off an enhancement exercise and ensure concerned departments follow through the critical path, she exercises tact and rides on her communication skills. "It doesn't make you feel great if I lay a problem right at your door," she notes. "It always helps to explain my rationale before suggesting a solution. Timing is also key."

Unlike quality assurance in manufacturing, QM in the Hong Kong business sector is still in a developing stage. "Even sizeable multinationals may not have a dedicated QM team while some companies may only lay that responsibility on their customer service or operations staff," she observes.

Ms Fung says that Hong Thai's quality journey is evolving and its focus on continuous service enhancement allows much room for QM functions to steer the company towards TQM. "Even though QM doesn't pack the business with visible profits, the tacit implication within makes this seemingly indiscernible business process indispensable," she notes. "Today's companies cannot simply look for immediate gains. QM will soon become an essential strategic function that helps drive business sustainability."

Placing quality at the heart of business takes a great deal of perseverance since results are by no means immediate however gratifying they can be. A weekly hot yoga regime helps Ms Fung let off steam and leave behind the hassle of modern city life. "Work supports life and gives you satisfaction but not necessarily at the expense of health. I must dedicate that one hour in a week to self nurture and mind cultivation," she says, quoting Ernest Hemingway: "If something is wrong, fix it if you can. But train yourself not to worry, worry never fixes anything."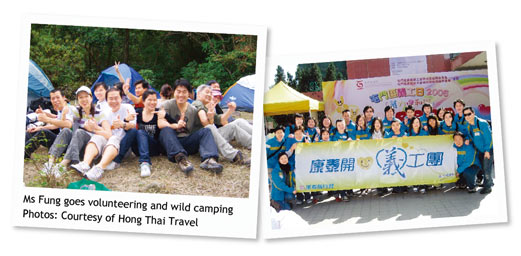 Taken from Career Times 30 July 2010, A16

讚好 CTgoodjobs 專頁,獲取更多求職資訊!