Sales / Marketing
Articulating aspirations
by May Chan
Sam Cheung, president, greater China
Englishtown
Photo: Lewis Wong
English language course consultants find meaning in their work

A marketing or sales career with a top education organisation entails manifold benefits.

"The job of our course consultants is not simply about selling products off the shelf," emphasises Sam Cheung, greater China president, Englishtown, a division of the world's largest language education school Education First (EF) and one of the largest specialist English language training organisations in the world. "Our consultants customise study plans for individual students, taking into consideration of their different levels of English proficiency, learning pace, targets and needs.

In fact, the bulk of a consultant's responsibility is about dealing with people and offering a service that will help prospective students advance in their lives, or in many cases, their careers.

Mr Cheung remarks: "Thousands of telephone and online enquiries flood in every month. Our consultants never have to worry about making cold calls and being rejected."

More than a sales job

At the core of Englishtown's culture is the value it places on people. This is manifested in the organisation's management ethos and staff training and development policies, Mr Cheung notes.

Newly recruited course consultants are immersed in a two-year programme. Instruction fall into three major categories: skills-based training including consultation techniques, product knowledge, as well as career succession.
"We provide fair opportunities for all employees who demonstrate the ability to handle bigger roles," he says.

This people-oriented attitude plus pursuit of excellence have created a good team spirit and maintained a high staff retention rate. More than half the Englishtown course consultants in Hong Kong have been with the establishment since its opening in 2004.

Mr Cheung adds that none of EF's staff around the world has been affected by pay cuts or layoffs during the financial crisis.

Prospective recruits must have a healthy dose of common sense, along with good communication skills and a willingness to work hard and continue learning. Candidates should also be passionate about their work and geared for success. A university education is not a must, although it would be an advantage

Course consultants have the opportunity to move horizontally within the organisation, getting involved in the formulation and implementation of various education projects. There are also possibilities to move to different locations and work with different EF divisions.

Social discourse

Language changes constantly. Although it is important to build a foundation by learning the grammar rules and vocabulary, it is of equal importance to acquire the language in a social context in order to communicate effectively in the real world, Mr Cheung stresses.

Over the past decade, Englishtown has reviewed its learning programmes several times and Mr Cheung points out that this process is only necessary. He says, "It is essential that our students feel confident about speaking English in real-life situations. We therefore keep ourselves up to speed with rapid market changes."

This is also why Englishtown has been selected by China Enterprise Confederation as one of the top 50 international companies in China, pitched against international companies such as IBM. "This means that our course consultants need to update their product knowledge and participate in training on an ongoing basis," Mr Cheung reveals.

Englishtown programmes encompasses face-to-face sessions, club activities and a 24-hour interactive language laboratory. Business English courses are available to students looking to developing the language skills they need for taking their careers up another notch.

To supplement these, the school has recently launched a new series of career workshops, with topics ranging from career planning to job interviews and even personal grooming.

"English is a global business language and the ability to communicate well in the language can help a person get ahead," he says.

Established more than 45 years ago, Englishtown operates a global network of 450 offices and schools, employing 31,000 professional teachers, consultants and supporting staff who have helped more than 15 million people around the world to improve their English proficiency.

Apart from being the world's top blended English language educator, Englishtown is also among some of the most admired global consumer brands. "Our staff can therefore expect to learn cutting-edge business skills," Mr Cheung concludes.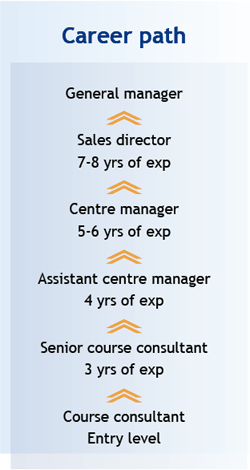 Taken from Career Times 5 February 2010, B3

讚好 CTgoodjobs 專頁,獲取更多求職資訊!