Self-enhancement
Assuring advancement
by Sophie Leung

IT auditors fulfil advisory roles

Professional elites across the board concluded the TechMatrix career development seminar series
photos: Wallace Chan
In today's accelerating business environment, strategic and operational tasks are impossible without IT support. The need is even more acute in the time-sensitive finance sector. Indeed, the quest to stay ahead and maximise every financial opportunity has led to a mushrooming demand for sophisticated IT systems.
This growing demand, and the subsequent increased need for qualified IT auditors, was a major feature of the final series of seminar on career development co-organised by TechMatrix Research Centre and Career Times.
"IT auditors must effectively communicate with top management, and in doing so, utilise soft skills to fulfill their advisory role," noted Michael Yung, vice president, Information Systems Audit and Control Association (ISACA) Hong Kong Chapter.
Historically, IT auditing began about 30 years ago in Hong Kong. Since then, the industry has evolved to become a crucial component of many business processes and an indispensable element in the advancement of an array of companies. As a result, opportunities in the IT audit industry are now multifarious.
Extensive exposure
Kristine Chung, senior manager, systems and process assurance, PricewaterhouseCoopers, reiterated the ubiquitous optimism for IT professionals in the finance sector today. She believes the current demand for IT auditors is compliance-driven because Hong Kong-listed companies must conduct IT audits according to strict regulations. Ms Chung said, "Five years ago, I had only 30 colleagues working in my department, which is responsible for evaluating information systems' control and process. To cope with the increasing demand on systems assurance services, the department has grown three-fold over the past five years."
Regarding managerial exposure and infrastructural options, Tony Chan, senior manager, enterprise risk services, Deloitte Touche Tohmatsu was upbeat. "IT auditors can access the top institutional tiers in a variety of industries, such as IT managers or financial directors. Such experience broadens their exposure to IT infrastructure and deepens overall understanding of diverse business models," he revealed. Mr Chan considers his job both challenging and rewarding as he keeps abreast of new developments in IT and helps client companies expand by providing professional IT advice.
Vincent Chan, partner, technology & security risk services, Ernst & Young, discussed the prerequisites needed to become a competent IT auditor. He said, "IT professionals with technical knowledge and project management skills are welcome to join the team and take on the consulting role of IT auditor." Interestingly, he considers the professional designation for qualified accountants optional for IT auditors. The auditing and advisory requirements of the job utilise different skill sets —t he former relying on accounting and evaluating skills and the latter demanding effective communicative soft skills.
Efficient communication
Compared to professional audit firms, banking and investment corporations often employ a smaller team of in-house IT auditors. Simon Chan, deputy general manager, audit department, Bank of China (Hong Kong), manages a 100-man team with about 20 IT auditors. He said, "We currently hunt for professionals in computer forensics and data security as they play a critical role in business promotion and upgrading." Mr Chan regards previous work experience in the banking industry as an advantage, but not a must, for IT professionals to enter the profession.
Meanwhile, competency in both written and spoken English is essential for IT auditors working in a multinational firm, noted Barbara Tam, vice president, Morgan Stanley Asia Limited. Given the hectic schedule of traders, IT auditors should also know how to ask the right questions and finish the data collection process in a timely fashion.
Quality written reports and clear recommendations post-audit are also crucial. The pressing demand for efficient communication may put IT auditors under great pressure, but it also offers the opportunity to acquire an in-depth understanding of company operations as well. "Apart from communication skills, to succeed in global companies, IT auditors need to be committed to the job and ready to embrace travel opportunities," Ms Tam added.
Cheah Wee-teong, director, IT reporting & planning, Prudential Corporation Asia, emphasises the ability to effectively convince others to be of vital importance in the profession. He expanded, "When IT auditors uncover problems in existing information systems, they should have the ability to effectively convince senior managers to solve the problems and then perfect the systems."
Mr Cheah gives preference to people equipped with IT skills, industry-related knowledge and business sense to join his team. "Communication skills and cultural sensitivity can really help you climb the career ladder," he advised.
Sharpen the edge
Growing demand for IT auditors from compliance-driven financial corporations
Extensive exposure to top management and different industries
Technical and soft skills equally essential
Experience in accounting and finance an advantage, but not a prerequisite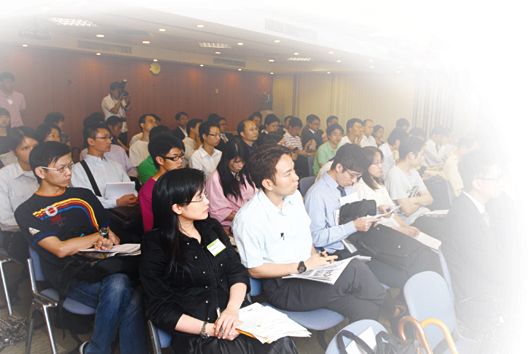 Taken from Career Times 04 July 2008, p. B17

讚好 CTgoodjobs 專頁,獲取更多求職資訊!