Property / Construction
At the heart of construction
by Isabella Lee
Alice Chow
director, Arup
Photo: Edde Ngan
Project management professionals pool resources, knowledge and manpower to get the job done

The system of management-by-project in the construction industry has become a norm, providing many organisations with effective tools that improve their ability to design, implement and control construction activities within the constraints of time, cost and quality.

At the heart of it, project managers take charge of projects by applying their technical know-how and tactful interpersonal skills. "Project managers can come from various technical backgrounds related to building and construction. For example, an individual may start as a quantity surveyor, an architect or an engineer. The knowledge in any of the disciplines and experience in the field can be applicable since overseeing a project often involves a complicated blend of considerations," points out Alice Chow, director, Arup.

Ms Chow stepped onto her first site in the UK as a structural engineering graduate, concentrating on building bridges. Then and there, she was able to apply the knowledge she had learnt from university. But back in Hong Kong, where skyscrapers and massive complexes dominate the city, she needed to draw on new information gained from her experience on top of her intellectual knowledge. "The challenge suited my personality," she notes. "Nowadays, demand for reliable project management services continues to soar. Clients are looking for trusted agents and competent project advisers who have what it takes to manage every detail and challenge at every stage of a project."

Multifaceted talent

A basic technical background is definitely essential as working in building and construction is always about providing technical solutions, Ms Chow points out. However, managing a project takes much more than pure textbook knowledge. She notes, "When it comes to tall apartments and functional buildings, many components are put into a single project. So, a project manager needs to form the best team of people from a multi-discipline background according to the investor's requirements."

At Arup, the project management group is comprised of a diverse workforce of qualified professionals from an array of professional disciplines.

According to Ms Chow, one of Arup's strengths is to manage projects for functional buildings such as hospitals and other institutional buildings. For these large-scale buildings, the team is adept at pooling suitable plans, schedules and manpower into a streamlined project that caters to the clients' needs.

More non-governmental organisations are also coming to the construction and engineering giant for business plans, says Ms Chow. To illustrate the details in design proposals and explain the positive impact that will be brought to the community once the project is completed, these organisations have realised that a project manager is the best person to convince targeted patrons.

"When you look into the job nature, you know being a project manager is not easy. That's why we won't hire fresh graduates for the position, as they will need to put in a great deal of time and gain solid experience before they are able to take up the responsibilities. All our new recruits come with the necessary qualifications and a wide range of specialist skills. They are capable of providing a comprehensive range of service to clients and add value to their projects," Ms Chow says.

Solid ground

Depending on an individual's competence, on-the-job training usually takes two to three years to complete, with new joiners primarily learning Arup's software and systems. They will also be mentored by senior colleagues in their daily work, observing practices and engaging in minor responsibilities, which will increase in time. Later, neophytes will be asked to tender proposals for project assignments to demonstrate their learning progress.

"We invest a lot of time and resources in building up our people because we want to make every project a success, but it's not as if we put profits last either," Ms Chow says. "We also have other aspirations in our work, and people here are used to our unique culture that drives us in a special way."

Arup is owned in trust by its employees and their dependents only. No shareholders or external investors can determine the direction and priorities of the organisation. From the profits it makes, a significant portion is reinvested into research and development projects, both internally and collaboratively with others. This system makes the people at Arup driven to pursue independence and innovations—turning ideas into concrete reality.

"Because of our background and worldwide presence, we have more opportunities to be exposed to innovative projects and gain experience in different places. Our reputation and business portfolio attract creative proposals. People who want to be part of this will find our organisation a great place to work," says Ms Chow.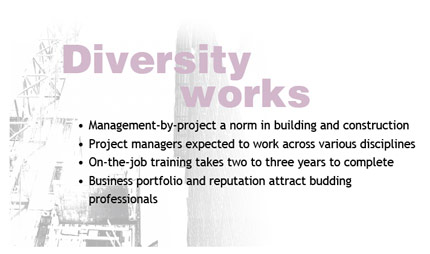 Taken from Career Times 18 June 2010, B5

讚好 CTgoodjobs 專頁,獲取更多求職資訊!