MT Opportunities
Banking leader offers promising futures to management trainees
by Grace Chan
Management trainee programme gives budding professionals fundamental knowledge and on-the-job exposure towards a fruitful career in the banking and finance industry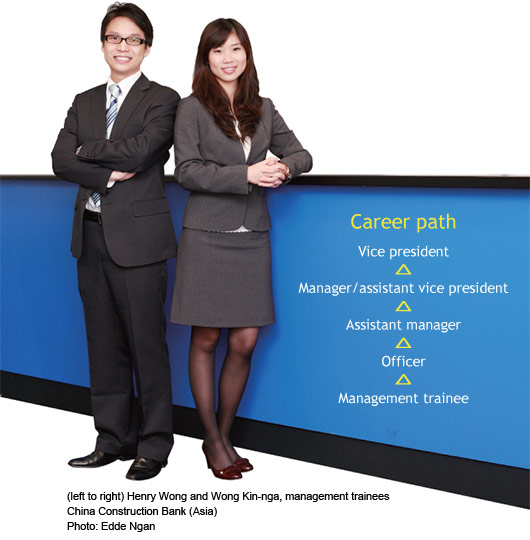 Every university graduate hopes to be on the fast track to career success and this takes more than simply textbook knowledge.

To guide graduates through the corporate jungle, the China Construction Bank (Asia) offers a three-year management trainee (MT) programme, giving a handful of young aspirants an advantage on networking skills and a solid foundation to excel as a future leader in banking.

"Our MT programme aims to develop high-calibre graduates into real bankers who will have a chance to play major roles in various functions in our expansion plan in Asia," says Grace Lee, senior vice president and head of human resources, China Construction Bank (Asia).

Since the inception of the programme in 2008, CCB (Asia) has plans to recruit 20 to 30 management trainees every year, however, only 25 and 17 trainees were admitted in 2008 and 2009 respectively. While the recruitment target remains the same this year, Ms Lee says: "We will not go for quantity at the expense of quality."

Building fundamentals

The CCB (Asia) MT programme is a combination of two essentials: building fundamental banking knowledge and on-the-job experience. During the first year, trainees are equipped with a competence in core banking operations learnt from a series of classroom sessions, followed by job assignments to soak up the essence in the real-life business environment.

By the end of the first year, trainees are divided into teams to complete final projects with topics ranging from service enhancement to addressing urgent issues in a stretch of two to three months. "We aim to explore their innovative minds and immerse them in a culture of team work. More importantly, their leadership acumen will be fostered," says Ms Lee.

During the second year, trainees will be responsible at specific business units such as the commercial or consumer banking divisions, according to their career aspirations. "At the consumer banking division, for example, trainees will begin as second personal bankers and be given achievable sales targets. Based on their performance and capability, they can expect to move up as a premier bankers, senior relationship manger and even branch manager in around 36 months," Ms Lee reveals.

Throughout the programme, trainees receive support from their mentors and the HR staff, who will help them reach their career milestones. "Our intensive training structure calls on the trainees' maturity but they are, in fact, fresh graduates who still need guidance for personal growth," she explains.

Sound prospects

For people who want to excel in banking, CCB (Asia) is an ideal platform for career growth. The bank's headcount is expected to exceed 2,200 by the end of this year and its branch network has also expanded to currently 47, continuing to grow to around 60 within this year. "This fast growing platform is exceptional in the industry, " Ms Lee points out.

In line with the bank's strategic plans, new recruits regardless of their work experience and ranks are exposed to various ad-hoc business projects. "Some of our trainees, for instance, have helped in streamlining work procedures in our middle and back offices. They are able to see the results within a few months and embrace subsequent job satisfaction," she says.

Backed by its parent company China Construction Bank, CCB (Asia) promises trainees secondment opportunities at mainland branches upon completion of the programme. In fact, the bank's mainland staff are offered similar arrangements, to learn banking practices across the border in Hong Kong. For trainees, any exposure to the mainland will be extremely beneficial, as the experience will broaden their knowledge and enhance their interpersonal skills.

With the bank's rapid expansion, the steep growth rate will appeal to many aspiring bank professionals. But at the same time, this fast pace will challenge these bankers to their full potential. "Our programme is open to university graduates of any disciplines. The key thing is they should have a true passion for the industry and are willing to go the extra mile while demonstrating their leadership potential and high adaptability," Ms Lee concludes.

On the fast track

Henry Wong, management trainee 2008
Qualification: Economics and employment relations, University of Toronto, Canada

"The fast track opportunities delivered by this ambitious programme matches my career ambition," says Henry Wong, who joined the MT programme in 2008, and is currently a relationship manager of local corporations and the trade solutions division.

Mr Wong was interested in the finance field, particularly the corporate banking business. "I was impressed by CCB (Asia)'s corporate culture which stresses team work and innovation. Aside from cross-division rotational training, the programme offered us a lot of exposure to the real business environment," he remarks.

For Mr Wong, the most challenging and invaluable aspect of the programme was participating in a research study on the bank's plans for branch expansion. "Apart from the research and analytical work, I was taught to think from the management's perspective," he adds.

In order to excel in the profession, Mr Wong believes in three essential personal attributes—an open mind, enthusiasm and perseverance. "An outgoing disposition facilitates effective communication with clients and colleagues, while a genuine passion can sustain the interest in the field. Above all, we should be ready to take challenge and exceed expectations," he says.

Head start

Wong Kin-nga, management trainee 2009
Qualification: BBA(Law)/LLB, The University of Hong Kong

After graduating with a double degree in business administration and law from The University of Hong Kong, Wong Kin-nga signed on for the CCB (Asia) MT programme last year. "I see diversity as being valued at CCB (Asia) as many trainees come from different academic streams like science and translation. My legal training can be an advantage in developing a career in the banking industry," she says.

Ms Wong was initially attracted to CCB (Asia)'s accelerated career path. "Throughout the training, we are exposed to various challenges and assigned real responsibilities. I feel valued at CCB (Asia) since I was allowed to build relations with new credit card clients after the acquisition of AIG Finance (Hong Kong) last November."

She also sees the importance of the mentorship arrangement. "My two mentors have shared with me their work experience and offered me personal as well as career advice. This support was so important that we learnt to see and gain a thorough understanding of the bank's growth objectives as well as our career and personal growth," she stresses.

She remarks that the well-structured MT programme has not only equipped her with the necessary industry knowledge and skills, but has also given her a head start in the industry. "Technical and people skills are essential, but I would rank professional ethics at the top as this is where clients' confidence stems from," Ms Wong concludes.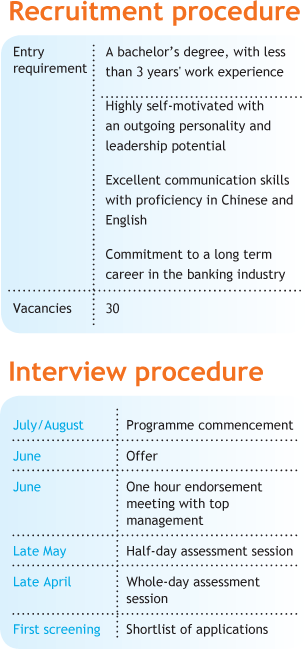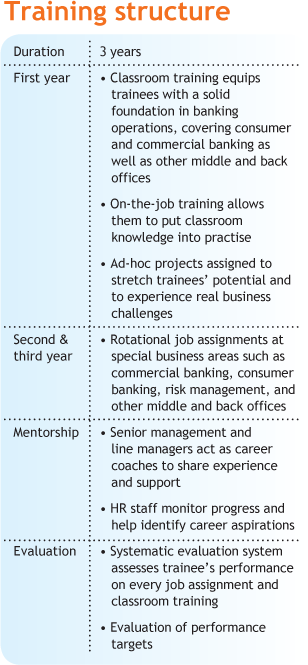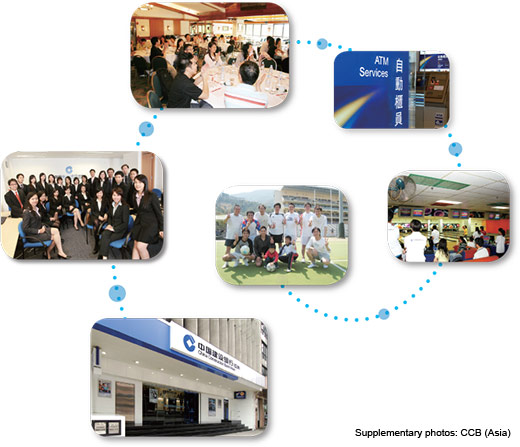 Taken from Career Times 19 March 2010, B14

讚好 CTgoodjobs 專頁,獲取更多求職資訊!