MT Opportunities
Banking on future talent
by Grace Chan
Home-grown banking institution develops young graduates into confident, knowledgeable and service-minded specialists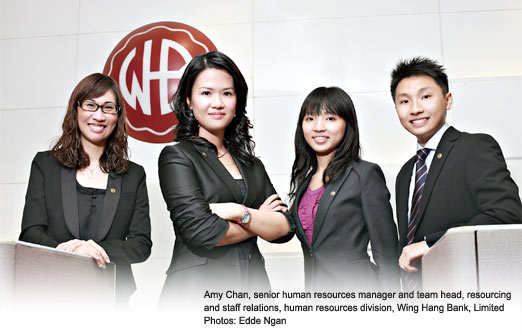 A well-structured management trainee (MT) programme provides an ideal springboard to career success for budding professionals.

In view of this, Wing Hang Bank, Limited, launched a 24-month MT programme in 2008 with an intake of 14 graduates. "Bearing in mind Hong Kong's declining birth rate, it's our mission to nurture young talent for the sector," says Amy Chan, senior human resources manager and team head, resourcing and staff relations, human resources division, Wing Hang Bank, Limited. "Our target for 2011 is to handpick 18 to 20 graduates who are keen to develop long-term banking careers. The ideal candidates should have a strong academic background, good soft skills, integrity, and above all, a true passion for the industry."

The programme commences with a month of classroom training, covering the necessary banking knowledge and skills. Trainees are then rotated through the various divisions of a specific department, gaining hands-on experience and comprehensive insight into its operations.

"Our programme is designed in such a way that trainees benefit from a good combination of lectures and practical work," Ms Chan notes. Every three months, they return to the classroom for a week's training on industry-specific knowledge, leadership skills and soft skills, including office etiquette. She adds, "We also have a mentoring arrangement, enabling them to learn from senior executives assigned to be their personal career development coaches."

Ms Chan stresses that the learning curve is steep for trainees. Once they have been on the programme for six to nine months, they are tasked with a series of "stretch projects" which test their critical-thinking and analytical abilities, as well as their industry knowledge and skills. Previous projects have included analysing the bank's competitive edge and customer expectations.

"One of the most challenging aspects is that participants are required to deliver presentations to the management team based on their stretch projects. This is intended to boost their confidence, enhance their communication skills and promote teamwork," explains Ms Chan. "It also provides a valuable opportunity for them to receive feedback directly from our senior executives."

Founded 70 years ago, Wing Hang now operates a network of more than 80 branches in Hong Kong, Macau and mainland China, employing a total of 3,000 staff. A core feature of its MT programme is that it provides trainees with cross-border exposure during regular visits to the bank's mainland and Macau operations, where they get to interact with their peers and senior staff. They also get the opportunity to meet with the bank's business partners to learn about their expectations of the services and products on offer.

Ms Chan points out that the sheer size and sales volumes of large corporations may limit trainees' experience to a particular role. "As a medium-sized bank, we're able to provide trainees with broad exposure and an in-depth understanding of the business," she emphasises.

Regarding the growing emphasis on work-life balance, Ms Chan reveals that the bank's "balance well to reach high" management ethos, which covers careers, health, family, learning and development, leisure, as well as social responsibility, ensures that every member of its staff maintains a healthy lifestyle through a number of initiatives peppered across five "staff caring weeks" every year. These include recreational and sporting events such as bowling, book fairs and cinema going. In view of the rising awareness of total well-being, the bank earlier this year enlisted the expertise of a nutritionist for a number of healthy dishes which have since become popular choices from its staff cafeteria menu. Staff are also immersed in a series of health talks featuring themes like stress management, harmony at home and green living.


"The banking industry is all about the customers. Our key role is to put their interests first, listen attentively to their needs and serve them from the heart. This way we can exceed their expectations."
Cross-border experience
Hugo Chan
Current position:
senior product development officer, product marketing department
Qualification: BSc in computer science, City University of Hong Kong
Before joining the Wing Hang Bank MT programme, Hugo Chan was already familiar with the bank's corporate culture. "I worked as a part-time programmer at the bank in 2007 when I was a university student. What impressed me most was the harmonious working environment and staff relations," he recalls. "When considering my career choices, I felt that it was essential to work for a company with a culture that matches my personality."

Mr Chan particularly enjoyed the opportunity to visit the bank's mainland operations, which enhanced his understanding of the institution's business across the border. "We've also had a chance to meet our senior counterparts from mainland China and Macau. This cross-border exposure was invaluable to me as a fresh graduate."

The programme has boosted his confidence and helped to hone his communication skills. One beneficial learning experience was working on a stretch project, followed by a presentation to senior management. "It was quite tough, but the feedback was really helpful," he says.


"Fresh graduates like me are expected to take the initiative to learn and to contribute. The harder we work, the more we'll gain in the long run."
Learning through challenge

Ruby Li
Current position: assistant branch manager
Qualification: BBA in marketing and finance
The Hong Kong University of Science and Technology

After attending job interviews at more than 10 different banking institutions following her graduation, Ruby Li was particularly attracted to Wing Hang's caring corporate culture and so she joined the bank's MT programme in 2008. "Aside from the many training opportunities, this was the main reason that I signed up for the programme," she points out.

Following the results of an aptitude test, and in line with her own aspirations, Ms Li joined the bank's subsidiary Wing Hang Credit Limited, rotating around teams including marketing, collections and personal loans. "The training schedule gave me an excellent opportunity to build my network in the department. It also provided me with hands-on experience and extensive job exposure."

A stint in the collections division was the most challenging, she says, but at the same time she learnt to view things from different perspectives. "I really appreciated the guidance my supervisor gave me," she says.

Ms Li looks forward to expanding her experience to different areas and to fulfil her career aspiration as an all-round banking professional.


"Considering the intense competition in the banking industry, prudence and passion are the keys for young practitioners to excel at the job."
Work-life balance

Idy Chan
Current position: business manager
Qualification: BBA in marketing
The Chinese University of Hong Kong

The most valuable aspect of her role as business manager at Wing Hang's Kwai Chung branch is the opportunity to shadow the branch manager and meet clients with him, says Idy Chan.

"These client meetings have helped me to enhance my interpersonal skills and to develop a deeper understanding of the bank's business portfolio. They've also enabled me to build up business relationships and to get to know different business sectors outside the banking industry," she explains.

Having rotated from internal departments such as operations, credit and marketing to the frontline customer service counter, Ms Chan says hands-on experience has given her the essential skills and knowledge to develop a rewarding career in retail banking.

She joined the bank's MT programme in 2008 after considering a number of different options. She chose the Wing Hang platform, since she found herself attracted to its "balance well to reach high" management ethos. "I set high standards for my career, yet at the same time I value a balanced life," Ms Chan says.

Taken from Career Times 29 October 2010, A5

讚好 CTgoodjobs 專頁,獲取更多求職資訊!