Sales / Marketing
Beefing up performance
by Grace Chan
Terry Woo, vice president, Hong Kong
California Fitness
Photo: Louis Lam
Leading fitness centre helps staff keep in tip-top shape

Staying fit and getting in shape are not only good for the likes of fitness enthusiasts, it also sustains a booming business.

One of Hong Kong's largest fitness centres, California Fitness is home to a team of passionate, cheerful and customer-oriented fitness professionals.

With 10 locations peppered across the city, the company's future is heavily reliant on its team of dedicated fitness consultants.

"Sales techniques can be learnt but personality attributes are inborn," says Terry Woo, vice president, Hong Kong, California Fitness. "An academic background is always an advantage but not necessarily a success factor in this business. If you are a passionate extrovert with a great passion for exercise and a customer focus, career prospects are unlimited," he stresses.

In a bid to maintain a stable workforce, competitive remuneration packages are being offered along with various incentives. "As it can take months to build up a client base and develop a trusting relationship, all of our new fitness consultants are guaranteed a basic salary of HK$10,000 in the first two months," notes Mr Woo, adding that Form Five graduates with the right personality and attributes are encouraged to sign on.

Basic training

From the third month onwards, fitness consultants will receive a basic salary plus commission. "High performers with strong motivation and exceptional client servicing skills can anticipate higher monetary incentives. Fitness consultants who have two years' experience, for example, can earn an average of more than HK$30,000 a month," Mr Woo reveals.

Club managers constantly discuss with staff about their career aspirations and provide tailored training to help the individuals achieve career growth, he adds.

The main responsibility for a fitness consultant is to recommend personal training programmes that fit the needs and fitness goals for potential members.

In addition to a compulsory basic training programme that summarises the fundamentals of sports and fitness, all new members of the frontline team are immersed in a one-on-one training programme that hones their key techniques including client relationship management, customer servicing and conversation skills.

Mr Woo notes all fitness consultants must believe in the benefits of regular exercise and have a passion for their job. As a business that heavily relies on member referrals and expanding the clientele, he says that fitness consultants are expected to nurture long-term relations with club members. "Word-of-mouth marketing can be very effective," he adds.

For employees new to California Fitness, club managers offer coaching sessions to hone their interpersonal and communication skills. Mr Woo remarks, "We suggest that our fitness consultants develop a good relationship with our members, chatting with them when they come in for a workout or calling them up to understand their needs."

Conversations may cover anything from work pressure and physical fitness to new programmes on offer. "The key is to care for our members from the bottom of our heart, helping them to achieve total fitness and become healthier and happier," he says. "Faced with intense industry competition, it is our people-oriented and customer centric approach that boosts our muscles."

Top performers

As health awareness continues to grow and spur demand for fitness services, California Fitness, as a leading fitness brand in Asia, is expanding its operations across the region.

In line with rapid business growth, the company adheres to a promote-from-within policy and promises good career prospects to top-performing individuals. Members of the company's senior management who have worked their way up the corporate ladder serve as excellent role models. As a case in point, Mr Woo joined California Fitness as a fitness trainer in 1998. During his 12-year tenure, he had been relocated to the company's Taiwan and Singapore offices for four years, learning the ropes of the fitness business that targets different demographic segments.

According to Mr Woo, fitness consultants can expect to become team leaders within a year of joining the company. Another year's experience may qualify someone for the role of assistant sales manager and subsequently sales manager or club sales manager.

"Internal recognition is an integral part of boosting staff morale and retaining top talent. It is also important to offer a series of training programmes to help develop their career with us," Mr Woo concludes.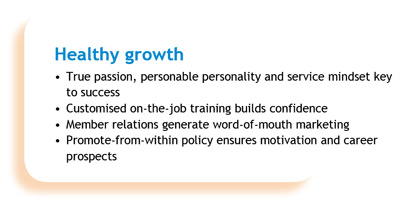 Taken from Career Times 16 April 2010, A9

讚好 CTgoodjobs 專頁,獲取更多求職資訊!