Self-enhancement
Benchmark investment qualification indicates worldwide gold standard
by Libby Peacock
Speaking at a recent Career Times seminar on "The Financial Analyst's Road to Success", three successful investment professionals outlined various aspects of the industry, focusing on the benefits of CFA Institute's three-level study programme and the acclaimed CFA designation
Jan Squires, managing director, Asia Pacific Operations
CFA Institute
Photo: Wallace Chan
Hong Kong has gained a global reputation as regional and international centre for finance and the booming wealth management industry is creating an abundance of opportunities for both newcomers and established financial analysts.
There are currently 93,000 CFA charterholders worldwide, of which 13,000 are in Asia Pacific and 1,300 in mainland China. An impressive 140,000 candidates have enrolled for the 2007 study programme worldwide, of which one third are in Asia Pacific and 20,000 are located in Hong Kong and mainland China.
To enroll, students need a bachelor's degree or its equivalent, which doesn't necessarily have to be in the finance field. However, candidates can only receive the CFA designation upon completing four years of relevant work and successfully passing all three exam levels. Jan Squires, managing director, Asia Pacific Operations, CFA Institute said the definition of the work experience is that it has to "relate in some way to the investment decision making process".
Dr Squires stressed the flexibility of the programme, saying candidates are welcome to complete the requirements over any period of time and that the work experience may be completed before, during or after the exam process.
"The pure self-study aspect of the programme can be extremely liberating," Dr Squires said.
Crucial skills
The CFA designation is a worldwide gold standard, which is standardised and known by employers around the world, who see it as a benchmark that they can measure candidates against, Dr Squires pointed out.
In addition to its "portable credibility", other benefits of the programme is the "essential knowledge" it imparts, the global network it offers for information sharing and networking and the lifelong learning tools that it provides.
Dr Squires believes there is no doubt that the designation brings enhanced career opportunities. For example, a wide selection of recent job postings in local newspapers stated that CFA charterholders or candidates were required or preferred. These jobs spanned a wide range of positions, from investment analyst to business valuation manager.
The CFA programme has 41 formal programme partner universities, including eight in Asia Pacific, of which the Hong Kong University of Science & Technology's Business School is one, Dr Squires said, adding that 20 years ago the programme was "more of a mid-career boost", while people are now increasingly doing it earlier in their careers, many with little or no work experience.
Finally, he told the seminar participants, "You have no choice — you're going to have to get smarter and you're going to have to be ethical. Finally, you won't have a choice about going global. Even if you stay in Hong Kong for your entire career, the thinking is not only about a local perspective."
Career advancement
Wallace Woo, director, investment counselling, HSBC Private Bank (Suisse) SA
Photo: Wallace Chan
Prospective employers immediately assume that a job applicant who has gone through the CFA programme has a "standard of knowledge", Wallace Woo, director, investment counselling, HSBC Private Bank (Suisse) SA, told the seminar audience. "This is crucial for career advancement," he said, adding that particularly when it comes to the "buy side" of the field, employers expect their staff to have this knowledge.

Elaborating on the ethics aspect, Mr Woo said the CFA designation conveys to employers and investors that a professional can be trusted to handle portfolios in an ethical way. "People will respect you a bit more," he said. "Some 10 years ago, most CFA charterholders were actually fund managers, who worked on the buy side. Now many who work on the sell side are also charterholders."

He emphasised that the designation indicates to other CFA charterholders globally that they are "speaking the same language", which is good for networking. In some cases, people who may not even have picked up the phone to take your telephone call, will do so when they know you are a CFA candidate or charterholder. Compared to other programmes on the market, CFA focuses "more on the financial analysis part", he added.

He told the seminar goers that a good entry-level job choice for someone wanting to move into the investment field from a different industry such as retail banking would be that of research analyst.

The most important quality that he personally looks for in a newcomer to the industry is personality. Mr Woo said, "Secondly, you have to understand your clients' needs," he pointed out, stating that while a lot of Western investors want steady growth and good risk management, many Asian investors look purely at quick returns.

Solid ground
Samuel Yang, associate director, Investments, Merrill Lynch (Asia Pacific) Limited
Photo: Wallace Chan
"The CFA designation provides you with the foundation knowledge from where you can go on to learn new things," says Samuel Yang, associate director of investments, Merrill Lynch (Asia Pacific) Limited.

He described the programme as "a good starting point in this region with so many degree programmes", saying that the brand is well established in Hong Kong and therefore carries value and recognition.

In addition, the fact that someone has completed the programme indicates that the person has basic English proficiency, which is important in the industry, he noted.

International benefits of the programme include the fact that it is recognised as a global qualification and therefore can help candidates to get job interviews around the world. Mr Yang said if an interviewer sees that a candidate has at least passed level one, it often already gives that candidate an advantage above others.

"If someone already has the CFA designation, it saves time for companies who then don't have to train the person," he remarked.

Discussing exam strategy, he said candidates must prepare themselves to study about 3,900 pages of material. While the programme is in essence designed to be self-study, there are external course providers and classes available "for people who want to force themselves to be disciplined". He recommends that candidates start their study programme as early as possible and that they always attend the exams, even if they believe they are under-prepared.

The success rate for the level-one exam of the programme varies, but the June 2007 pass rate was 44 per cent. Typical reasons for failing include bad preparation, overconfidence and bad time management. Sometimes students are too stressed on the exam day or miss "too many easy points", he added, citing one example where a candidate who had forgotten his calculator (only two models are allowed) gave up after just one hour.

Besides professional qualifications, companies would also look for communication skills in a candidate. "For example, can you explain a complex idea to another person? Educate yourself about the industry. Speak to people. Tap into your network. Ask a ton of questions," Mr Yang concludes.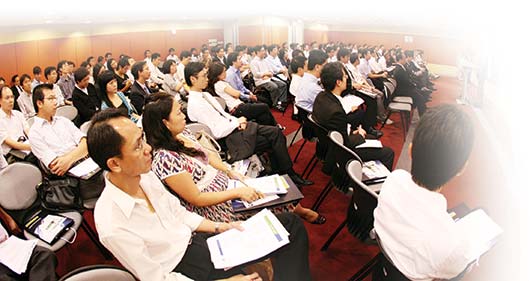 Taken from Career Times 21 September 2007

讚好 CTgoodjobs 專頁,獲取更多求職資訊!