Career Path
Breaking the news
by Ada Ng
Earnest Li
news controller, bbTV
Hong Kong Broadband Network Ltd
Photo: Sean Lau
Some people are attracted to the perceived glamour of the broadcasting world, but it was a love of television as a medium and a keen interest in production that drew Earnest Li to the profession.

"I remember being a bit of a TV addict when I was a child. I was particularly fascinated with the audio-visual effects on some of the programmes and news content," recalls Mr Li, news controller, bbTV, Hong Kong Broadband Network Ltd (HKBN).

Following his childhood passion, Mr Li graduated in journalism and communications from the Hong Kong Shue Yan University in 1993 and began his media journey on TVB News. It took him eight years to develop from an intern to a feature reporter, specialising in human interest stories and issues related to information technology.
Working in features, Mr Li witnessed many major changes, some of them technological, both in the media industry and society in general.

With the number of different communication media growing to include fee-based cable television channels, real-time online news sites and IPTV (internet protocol television), as well as countless weblogs, blog sites and amateur online journalism, people increasingly started to turn to alternative sources for news and information.
"I started to wonder if it was perhaps time for news producers to change and explore alternative avenues for growth," he says, adding that this realisation marked a turning point in his career, and he joined a core pioneering team of HKBN's broadband TV news channel in the early 2000s.

Interactive approach

With scores of alternative media sources changing the competitive industry landscape and pushing up standards for real-time and content-rich news coverage, Mr Li sees new challenges as opportunities for growth and development.

"The media environment is moving towards a more immediate and interactive model. This opens up possibilities for niche media channels such as HKBN to develop unique characters to satisfy viewer requirements," he says. "We believe in lateral thinking and filling the gap by creating content that is not covered by the mainstream media."

In his role as news controller, leading a crew of 70 including cameramen, producers, engineers, graphic artists, reporters, presenters and editors, Mr Li is primarily responsible for setting the newsroom editorial direction and market positioning that fits in with HKBN's overall corporate strategy.

His duties include creating value for viewers by incorporating an "innotech" theme in the news content. "When reporting on the East Asian Games, for instance, the mainstream media would focus on the major events and medallists, while we go beyond that to explore the innovative and technological side of the sports facilities involved," he explains.

Mr Li believes that this sort of topic interests the majority of HKBN bbTV viewers, who are internet users between 18 and 25 years old.

"The digital era is an exciting and challenging time for journalists, giving us the opportunity to use revolutionary new ways to gather news and distribute it," he says.

In-depth coverage

Although the industry is developing at a rapid pace, the core values and skills necessary for success in broadcasting remain unchanged.

"A prerequisite for any journalist is to have a passion for the profession," Mr Li stresses. "This helps to get you through the first few years when the workload is demanding but the pay relatively low."

For broadcast journalists in particular, an interest in TV production is crucial, Mr Li notes. Other essential qualities include being inquisitive and analytical, with respect to local as well as international issues.

"Today, almost anyone can provide television news coverage by using an amateur camera and a computer, or even broadcast live pictures using just a mobile phone," he says. "So, journalists in the new digital era should be able to translate facts into interesting and analytical news stories that add to the basic coverage."

Mr Li will be looking for these qualities during the company's Make a Difference News Anchor Global Search. The news anchor recruitment campaign aims at identifying and nurturing fresh talent for the bbTV News Channel.

A total of eight candidates with strong language and presentation skills will be selected to attend a technique workshop for participation in a Next Generation News Anchor Contest later this month. The winners will undergo 12 months of mentoring and exposure to assignments and production to develop the necessary news sense, as well as reporting and presentation techniques.

Mr Li stresses that a news anchor's career path is not limited to a presenter's role. With sufficient industry experience, a news anchor may move into different positions, from producer to editor and other management roles with the newsroom or the organisation as a whole.

"The most rewarding experience for me so far has been to see some of my team members grow from novices to experienced reporters," says Mr Li. "Other aspects of broadcasting journalism that I find tremendously satisfying are the timely production requirements and immediate results they yield."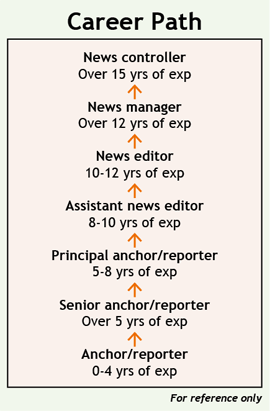 Taken from Career Times 8 January 2010, A12
讚好 CTgoodjobs 專頁,獲取更多求職資訊!