Career Path
Brewed for success
by Isabella Lee
Teggy Pang, district manager
Coffee Concepts (Hong Kong) Ltd
Photo: Edde Ngan
In a city that has traditionally seen Chinese teahouses rule the roost, the widespread adoption of "coffee culture" in Hong Kong has been phenomenal. This created ample opportunity for Teggy Pang, who was a novice to coffee before joining global coffeehouse Starbucks as a barista seven years ago.

Currently a district manager, Ms Pang recalls a time when she could hardly tell a good cup of coffee. "Thanks to the company's training, I can now offer customers my expertise on coffee aroma, flavour and texture," she says.

In fact, coffee tasting is the very first thing a Starbucks partner (employee) does. Ms Pang explains, "Every day, we pick a time for coffee tasting. A partner will brew a specific type of coffee, approach customers in the shop, invite them to taste it and explain the product. The process can be good fun because some of our customers are themselves coffee connoisseurs and there is good exchange of opinions."

Between work and life

With a distinctively relaxing ambience, Starbucks has earned a reputation as being "the third place" for customers leaving home for work, and vice versa.

"We may be a coffee retailer but people remain the focus of our attention. Aside from the convenience of our store locations, comfortable interior d?cor, and quality food and beverage, we offer exemplary service with a friendly smile," Ms Pang emphasises. "It is in an environment like this that our customers feel relaxed and cared for."

Managing nine Starbucks stores housing nearly 60 partners, Ms Pang spends most of her time on the frontline. Interaction with partners constitutes a significant portion of her daily responsibility, alongside some deskwork and meetings. "Even though I need to really find time to care for all nine stores, I make it very clear to my teams that they can always reach for me for support and assistance," she says.


I make it very clear to my teams that they can always reach for me for support and assistance
Training and coaching newcomers to the company helps Ms Pang fine-tune her skills and knowledge. "People development is a commitment here at Starbucks. Besides classroom training, the company provides various tools to help all of us grow regardless of duties and ranks," she says, adding that the company places considerable emphasis on honing partners' interpersonal skills as well as specialist knowledge of coffee.

"I consider myself lucky to have been nurtured in a sharing culture. Everybody here shares with each other, not only their skills and knowledge but also life experience," she stresses. "I learnt from my predecessors and personal coach and now I am more than happy to pass on my experience."

Rising star

At the moment, Ms Pang is working towards a "district coffee master" accreditation. "This is the top of Starbucks' unique certification programme that educates employees in all aspects of the company's coffee activities," she explains. "Getting this specific qualification requires plenty of study, but it has been a goal for me and many of my colleagues."

Another of Ms Pang's current ambitions is to become "district manager of the year". "In my position, I facilitate business growth, boost customer satisfaction and drive partners' work performance," she says. Working towards the honour, she is collaborating closely with Starbucks' support team as well as her frontline colleagues to tailor the stores' own features to suit their specific customer demographic.

"As a manager, I feel that collecting opinions from partners cannot be easier because people in Starbucks are used to opening up and having their say. Our culture encourages feedback of all kinds and keeps everyone informed. So, when it's my turn to take action to make my partners' life happier, I won't hesitate to go to the right place and do the right thing," Ms Pang remarks.

To make a Starbucks experience personal, Ms Pang goes to great lengths to memorise regular customers' preferences. "They will always find our coffee to their liking," she says.

She believes her job means more than just running a successful coffeehouse. "We've always worked towards exceeding customers' expectations. To make a perfect cup of coffee takes more than simply the right amount of milk and sugar, we pour our heart into it too," Ms Pang concludes. "People looking to join the Starbucks family must make sure they enjoy and have the charisma for working with people."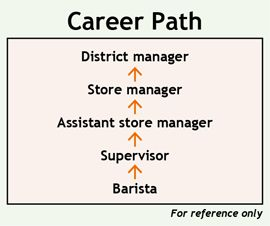 Taken from Career Times 11 December 2009, p. B11

讚好 CTgoodjobs 專頁,獲取更多求職資訊!