Money Moves
Bright future in banking
by Alex Lai

This is a special edition capturing highlights of the Banking in for a Brighter Future seminar held on 20 July 2007

The stability of Hong Kong's banking industry provides outstanding opportunities for all. Four top-notch professionals shared their views at the "Banking in for a Brighter Future" seminar co-organised by The Hong Kong Institute of Bankers and Career Times
Carrie Leung
chief executive officer
The Hong Kong Institute of Bankers
Photo: Wallace Chan
In the past decade Hong Kong has seen its ups and downs, particularly in the banking industry. However, the city's overall status as an international finance centre and banking powerhouse has grown and, now more than ever, promising career prospects exist for new and experienced talents.
Big picture
The local banking industry has continued its steady growth despite upheaval in other areas of Hong Kong society, according to Carrie Leung, chief executive officer, The Hong Kong Institute of Bankers. "Today, 71 of the world's top 100 banks have a presence in Hong Kong, reflecting the city's position as a leading financial centre in the Asia Pacific region," Ms Leung said.
Financial system reforms have enhanced the freedom, transparency and operational efficiency of the industry; and the broadening of investment portfolios has increased its scope. "We have a banking workforce of 82,000 people in Hong Kong, all working at a high efficiency rate," Ms Leung remarked. "There are more than 200 authorised institutions in the three-tier banking system headed by Hong Kong Monetary Authority, fulfilling roles in various functional areas including retail banking, commercial and corporate banking, asset management, private banking, investment banking, treasury, operations and support, compliance, risk management and much more. Career opportunities for newcomers are everywhere."
As the industry grows, it has also become more complex. Banks are now doing more than simply providing banking and financial services. They must also be concerned with political, economic, social and technological (PEST) issues, which affect the all-round development of society. This further increases the need for new banking professionals, Ms Leung noted.
Other factors also have an influence: fast-growing emerging markets that heighten industry competition; Hong Kong's close ties with mainland China and its massive economic potential; stringent regulatory requirements; increasing risk awareness; technological utilisation in service delivery and product development; corporate social responsibility; and competition for talented professionals.
"As a result, the banking professional is now expected to be both a generalist and specialist," Ms Leung said. "Companies want employees who possess knowledge of Chinese legislation and products, outstanding IT skills, fluent English and Chinese language skills, product innovation skills, service productivity skills, and lucid awareness of corporate social responsibility."
With systems and product ranges evolving so quickly, qualifications that help sustain employees' knowledge and enhance their work competencies are especially valuable and the HKIB is continuously working to improve this area for the industry.
Business banking
Wholesale banking involves service areas like small business, middle markets, and medium to large local corporate business development, marketing product development, trade, cash and operations, treasury and capital markets. These are mixed and matched according to different corporations' needs to facilitate growth for themselves as well as the bank. This illustrates the significance of relationship management to a bank's development.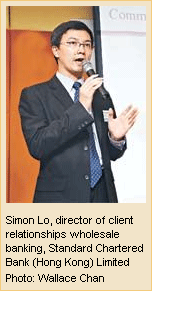 "Wholesale banking emphasises client acquisition and growth, credit assessment and proposal write-ups, extensive knowledge in product cross-selling and a certain level of people management," Simon Lo, director of client relationships in wholesale banking, Standard Chartered Bank (Hong Kong) Limited, explained. "We are different from retail banking because we deal with more in-depth trade, cash and operation documentation, and the primary focus is on sourcing new corporate clients. In a nutshell, we develop and maintain relationships with commercial clients, providing professional financial solutions in areas of commercial lending and trade financing."
Mr Lo stressed that there are ample opportunities for people who want to develop a career in wholesale banking. As there is a wide range of financial products in foreign exchange and futures, there are ongoing vacancies for treasury sales, product specialists and analysts.
Also, people with experience in areas such as business administration and SME relationship management are sought after as they possess the much needed hands-on experience that can help banks to achieve their commercial banking goals.
"Other than relevant academic qualifications and job experience, we need people who are proactive, result-oriented and have excellent interpersonal skills," Mr Lo said. "In turn, we offer a professional and rewards-based environment that encourages personal growth. There are substantial financial rewards to be earned, opportunities in management roles, cross departmental and even cross-border jobs that involve travelling to the mainland."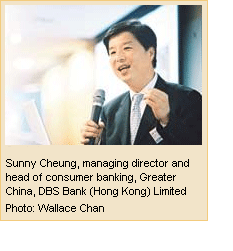 Individual attention
Retail banking is a service geared primarily towards individual customers, usually offered by commercial banks as well as community banks. As with other areas, retail banking has seen positive growth in recent times. "There are 1,224 bank branches operating in Hong Kong and Fortune magazine's pessimistic prediction on Hong Kong's post-1997 banking industry has been proved wrong," Sunny Cheung, managing director and head of consumer banking, Greater China, DBS Bank (Hong Kong) Limited said. "Hong Kong's financial system is still banking-oriented."
Retail banking entities provide a wide range of personal banking services, such as saving and cheque accounts, bill paying services, and debit and credit cards. Customers can also obtain mortgages and personal loans. Although for the most part it is mass-market driven, retail banking and the products and services can extend to small- and medium-sized businesses. Today much of retail banking is streamlined electronically via automated teller machines or online banking.
Although retail banking is primarily concerned with the individual, market trends like increasing earning power, decreasing spending ratio, reducing household size, an ageing population, declining birth rates and rising education levels have business implications for retail banking development. Mr Cheung said, "There is a need for more sophisticated products to grow and preserve wealth, particularly in retirement planning, healthcare protection and education funds. This is where comprehensive and tailor-made wealth management solutions kick in."
The retail banking environment is extremely competitive and banks do all they can to attract customers. "We must go through every possible channel such as the print media, direct mailing, television, online and even SMS to get our services across to customers," Mr Cheung emphasised.
Successful personnel in this sector formulate overall marketing strategies, develop and execute action plans to ensure smooth implementation of business propositions, coach and motivate sales teams to promote the full range of retail banking products and apply wealth management solutions to target customers. "With all of this in mind, the most sought after position is that of relationship manager," Mr Cheung added.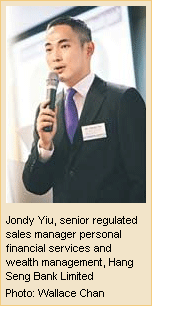 Wealth awareness

An increasing need for wealth management services is the result of a positive economic environment and also greater awareness of financial issues. Jondy Yiu, senior regulated sales manager, personal financial services and wealth management, Hang Seng Bank Limited, has witnessed this firsthand in his eight years with the bank. "There has been a remarkable increase in customers' awareness and knowledge. They are more sophisticated and risk-conscious compared to the old days," he said. "I joined Hang Seng as a trainee and have worked across the broad range of services the bank offers its customers. In return I enjoy a promising career."

Financial planning involves the provision of investment, insurance and banking services. For example, structured products, non-authorised notes and structured funds are popular financial products that customers seek in investment services. For insurance services there are unit-linked protection, retirement protection to meet saving purposes and, since the SARS epidemic in 2003, health and medical protection. Potential banking services products may include structured deposits, RMB deposits and retail bonds.

The typical path to become a fully qualified financial planner begins with the position of an officer or trainee for a year, followed by promotions to financial planning manager or customer relationship manager, senior manager, and then branch or district manager. To be the head of a wealth management division, it would take an additional 10 years.

To succeed in the industry, Mr Yiu said, substantial knowledge, effective communication skills, a positive attitude, a high degree of integrity and a strong willingness for continuous learning are indispensable.

Compared to working as an independent financial planner, he added, there are advantages to being a financial planner at a bank. "A banking institution is able to offer excellent and comprehensive training opportunities, a wide product range, strong IT support and business network, education subsidies, and a solid financial background and customer base."

Mr Yiu recommended banking and wealth management in particular to young graduates looking for a gainful career. "I hope by joining together talented individuals with the banking industry, the whole package and environment will become better," he concluded.

Banks are in general becoming more "customer-centric" and cost-conscious as they face intense competitive pressure for people's attention, meaning skilled employees are in high demand. Moreover, with Hong Kong's international status and its role as China's financial centre, the future of the industry is full of promise and there are enduring opportunities for talents to foster growth in the region.


Taken from Career Times 27 July 2007, p. A2

讚好 CTgoodjobs 專頁,獲取更多求職資訊!