Career Path
Brimful of confidence and charm
by Charles Mak
Tony Fung
executive, global technology services
IBM China/Hong Kong Limited
Photo: Edde Ngan
A quarter of a century ago, IBM systems engineer Tony Fung put his name forward as member of the firm's brand new Chinese business excursion. Obviously, the shoe wasn't too big for him to fill.

"I'd only been with IBM for a brief year, but when the chance became visible, I grabbed it," says Mr Fung, who took pride in his new identity as an "IBMer" soon after he'd shed his academic gown in 1984.

For a stretch of four years split between Hong Kong and the mainland, Mr Fung, currently global technology services executive of IBM China/Hong Kong Limited, took every hardship in his stride, soaking up the tough but worthwhile experience in the budding economy. The stint gave him first-hand exposure, a wide people network and on top of all this, self-confidence. "There was so much to learn including the Mandarin language," he recalls. "I could see long-term prospects in the mainland market and there's no point for me to stay put."

It was a decade later that Mr Fung spent another four years travelling to and fro China but this time he was an IBM consulting partner leading various ITSP (IT strategy and planning) and product development consulting projects for a number of major insurance and telecommunications corporations on the mainland. "The year was 1998, and mainland clients were already technology savvy and they focused mostly on the strategic aspect of IT including the effective management of process and human capital," says Mr Fung.

His expertise and insights into the mainland market were again enlisted in 2004 for the development of IBM's learning solutions business in China. Mr Fung was then a business development executive for the firm's emerging business unit.

One job

Thus far, aside from a bachelor's and a master's qualification in computation conferred by the University of Manchester's Institute of Science and Technology as well as an exhaustive list of professional certificates plus numerous achievements from various technical, consulting and service management positions which he has held, Mr Fung's resume is adorned with only one job. "IBM was a natural choice for me as a young graduate," he states.

Mr Fung has worn many hats over the years being involved in a plethora of the firm's key functions including ITS sales, solution design and service product lines development. Last July, he rightfully assumed his current position and is now in charge of the firm's integrated technology services (ITS), integrated technology delivery, maintenance and technical support services and strategic outsourcing services units in Hong Kong and mainland China, carrying key responsibility towards business development and overall management.

"Hard work always pays," reflects Mr Fung, whose first position at IBM has long ceased to exist. "The system engineer position no longer corresponds to the multifaceted nature of this particular role," he explains. "There is more business and service in it alongside technology."

Soft touch

Emerging technologies and the ongoing influx of easily accessible information may have flung open a window of opportunities for young people equipped with the essential technical skills, but Mr Fung, now at the helm of the profession, emphasises that this makes a solid foundation all the more indispensable.

He adds that IT professionals must keep a finger on the pulse of the global market and maintain sensitivity to the changing fabric of the industry. "IT is a central component of a company's corporate DNA molecule, regardless of business scope and nature," notes Mr Fung who last year put together a sophisticated ISO-compliant IT infrastructure for City of Dream Macau.

"People in the field are by and large hands-on users. But, as service providers, they need to develop the capacity to take a customer's perspective in order to formulate solutions to the customer's requirements," he observes. "They need business acumen, a wide array of soft skills and a good doze of confidence to be able to explain in layman's terms the IT-related challenges facing individual clients and articulate the rationale behind a specific piece of advice."

Corporate efficiency may well be gauged via KPI measurement or benchmarked against P&L analyses and it's more often than not about getting the balance right; effective leadership, meanwhile, as Mr Fung points out, is similar. "There's a lot going into a business scheme and this can range from budgeting down to customer satisfaction," he notes. "When it comes to people relations there are no algorithms to follow. Efficiency in this regard is very much dependent on how well you balance the individuals' aspirations, morale and needs for personal enhancement."

Mr Fung starts a typical working day the preceding afternoon. He sees two weeks ahead and prioritises customer engagement. "I simply enjoy the interaction," he says. "Other people's experiences can be stimulating and allow differing viewpoints on matters that I can relate to."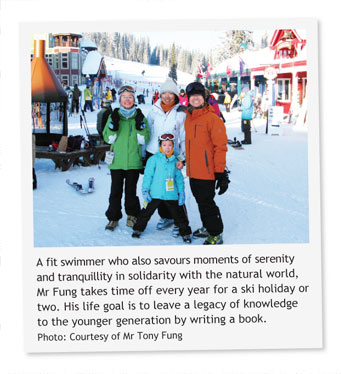 Taken from Career Times 5 November 2010, B14

讚好 CTgoodjobs 專頁,獲取更多求職資訊!