MT Opportunities
Building a connection
by Grace Chan
Creative young recruits see bright futures in the vibrant world of telecommunications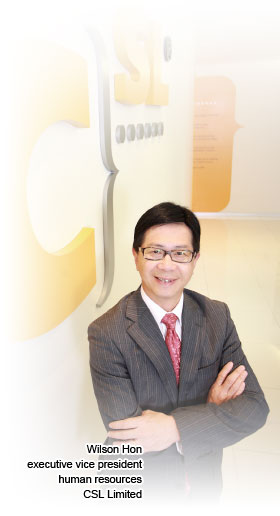 The mobile phone industry has grown at such a fast pace that industry players compete to recruit the best people to help them take their businesses forward.
Considering the limited supply of existing industry professionals, one major operator taps into the young talent pool by drawing graduates into the industry through its management trainee (MT) programme.
"Telecommunications undoubtedly offers great opportunities for a successful career," says Wilson Hon, executive vice president, human resources, CSL Limited.
"To maintain our leading position, we continue to deliver new services using state-of-the-art edge technology — but we can only do this by bringing quality people on board," Mr Hon notes. "Passionate young people introduce fresh perspectives, opening up new possibilities."
The company launched its MT programme, comprising a commercial and a technical stream, in 2008. The former targets general management talent while the latter aims to hone candidates' technical skills.
Learning the ropes
Hands-on experience through job rotation and participation in real-life business projects is a core feature of the CSL MT programme. "The best place for our trainees to gain the necessary product knowledge is in our retail shops, addressing the needs of our customers," Mr Hon notes.
As part of their first attachment, selected MTs spend time working in frontline functions, including customer service, stock management and staff management. MTs in the business stream undergo two years of training comprising about 10 job rotations in different business units. These include technical divisions such as IT networking, and business-focused ones such as marketing and product development.
"We find that trainees in the technical stream, mostly engineering graduates, are keen to develop their technical skills," Mr Hon adds. "Training for this stream lasts 12 to 15 months."
Line managers act as coaches and mentors to provide trainees with guidance and support while reviewing their performances on an ongoing basis. The human resources department collects feedback from different departments to get insights into the trainees' strengths and help them map out suitable career plans.
Trainees can expect a progressive career path and to be challenged on an on-going basis. By working on real-life projects, the MTs gain opportunities for growth and personal enrichment.
Mr Hon says, "The job rotation schedule helps our trainees build up a network within the company. Apart from being valuable from a work perspective, such cross-departmental bonds help the trainees to be more connected and loyal to the business."
The company targets applicants who demonstrate a strong passion for the industry, a creative and critical mindset as well as sharp and quick responses, regardless of their academic background.
"Our industry is all about speed and change. We want people with the enthusiasm to keep up with the pace and the creativity to facilitate change," Mr Hon concludes. "In the past two years, we only selected four candidates for each stream out of thousands of applications. Given our leading position and brand, we are the ideal employer for young people wanting to grow and excel in the industry,"

Getting there
CSL's management trainees are expected to deliver results, and the recruitment process is strict. Four management trainees (commercial stream) from the 2008 intake share their experience.
Joyce Tai
Psychology, The University of Hong Kong

"The fast-moving and creative business nature of the industry is what attracted me to telecommunications. Considering CSL's leading role in the field, I believe the company offers exceptional learning opportunities. The rotation system is particularly valuable to introduce trainees to all aspects of the business. Since joining the programme, I've been attached to five business units. This cross-departmental exposure has familiarised me with the company's operational structure and enhanced my interpersonal skills. Although I'm still new to the business, my managers expect me to be open and to ask questions. After handing several projects, my organisational skills have strengthened significantly."
Ken Choi
Integrated BBA, The Chinese University of Hong Kong

"I've always been interested in the telecommunications industry and its operations. Joining CSL has given me an opportunity to experience the latest technologies and product developments in the field. A strong sense of the market and an international perspective are essential to maintain a leading role in the industry. The programme has helped me sharpen my interpersonal skills, while equipping me with project management abilities. Although I only worked in each business unit for a relatively short time, I have been involved in important projects and required to deliver presentations to division heads. This has been a challenging but great experience."
Jazmin Tsoi
International politics, The University of Hong Kong

"The structure of the programme has challenged me to develop a wide array of skills and ways of thinking to meet the unique needs of each business section. I am currently attached to the strategic development division. This is an area that I'm most interested in as I'm expected to come up with innovative and creative ideas. I've learnt to consider issues from different perspectives. My mentors, supervisors and colleagues have all provided me with excellent guidance and coaching. To excel in this industry, we must learn to embrace challenge and be able to think out of the box. It is also important to be a good team player."
Lavinia Lau
Marketing, The Hong Kong Polytechnic University

"I particularly enjoy the all-round exposure offered by this programme. I'm now on my sixth rotation and my previous attachments included business units such as frontline sales, product development, marketing and internal operations. Each of these presented different challenges. Throughout the process we are trained to think critically and express our thoughts independently. This tests adaptability and flexibility, which are at the core of the industry. I have gained a great sense of ownership through hands-on experience. I try to keep up to date with industry developments by reading up on the latest trends and technologies in journals and on the internet."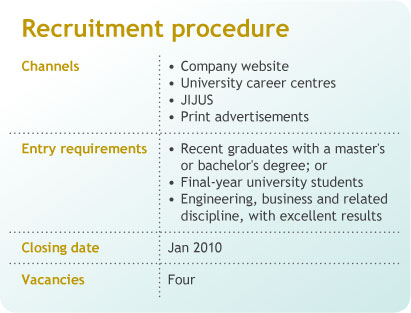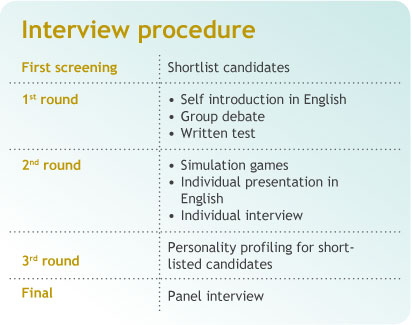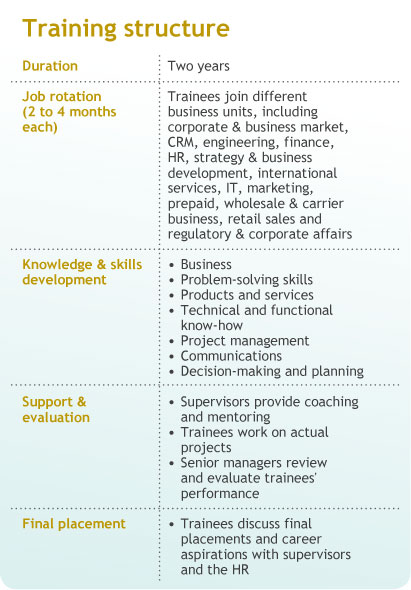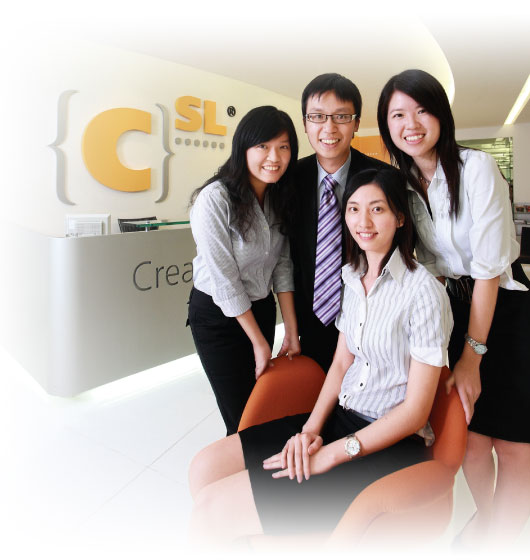 Taken from Career Times 06 November 2009, p. B4

讚好 CTgoodjobs 專頁,獲取更多求職資訊!