Property / Construction
Building blocks for sustainable development
by Isabella Lee
Philco Wong
chief operating officer and executive director
Gammon Construction Limited
Photo: Lewis Wong
Green initiatives and talent development as vital for healthy business growth

In keeping with Hong Kong's status as a major international hub, the government is currently providing great impetus to the development of local and cross-border infrastructure. This, in turn, is boosting the city's building and construction sector.

The positive impact of the government's 10 major infrastructure projects is reflected by increased work opportunities and stiff competition for talent in the field, says Philco Wong, chief operating officer and executive director, Gammon Construction Limited.

A market leader in Hong Kong, Gammon Construction runs a diverse portfolio of projects, including road works, bridges and railway stations and tunnels. Apart from commercial and residential buildings, the company is also involved in the construction of community facilities, such as university campuses and recreation centres.

"Our extensive industry experience gives us a strong grounding, but we're constantly looking to expand our business while employing the most cost-effective methods to achieve maximum output," Mr Wong points out. "One way of doing so is by combining modern technology with effective deployment of manpower."

Responsible employer

When it comes to safety issues, Gammon Construction strives for "zero harm" in all the company's workplaces. Mr Wong stresses that the company sees it as a priority to keep improving working conditions for its people, subcontractors as well as suppliers. More than simply abiding by statutory industry rules and regulations, the company proactively seeks innovative, eco-friendly solutions to minimise the impact of its construction activities on the environment.

"It's important to consider carefully the possible impact of our work on society early on, even at the tender stage and before the execution of work. We believe that by incorporating green designs and measures together with the application of advanced technology and procurement strategies, we bring benefits to our own people as well as to the greater community," Mr Wong notes.

It may seem at first glance that being environmentally responsible creates a financial burden, but according to Mr Wong, that is a false assumption. "It takes more money and time to rectify problems caused by, for example, polluting a piece of land. In addition, by improving working conditions within the industry, we could attract more high-quality professionals to the field which in turn provides resources for sustainable growth in the long run," he says.

Gammon Construction also promotes its sustainability philosophy via a series of staff training, which focuses on safety awareness, operational efficiency and environmental concerns. Every employee is urged to be inspired by these values and to keep these in mind in their day-to-day working activities.

Development and recruitment

Staff growth is achieved through a range of people development initiatives, both within the company and in collaboration with other institutions. Gammon Construction designs a unique fellowship programme for local universities and offers mentorships and internship opportunities for selected final-year students. Interns that meet set performance standards are prioritised for full-time positions once they graduate.

Team members with less experience can benefit from the company's tailored Young Professionals Group scheme, a platform where engineers and other professionals aged 35 and younger that are not yet on management level can get together. The group receives financial and advisory support from the company, but decides on its own activities through an elected committee.

"We definitely prefer to develop our own talent, but rapid expansion does also compel us to recruit from outside. In such instances, we make sure that the candidates have a clear understanding of what the company offers in terms of career progression. On the other hand, it's important for us that new recruits have the necessary acumen and skills for this people business," stresses Mr Wong, adding that the company seeks to employ people with good logical thinking skills and looks at personality traits, mindset, as well as educational background and professional qualifications, when considering candidates.

The hiring process focuses strongly on interaction between the company and individual job candidates. After undergoing preliminary screening through written tests and panel interviews, short-listed candidates are invited to attend a gathering with Gammon Construction's directors and senior managers where they are encouraged to ask questions and improve their understanding of the company. This also allows the management team to learn more about the candidates in order to identify the right person for the job.

As a well-established contractor at the higher end of the industry, Gammon Construction is an employer of choice. "Our employees are generously remunerated, and they also receive ample chance to grow with the business and subsequently excel in the industry," Mr Wong concludes.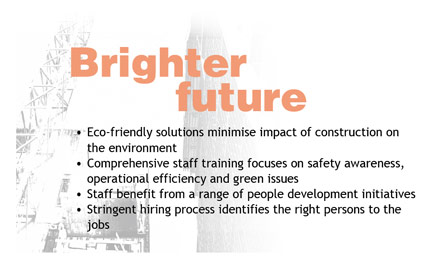 Taken from Career Times 18 June 2010, B4

讚好 CTgoodjobs 專頁,獲取更多求職資訊!