Career Path
Building professional momentum
by Grace Chan
Albert Cheng
project manager
Hong Kong-Zhuhai-Macao Bridge
Highways Department
Photo: Lewis Wong
People may associate a civil service job with stability and security but this never occurred to Albert Cheng who joined the public sector after graduating in civil engineering from the University of Hong Kong in 1979. It was exposure that he craved and he still does today.

"When it comes to infrastructure development, Hong Kong is second to none. From the building of new towns in the 1970s to the government's current 10 major infrastructure projects, Hong Kong has always had abundant opportunities to both budding and experienced engineers," says Mr Cheng, now the project manager for the Highways Department's Hong Kong-Zhuhai-Macao Bridge project. "The government's leading role makes public-sector work highly satisfying."

His career took off when he was tasked with, single-handedly, the design of the section of Tolo Highway between Hong Lok Yuen and the Wo Hop Shek Interchange—a role that included everything from land acquisition to tendering and on-site supervision.

"I was living in Chai Wan then so over a period of more than one year, I took to staying over at the Fan Ling site office near the cemetery, supervising the night work for bridge construction over railway tracks," he recalls.

Not one who focuses on incentives, Mr Cheng's dedication and efforts however paid dividends. During the 1980s, he had a once-in-a-life-time chance to be involved in the planning of core projects related to the Chek Lap Kop airport.

"Back then, the Route 3 expressway was simply known as Route X, and we drew the route connecting Yuen Long to Hong Kong West on a piece of A4-sized paper as the very first representation of this important highway," he says. The project was the most memorable of his career. "It was an incredible experience to see the 27.4 kilometre expressways built and finally opened in 1997," he reflects.

Extensive exposure

After being promoted to senior engineer, one of Mr Cheng's major projects was the tender and design of Kwai Chung Viaduct, a major section of Route 3. Between 1995 and 1997, he was involved in the construction of North Lantau Highway linking Lautau and the airport.

He was then transferred to the Works Bureau (which now falls under the Development Bureau) where he, as a chief engineer, was responsible for policy issues regarding the management of the public works programme. In particular, he was actively involved in the Cyberport and Hong Kong Disneyland works.

Mr Cheng notes that this responsibility required more than technical knowledge. Interpersonal and negotiation skills were vital for he needed to liaise with various government departments and other interested parties. "The Disneyland project was a remarkable experience, as I played a role in negotiating with the theme park's US representatives and prompting the completion of the construction work," he adds.

Increased managerial and administration responsibilities came his way as he continued to move up the ranks. In his role as assistant director in the then Civil Engineering Department from 2002 to 2005, he was the subject officer for the merger of the Civil Engineering Department with the Territory Development Department, and in three years' time, assumed his current position.

Society's interests

Public consultation is an integral part of success for major civil service works and this is also the case with the bridge project, Mr Cheng points out. "Community engagement and participation are indispensable and it's best to identify public needs early on," he underscores.

For this reason, the department held several exhibitions and public forums to explain the background and objectives of the project and to increase communication.

The department also ran a Hong Kong Boundary Crossing Facilities International Design Ideas Competition early this year, inviting innovative designs from participants globally while at the same time increasing public awareness of the project.

The response was overwhelming and more than 160 entries from designers based in over 20 countries streamed in. "The competition not only helped to promote the Hong Kong-Zhuhai-Macao Bridge, but also gave Hong Kong people a sense of ownership," Mr Cheng remarks.

He advises young engineers aspiring to work for the government to bear in mind that the prime objective is to put public interests first. "Equally important is integrity and professional knowledge acquisition," he stresses.

Having been involved in such large-scale engineering works over the past three decades, Mr Cheng feels that he has been fortunate and is grateful for his rewarding government career. "I now hope to organise a full marathon across the Hong Kong—Zhuhai-Macao Bridge when it opens-hopefully before I retire," he smiles.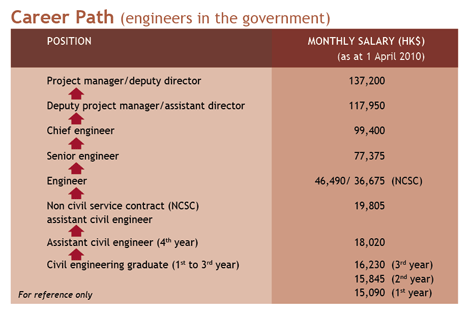 Taken from Career Times 6 August 2010, B12

讚好 CTgoodjobs 專頁,獲取更多求職資訊!