Property / Construction
Building up competence
by Wendy Shair
Robert Tsoi
senior engineer, media communications
Civil Engineering and Development Department
Photo: Edde Ngan
The government provides a variety of development opportunities and all-round industry exposure to engineering professionals

Civil engineers opting for public-sector jobs gain access to a range of challenging and diversified career options.

The government sector offers the right candidates excellent ongoing learning and development opportunities, says Robert Tsoi, senior engineer, media communications, Civil Engineering and Development Department (CEDD).

The CEDD is mainly responsible for the planning, design, implementation and maintenance of civil engineering works, including the formation of land and provision of infrastructure such as water supplies, transport and port facilities, drainage and sewage systems in new development areas.

About two thirds of the department's 1,700-plus employees are professional and technical staff, including about 300 civil engineers and 190 geotechnical engineers. The department's four major service areas comprise the provision of land and infrastructure, port and marine services, geotechnical services and environment and sustainable services.

With a number of infrastructure projects currently in the pipeline, the CEDD has been on the lookout for additional staff, including civil and geotechnical engineers, landscape architects and technical and survey officers. "We need to fill about 30 civil engineer posts this year and will also be hiring for other positions such as technical and field officers," Mr Tsoi points out.

Sound technical knowledge is a prerequisite and the CEDD requires its civil engineers to possess professional qualifications from recognised institutions, such as a corporate membership of the Hong Kong Institution of Engineers.

"They should be hard working, have good communication skills and a high emotional intelligence, with insights into community needs," Mr Tsoi notes. "Since they need to interact with people from different social and professional strata, qualified civil engineers should be presentable and have excellent interpersonal skills."

All-round exposure

The government is competing with the private sector for the best and brightest talent, but Mr Tsoi believes the stimulating and diverse nature of public-sector work gives the CEDD an edge in the recruitment stakes.

CEDD civil engineers are involved in a range of different projects, from major infrastructure developments to roads, bridges, tunnels, railway planning, drainage and sewerage schemes. They also have the advantage of working across various departments, including Highways Department, Transport Department and Drainage Services Department.

"Some get the chance to work in policy bureaux or other government departments, getting even wider exposure. The various roles offer them ample opportunity to experience the challenges of delivering public projects from different perspectives," he adds.

Public-service employees have access to in-house and extramural training to develop their technical and managerial skills, communication techniques, personal effectiveness and other attributes. They also have the opportunity to further their competence academically, or professionally by attending conferences and via overseas training options. "Talented and committed staff enjoy plenty of scope for promotion," Mr Tsoi adds.

Fresh talent

Young people choosing positions in the civil service learn the value of commitment and resilience as they develop their careers. This equips them well to stand up to future challenges and eventually develop into all-round professionals.

"We welcome graduates, as there's always a demand for new blood and fresh ideas. Since we offer a well-defined career development path, there is every opportunity for career progression," Mr Tsoi emphasises.

Government-sector civil engineers are not only required to understand the technical and quality aspects of the infrastructure projects they work on, but they must also have insights into public and environmental concerns, health and safety issues, cultural and heritage aspects, and an array of technical as well as social factors.

"We need to engage the public, collaborate with people from different disciplines and interests, and communicate with them to achieve smooth planning and implementation of the projects," he remarks.

The CEDD, which falls under the Development Bureau, was established in July 2004 when the former Civil Engineering Department and Territory Development Department merged. Both of these long-standing departments had played a major role in infrastructure development in cosmopolitan Hong Kong.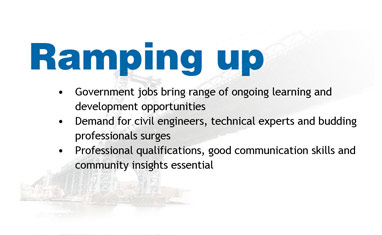 Taken from Career Times 18 June 2010, B4

讚好 CTgoodjobs 專頁,獲取更多求職資訊!