Money Moves
Caring company invests in community well-being
by Grace Chan
Diana Kwan
vice president and head of marketing and product development, New York Life Insurance Worldwide Ltd
Photo: Wallace Chan
Life insurer articulates a keen sense of social responsibility

Many successful companies today realise that a commitment to corporate social responsibility (CSR) goes hand in hand with nurturing a healthy workforce. This, in turn, helps to build a thriving and sustainable business.

In recognition for its ongoing support of community charity projects and its staff's well-being, New York Life Insurance Worldwide Ltd (New York Life Hong Kong) has been awarded the Hong Kong Council of Social Service's Caring Company logo for eight consecutive years, as well as the gold award for volunteer service by the Social Welfare Department.

"The life insurance business is all about people," says Diana Kwan, vice president and head of marketing and product development, New York Life Insurance Worldwide Ltd. "In addition to serving our customers and caring for our staff, we also contribute to society, targeting particularly the youth."

Aside from regular volunteering activities and donations to charity, the company also participates in its US parent company's annual Global Month of Service initiative, launched in May last year to support youth development worldwide.

To mark the first Global Month of Service last year, New York Life Hong Kong organised a patchwork design competition aimed at primary and secondary school students in Hong Kong to help raise money for the Yan Oi Tong Chong Sok Un Cancer Fund. "Our objective was to bring hope for people with cancer while at the same time motivating young people to care for the community," Ms Kwan says.

Good habits

New York Life Hong Kong believes that the well-being of the younger generation is essential to social harmony and a bright future for all. Unfortunately, parents these days are often too busy trying to put food on the table and have to compromise quality time with their children.

"Compared with global standards, for example, Hong Kong parents dedicate relatively little time to reading to their children," Ms Kwan notes.

In the light of this, the company is this year supporting the Read Together Grow Together family literacy campaign in collaboration with non-profit organisation Bring Me a Book Hong Kong. New York Life Hong Kong supports the programme by helping local children to cultivate a reading habit and to forge closer ties with their parents through family reading.

Among other efforts, the insurer has fully sponsored the installation of a Book Bag Library at the Choi Wan Rhenish Integrated Children and Youth Services Centre, providing families with easy access to a wide selection of quality children's books and audio recordings.

Earlier this year, a taskforce committee of more than 10 New York Life Hong Kong staff from different departments helped coordinate and execute the campaign. Initiatives included book donations and wrapping, reading-corner decoration, story-telling sessions for children and a major road show to stress the importance of family reading.

A pop-up screen installed on the company's intranet keeps employees abreast of the campaign and encourages them to participate. Later this month, New York Life Hong Kong staff will join local celebrities Barbara Chan and Winnie Young in a promotional event to further spread the literacy message.

Everybody gains

Staff's response to New York Life Hong Kong's CSR activities has been overwhelming. More than 70 per cent of employees participated last year. "Even more remarkably, our total volunteering service hours have jumped more than two-fold last year from 1,011 in 2007," Ms Kwan reveals.

The company's social responsibility endeavours have brought many benefits. "Staff members are getting acquainted with colleagues from different departments through participating in various efforts. As a result, they feel a greater sense of belonging and develop a deeper loyalty to the company," she notes.

By running and coordinating CSR activities, staff also get the chance to develop and harness their leadership and interpersonal skills.

Some employees have received training on story telling in order to conduct reading sessions for this year's campaign, Ms Kwan adds. "The techniques they've learnt stand them in good stead when spending time with their own families and children."

New York Life Hong Kong has also tailored training programmes to cater for the varied needs of staff at all levels. Mentors and coaches have been assigned to impart and help develop specific skills and knowledge in order to meet the individuals' career development goals.

The company's ongoing dedication to staff development has earned it a Manpower Developer 1st award from the Employees Retraining Board. "Feedback from our staff indicates that they appreciate our caring culture and see New York Life as more than just a workplace," Ms Kwan concludes.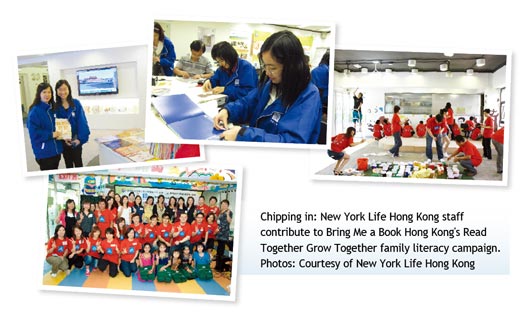 Between the lines
Investment in staff well-being fosters loyalty
CSR initiatives help to build healthy team spirit
Employee development a corporate responsibility
Taken from Career Times 6 August 2010, A3
讚好 CTgoodjobs 專頁,獲取更多求職資訊!