Career Path
Charting out the right course
by Grace Chan
Winnie Tang
chief executive officer
Esri China (Hong Kong) Limited
Photo: Edde Ngan
Studying maps allows people to visualise different parts of the world. "Most fascinating is that every map is unique," says Winnie Tang, chief executive officer, Esri China (Hong Kong) Limited, a specialist in geographic information systems (GIS) and mapping solutions.

Dr Tang studied geography at the University of Hong Kong (HKU). After obtaining a doctorate from the Department of Architecture and the Department of Ecology, she began teaching a master's degree programme in landscape architecture at the university, including GIS in the subject material. "Two decades ago, GIS was no less than an alien subject in Hong Kong and paper maps were still widely used," she recalls.

After a few years, she reconsidered her career options. "I realised that there was a great need for maps to be digitalised and I believed that GIS could help to boost Hong Kong's competitiveness," she states. "If I continued lecturing, I could train at most 20 students in an academic year, but that still did not guarantee that all of them would pursue careers in the field."

Bearing this in mind, Dr Tang left academia and set up her own company more than 15 years ago to promote wider application of GIS in the city.

Planning the route

Success did not come immediately though, since it was difficult to convince clients of the value of GIS and the application was expensive. "However, I refused to be discouraged by rejection. I was confident that the technology had its value and that it could make a difference," says Dr Tang.

A lack of suitable talent was another challenge for her start-up business. "My only option was to recruit from overseas, since trained professionals in this niche field was in short supply," she says.

She realised there was a need to groom people locally so started to lobby universities to incorporate GIS studies in their curriculums. In the early 1990s, the Hong Kong Polytechnic University became the first institution to include the subject in its bachelor's degree programme in land surveying. This was followed by inclusion in a diploma programme offered by the Chinese University of Hong Kong and in a HKU master's degree.

Thanks to advances in computer technology, GIS application has since been extended from surveying purposes to covering the development needs of an extensive range of business sectors including logistics, transport systems, environmental studies and urban planning.

"The past 15 years have been extremely challenging. The most satisfying aspect of my work has been to see 90 to 95 per cent of digital maps available in Hong Kong now powered by my company's software," Dr Tang reflects. "Another great thing is that everybody can now have access to digitalised maps through the internet and a majority of handheld mobile devices."

Gaining ground

Years of hard work have paid off, with Dr Tang's clientele expanding to include government departments, public utility firms, public transport operators and private companies.

"It gives me a great sense of achievement to see how GIS provides tangible benefits to society, for example, by helping people choose the best train routes or warning against red tide," she says. "It's even more thrilling that the number of local GIS professionals has grown vastly, with more than 100 graduates gaining relevant qualifications every year."

Dr Tang stresses that talent development is fundamental to the success of information and communications technology (ICT) businesses. For this particular reason, she has dedicated considerable resources to staff training and development. "We invite experts from our US partner companies to share their technical skills and knowledge regularly," she adds.

Since ICT is a people-oriented industry, people looking to develop a career in the field should have a positive attitude and good interpersonal skills. "A good team player is an asset to both our team and our clients, and someone with effective communication skills can go far in this field," Dr Tang points out.

GIS professionals should be able to think innovatively and have a passion for the subject. She stresses: "Technology is only a tool, but imagination has no bounds."

Also president of the non-profit Internet Professional Association (iProA), which aims to help all sectors of society to set foot in the internet world, Dr Tang sees it as her mission to aid the sustainable development of the ICT industry in Hong Kong and to urge the government to allocate necessary resources to fostering local talent.

"Skills in ICT have gained increasing importance in the workforce," Dr Tang says. For this reason, she has been actively promoting digital inclusion in society and hopes that all Hong Kong citizens will be able to play an active part in the digital age and enjoy the benefits of ICT advances.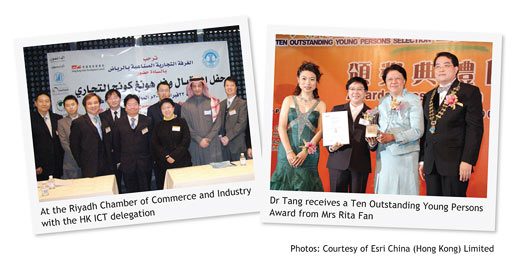 Taken from Career Times 19 November 2010, B12

讚好 CTgoodjobs 專頁,獲取更多求職資訊!