Career Path
CIMA: An advantage throughout your career
Text and photos by Lotus Lau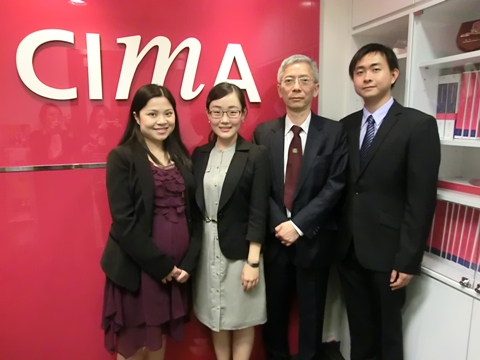 South China Group
In the Japanese hit drama 'Hanzawa Naoki', Tokyo Chuo Bank, where the main character works, wrongfully conducts some major financial decisions and these actions eventually take their toll. But in reality, it is absolutely possible to avoid such a situation by utilising professional management accounting knowledge.
What is CIMA?
Vivian Fung, Marketing & Development Manager of CIMA Hong Kong
Mention accounting, and it usually conjures up words like auditing, billing and settlement. But in fact, management accountants have been gaining increasing significance in recent years. They are the ones who make future business plans based on existing statistics.
Accounting is in fact divided into two streams: financial accounting on one the hand, and management accounting on the other, which includes duties like providing strategic advice, managing risk and making key decisions for a corporation. It helps to breathe a more forward-looking perspective into a business.
The Chartered Institute of Management Accountants (CIMA) is the world's largest and leading professional body that offers training and qualification in management accountancy. Currently it has 203,000 members and students in 173 countries.
Vivian Fung, Marketing & Development Manager of CIMA Hong Kong, states that CIMA is suitable for a wide variety of professions. It is also particularly suitable for senior management as it covers most aspects of corporation management, preparing professionally trained members who can excel at business management of different industries.
"In fact, many major corporations in Hong Kong require their management trainees to take the CIMA examination when undergoing the programme, in order to prepare them as future senior managers," she says.
South China Group: "CIMA applies to every business area."
South China Group is among the employers who subsume CIMA as a requisite for their management trainee programme. The Group operates an extensive business scope, ranging from finance, tourism, real estate and manufacturing to media, etc.
Olivia Chan, Group Deputy Financial Controller of South China Group, who is also in charge of the management trainee programme, expresses that CIMA offers a well-rounded training curriculum to its candidates.
"The three-year management training programme covers different perspectives of South China Group's highly-diversified business, with regular job rotation among departments once every six months," says Olivia. "CIMA helps enrich the candidates with a comprehensive mindset, which is a good match for our multi-dimensional business."
In a competitive global market for talent, employees must consistently make self-enhancements in order to advance their careers. Albert Law, Group Chief Financial Officer, thinks CIMA is able to enhance the competitive edge of candidates.
"Judging by the outstanding performance of CIMA-trained candidates, if a candidate is able to absorb what's taught in CIMA and perform it accordingly, he or she is likely to be ahead of the others."
As an experienced veteran who waded through the CIMA examination in 1978, Albert says the knowledge of CIMA has been deeply ingrained in his mind, upgrading his ability to conduct strategic planning and foresee the future.
When asked to offer tips to future candidates, Albert stresses the importance of being clear-headed, especially for the final paper in which candidates are required to diagnose a case study and offer suggestions. "CIMA is not about rote, but more about examining the candidate's ability to solve a problem logically," he says. "So don't stay up late studying the night before; it won't do you any good!"
Bryson Chu: "Use the management perspective to view accounting."
Bryson Chu is one of the management trainees in South China Group. Having joined the company in August last year, he has completed eight out of a total of 15 papers. Bryson believes CIMA offers him a variety of technical skills proven to be extremely useful in the workplace.
"CIMA teaches me how to use the management perspective to view accounting, which helps me better utilise the existing accounting knowledge that I have," he says.
Michelle Cao: "CIMA is an extra bonus in the business world."
Michelle Cao is another candidate in the Group's management trainee programme. She has shown her outstanding ability to learn by completing 10 papers since she joined the company in August last year. Michelle believes CIMA enhances her benchmarking ability, i.e. indication of a company's strengths and weaknesses, thus facilitating her handling of IPO projects.
"Gaining the CIMA qualification is an extra bonus in the business world. I am grateful that the Group provides such a great opportunity for us," she says.
Accelerated route to professionalism
Like many of its financial qualification counterparts, CIMA also offers an examination paper exemption to a selected pool of candidates. "CIMA is now able to offer those with an MBA the opportunity to ensure their future success with the CIMA masters gateway. Candidates will be required to pass just one exam to achieve the prestigious qualification," Vivian explains.
On top of that, CIMA and the Hong Kong Institute of Certified Public Accountants (HKICPA) signed a Mutual Examination Paper Exemptions (MEPE) agreement. Under this agreement, a member of the HKICPA would only need to successfully complete two more papers to be eligible to apply for CIMA membership.
For more information, you may register for a seat at the upcoming CIMA information session. Details are as follows:
Date: 27 November 2013 (Wed)
Time: 7 p.m. – 8 p.m.
Venue: CIMA HK Office, Suite 2005, 20/F, Tower One, Times Square, 1 Matheson Street, Causeway Bay, Hong Kong
Hotline: 2511 2003
Uploaded on: 19 Nov 2013
讚好 CTgoodjobs 專頁,獲取更多求職資訊!