Government / Statutory Bodies
Come rain or shine
by Grace Chan
This is the 7th article in an eight-part series introducing winners of the Civil Service Outstanding Service Award Scheme 2009
Lee Boon-ying
director
Hong Kong Observatory
Photo: Edde Ngan
Meteorological body puts public interest first

The Hong Kong Observatory (HKO) may be a relatively small government department, but it is a big winner in this year's Civil Service Outstanding Service Award Scheme.

The HKO's efficient canvassing of public opinions and prompt responses to Hong Kong people's needs have earned it a total of eight awards, including a champion award for Service Enhancement in the Small Department category.

"Our employees have a long tradition of coming up with initiatives to improve public weather service. The awards recognised their hard work, and they deserve all the credit," says Lee Boon-ying, director, Hong Kong Observatory.

Some of the new initiatives launched over the past two years include the Location-Specific Lightning Alert Service and the Airport Thunderstorm and Lightning Alerting System. The launch of a new service is usually the result of public need, HKO staff's initiative and the availability of technology. "I am happy to give colleagues the green light to try out new ideas," Dr Lee notes.

Creative minds

The department has a longstanding culture of scientific and innovative thinking, Mr Lee stresses. "Back in the 1960s, the HKO employees built our first meteorological satellite reception system from scratch," he recalls.

To keep up with fast-changing technology and public demand, the HKO provides employees with formal and on-the-job training and encourages continuous learning by offering study allowances for extramural programmes.

One role of the civil service is to acknowledge people's needs and the HKO has implemented a range of channels to better understand public expectations.

One such channel is the Friends of the Observatory interest group. "Its primary objective is to promote HKO service and offer public education. It also connects us with the general public and gives people the opportunity to provide us feedback and support," says Dr Lee.

The interest group, which currently has more than 9,000 members, organises regular activities such as visits to the Tai Mo Shan Weather Radar Station. The HKO has also launched a "train the trainer" programme, where members are coached to become guides on meteorological aspects during its weekend public tours.

Service customisation

The HKO often translates the ideas gained from its public forums or talks into new services. "For instance, where we previously offered coverage of weather radar observations at 64 kilometres and 256 kilometres from Hong Kong, we will soon add a new coverage of 128 kilometres in response to public demand," Dr Lee adds.

With a view to reducing the number of lightning strike fatalities, the HKO launched its award-winning Location-Specific Lightning Alert service. Members of the public can now receive alerts of lightning activity within a user-selected range from five to 50 kilometres from their location on their computers, mobile phones or PDAs.

All public swimming pools are using the lighting alert service, which has minimised complaints about pools being closed unnecessarily, Dr Lee points out. A number of private housing estates are also starting to use this free service as part of their outdoor facility management system.

The HKO has also customised the lightning alert service to provide an Airport Thunderstorm and Lightning Alerting System for the Hong Kong International Airport. This is a significant safety improvement as time-pressed aircraft maintenance staff often work outdoors in all weather conditions.

"Although there's no definite proof that the introduction of our lightning alert service has decreased the number of people struck by lightning, we are delighted that users have expressed satisfaction and fewer such instances have been reported," says Dr Lee.

Unseen by the public eye, it requires significant software customisation on the HKO's part to provide the services best suited to public needs.

To further enhance its service in spite of limited resources, the HKO forges partnerships with other organisations. One example is the Community Weather Information Network (Co-Win), developed in cooperation with the Hong Kong Polytechnic University. In this instance, the HKO offers technical advice, while the university provides assistance for setting up meteorological stations at 70 participating schools and organisations. This effort enabled the HKO to offer broader coverage of weather conditions.

"Whatever the initiative, our ultimate aim is to continue to bring in innovations to cater to pubic needs," Dr Lee concludes.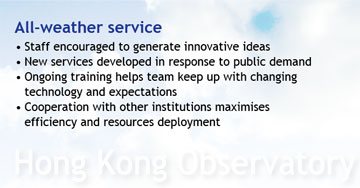 Taken from Career Times 2 January 2010, p.7
讚好 CTgoodjobs 專頁,獲取更多求職資訊!