Education
Condensed matters
by Grace Chan
Della Wong (right), associate director, executive education office;
Caroline Wang, adjunct professor, School of Business and Management
The Hong Kong University of Science and Technology
Photo: Edde Ngan
Concise executive education programmes help leaders bolster professional competence

Time constraints and busy working schedules sometimes make short business programmes the only viable option for executives wanting to harness their knowledge and skills.

"Our business school and academic team are internationally recognised, making our short open programmes a popular choice," says Della Wong, associate director, executive education office, School of Business and Management, the Hong Kong University of Science and Technology (HKUST).

The school has been consistently graded highly by renowned financial publications and research institutions, with its Kellogg-HKUST Executive MBA programme ranked number one in the Financial Times' 2009 EMBA global rankings.

About 90 per cent of the school's open programmes faculty staff are also teaching in the school's MBA and the Kellogg-HKUST EMBA programme.

Flexible framework

Practicality is key when it comes to the university's open enrolment programmes. "The emphasis is not on theory, but on getting participants to apply the business and management knowledge to work," Ms Wong explains.

The university has been offering eight open programmes, each running for two days only, with a focus on topical business issues such as wealth and asset management, value investing and pricing for value creation.

Business leadership is a newly introduced programme this year, with other popular courses including negotiation strategies and skills, and managerial decision making and leadership.

Two consortium programmes—strategic human resource business leadership and leading for success, spanning five and 10 days respectively, are also on the prospectus.

"Responding to the changing market environment, we constantly review our programmes to make sure participants are equipped with the latest knowledge and skills," Ms Wong notes, adding that student feedback is considered when programmes are structured.

"Succeeding in the business world requires 'external' and 'internal' leadership skills," says Caroline Wang, adjunct professor, the HKUST School of Business and Management.

Professor Wang, who was the highest-ranked Asian women executive at IBM globally when she was appointed adjunct professor by the HKUST Business School in 2003, will be teaching the business leadership programme. Its aim is to show participants how to draw up winning strategies and execute a business plan, she says. "A business plan without execution is useless and execution without a business plan can be unproductive."

While external leadership refers to the leadership framework that contributes to successful business strategies and business execution, internal leadership is the flair that managers should possess in order to lead teams and motivate the execution of a business plan, Professor Wang points out.

The programme is therefore tailored for departmental or functional leaders who have the responsibility to lead or to assist in formulating a winning strategy.

This is the first time that the programme, which is taught at MBA level, is offered via open enrolment. It will run in the form of lectures, workshops, and case studies with participants bringing their own cases and challenges to trigger group discussions. Professor Wang notes that this should enable them to recognise gaps in their own business plans and help them to improve them.

Added value

Although the open programmes are short in duration, they present participants with an opportunity to build connections with their peers, mostly senior executives, chief executive officers, directors, area managers and entrepreneurs from a diverse range of backgrounds and industries.

"Every year, we have some participants flying in from abroad. Last year, we even had two from South America," notes Ms Wong. Statistics show that over half the candidates hold doctorates or master's degrees, while 37 per cent have a bachelor's degree.

Professor Wang herself attends at least two programmes every year. "Ongoing learning is a must these days. By spending two days away from the office, participants are able to clear their minds and see things from a new perspective," she explains.

All open programmes are conducted in English. Class sizes are generally restricted to 25 to 30 people, but some can accommodate up to 40, says Ms Wong. "Many participants return regularly, attending two or three programmes a year," she remarks. For this reason, the business school aims to offer at least one new course every year.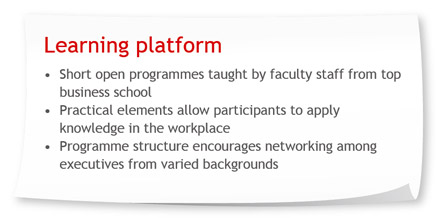 Taken from Career Times 26 February 2010, A9

讚好 CTgoodjobs 專頁,獲取更多求職資訊!