Career Path
Connecting with the people
by Ada Ng
Vincent Chu, civil engineer
drainage projects division
Drainage Services Department
Photo: Raymond Yick
Supplementary photos: Drainage Services Department
Some people seek government positions for long-term job security. Vincent Chu, civil engineer, drainage projects division, Drainage Services Department, joined for an entirely different reason: his goals were to gain experience and serve society in the process.

Mr Chu started his career 10 years ago, after obtaining a bachelor's degree in civil and structural engineering from the University of Hong Kong.

In his first three years, he rotated through a range of government departments, working on a number of major projects, including flood alleviation and bridge works, highway and road improvement projects and pier construction.

Since the Drainage Services Department is closely involved with Hong Kong people's daily lives, he finds his current role meaningful, challenging and satisfying.

He is responsible for overseeing drainage improvement projects, from design and planning to public consultation, project execution and site supervision. "I enjoy getting my hands dirty and being involved in all facets of the job. This is the best way to increase my knowledge and it helps me to see things from a different perspective," he says.

His project management skills did not come overnight. "I accumulated it through years of hands-on training and exposure," he points out, adding that he believes the first three years in professional practice are pivotal for engineering graduates' careers.

"Textbook knowledge and theory are important, but civil engineering comprises a wide range of applications—from design and maintenance to infrastructure construction and flood mitigation. By combining academic learning with practical experience, graduates can gain a solid understanding of the appropriate use of technical methods and aids," he notes.

One benefit of working for the government is the extensive training and broad project exposure it offers. Graduates start off working in government departments to get on-the-job training and practice in key areas before they are chartered and become assistant engineers. These may include the Civil Engineering and Development Department, Highway Department, Transport Department and the Drainage Services Department

Personal touch

Of all the projects he has worked on, Mr Chu has found the protracted drainage improvement works in Sheung Wan the most rewarding. The original drainage systems built decades ago were unable to prevent flooding in low-lying areas of the district during heavy downpours in the rainy season.

To solve the recurring problem, the DSD carried out a series of flood-alleviation works, including the construction of 700 metres of intercepting drains along Queen's Road Central, Lok Ku Road and Gilman's Bazaar.

"This project gave me great satisfaction, as I played a role in improving the lives of many people whose businesses and lives were disrupted by the flooding problem," Mr Chu says.

Since large-scale engineering works unavoidably cause inconvenience for shop owners and residents, engineers should have excellent presentation and interpersonal skills in order to liaise with different interest groups. "Our job goes further than just technical work—it's how you relate to affected parties that determines the success of our projects," Mr Chu remarks.

When executing the Sheung Wan works, the DSD set up a frontline service team to gather the grievances, opinions and concerns of affected people. Work schedules and site fencing were then designed with this feedback in mind, in order to minimise the impact on the public. The department also took the step of beautifying the construction site with potted plants on the boundary hoardings to create a greener environment.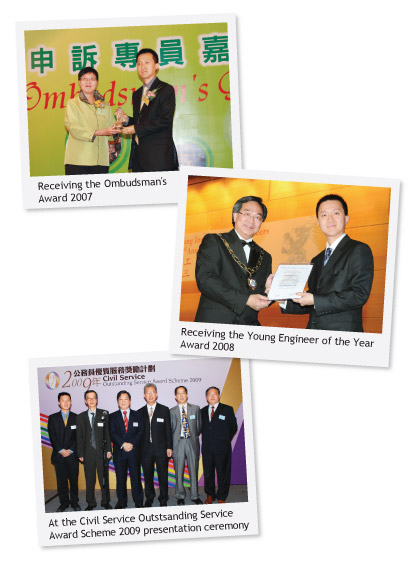 Sharing knowledge

Mr Chu believes a peer support platform is important to helping practitioners gain a better understanding of practices and case scenarios not covered by textbooks.

He wrote and published two e-books, 200 Questions and Answers on Practical Civil Engineering Works and Civil Engineering Practical Notes A-Z in 2006 to provide quick answers to frequently asked questions by young engineers.

These are now recognised by civil engineering bodies and associations in at least 20 countries, including the UK, the US and Japan.

In 2008, he also established a free email service Ask Vincent Chu, and is often referred to in the industry as "a walking encyclopaedia". As a consequence of the large volume of queries he received from around the world, he published some of the questions and discussions in a book series including Ask Vincent Chu (Common FAQ on Practical Civil Engineering Works) and The Underlying Reasons in Practical Civil Engineering Works.

Mr Chu's efforts have earned him wide industry recognition. He received an Ombudsman's Award in 2007, and the Hong Kong Institution of Engineers' Young Engineer of the Year Merit Award the following year.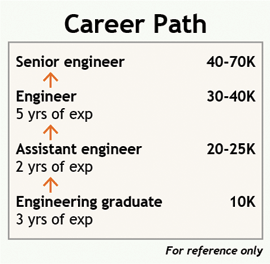 Taken from Career Times 19 February 2010, P14

讚好 CTgoodjobs 專頁,獲取更多求職資訊!