Career Path
Cooked to perfection
by Nicolette Wong
Au Yeung Chung-kei
chef de cuisine (Chinese)
Cucina, Marco Polo Hongkong Hotel
Photo: Raymond Yick
Asian food has become globally popular over the past few decades. As a chef, Au Yeung Chung-kei has not only been witness to this, but has also been at the forefront of promoting the cuisine in his industry.

These days working at the helm of the Chinese kitchen at the Marco Polo Hongkong Hotel as chef de cuisine, Mr Au Yeung kicked off his career at the age of 18 in 1979 and found work as a junior cook. As new opportunities arose, he went on to work for a succession of renowned Chinese eateries in the city, gaining wide exposure in the process.

Mr Au Yeung reflects that chefs from Hong Kong have contributed greatly to the rise of Chinese fare around the world. "In the 1980s, many top local chefs went overseas to pursue new opportunities, which led to the development of Chinese cookery outside Asia," he recalls.

His big break came in 1988 when he was offered a position with one of Hong Kong's most prestigious Chinese eating places. As the restaurant's head chef, he was transferred to Japan in 1997 to open six new restaurants, only returning to Hong Kong in 2005. This experience was an eye-opener. "My time abroad showed me new possibilities in Chinese cuisine, which is highly regarded in Japan," he says.

Upon his return, Mr Au Yeung received a number of job offers from high-end restaurants and he subsequently joined Cucina at the Marco Polo Hongkong Hotel in 2007.

Daily routine

In his current position, Mr Au Yeung oversees the kitchen's daily operations—from staff arrangement and workflow to quality control and menu engineering. Meeting with the hotel's management is an important aspect of his job, since the restaurant regularly launches new menu items as part of the hotel's promotional activities. His duties also include staff training and engaging with diners at the restaurant.

"I enjoy making special recommendations to customers and learning more about their expectations," he notes. "This gives me an all-round perspective on our work."

A genuine passion for Chinese cuisine is a prerequisite for success in the field, Mr Au Yeung stresses. "The atmosphere in the kitchen can become hectic, particularly during occasions such as wedding banquets," he explains.

Newcomers should be eager to learn, as they have years of training ahead of them to get to know the intricacies of Chinese cooking. Since the kitchen operation depends largely on teamwork, a humble attitude is a must. "At the same time, it is important to be able to communicate and network, which is good for long-term career development," Mr Au Yeung adds.

He believes there is plenty of room for growth in the field, with Chinese cuisine continuing to gain prominence in Hong Kong and worldwide. "Local restaurants are constantly expanding and chefs from here remain in high demand overseas."

Fusion food

Another interesting development is the blend of Western and Japanese elements with Chinese cuisine, and Mr Au Yeung expects this trend to continue. The changes mostly involve the use of ingredients, while the core traditional preparation methods are preserved.

"For example, while we have included truffles in some of our dishes, the cooking is essentially Chinese. The menus are becoming more diverse and open, which appeals to international diners," he says.

He advises young talent to hone their skills by learning from senior colleagues: "All experienced chefs have their special techniques and perspectives. Learning from the veterans gives you a head start and carries you a long way in your career."

In his 31 years in the industry, Mr Au Yeung has gained great satisfaction and pleasure from promoting Chinese cuisine locally and internationally. While designing new menus remains a great thrill, the most rewarding aspect of his job is receiving compliments from diners.

"As a chef, I'm happiest when the diners enjoy my dishes. This far outweighs any material benefits from my job," he points out.

Mr Au Yeung admits to being a perfectionist. "I'm always learning from others in trying to create the best, most satisfying menus for my customers. This is the professional standard I set for myself, and for my staff who grow and thrive with me every step of the way."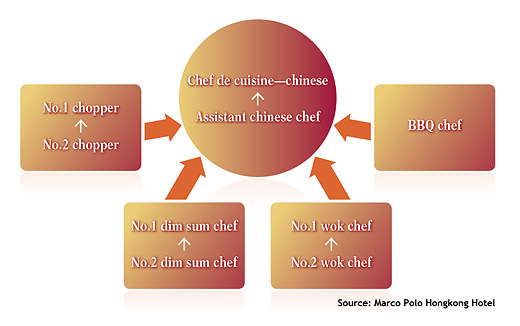 Taken from Career Times 21 May 2010

讚好 CTgoodjobs 專頁,獲取更多求職資訊!