Career Path
Cornering the market
by Anna Tong
Ashley Chun
director of marketing
FXCM Asia Limited
Photo: Lewis Wong
Effective marketers are generally able to articulate their ideas in a clear and concise manner and to communicate effectively with people from a wide range of, or in some cases, very specific backgrounds.

With a bachelor's degree in broadcast journalism and a master's in advertising, Ashley Chun's career could hardly have been off to a better start. Now director of marketing, FXCM Asia Limited, Ms Chun completed her education from the Newhouse School of Public Communications, Syracuse University, New York, before joining top New York-based advertising agency BBDO.

"I've always been interested in the dynamics of advertising," says Ms Chun, who has in the course of her work cooperated with an array of international brands from fast-food operations to pharmaceutical companies.

While she appreciated the chance to gain extensive experience in creative production, she gradually felt the desire to take on a more proactive role in brand building. This led her to join forex trading firm FXCM as marketing manager in 2004. "I fancied a more strategic role that could expand my horizons," she remarks.

Ms Chun's experience and communication skills helped her to expand FXCM's presence in Asia and achieve the company's client acquisition goals. She rose through the ranks to her current position, which entails responsibilities towards the company's marketing activities in all of Asia. This includes everything from advertising to public relations and product launches.

"In marketing, it's important to engage with all departments—starting with sales, operations and product development—to get to know the industry. When you're pushing a campaign, you have to understand other roles, so that you can clearly communicate your objectives," she says.

Strategic mindset

No two days are the same for Ms Chun, who usually starts the day meeting with her team of eight, discussing ongoing, new projects and immediate priorities. "I also speak with the head of sales on a daily basis to see if there are any issues we need to address," she reveals.

She believes in doing things in a methodical manner. "When we strategise, we first think about our key messages, the ways to convey them, and then develop a timeline for things to be accomplished. As deadlines approach, we go on to improve things until the whole project is completed."

Aside from effective communication, people in the marketing profession must adopt a proactive approach to devising campaigns that people will relate to. Ms Chun points out: "The job requires learning from experience, quick thinking, adaptability, problem solving skills, and the ability to present your ideas in order to motivate, influence and sell things."

A good starting point is a position as marketing assistant, which allows young people to ask questions and plenty of opportunities to learn the ropes. "Our work is not at all repetitive and we've got the best of both worlds: being able to think creatively and turning ideas into reality," remarks Ms Chun who has found FXCM Asia's growth into a flourishing business highly satisfying. "We've really taken giant steps to establish our brand."

Unlocked potential

The online FX trading industry is expanding rapidly in Hong Kong and beyond, and Ms Chun sees immense growth potential, given Asia's economic development potential. "It's particularly exciting to be able to grab the potential of the Asian market and continue to drive growth for the industry," she says.

Keeping tabs on the evolving industry and people's aspirations is crucial for staying ahead, she emphasises. "Changes in the way people communicate and learn about brands, as well as purchasing habits, affect all organisations, so it's important to anticipate and respond to challenge quickly." Companies also need to react promptly to any new regulations impacting on the business and clients, she notes.

The competitive nature of the financial services marketing field offers excellent scope for young graduates who are keen to make a mark in the high-speed and sometimes harsh corporate environment. A people focus and a genuine interest are vital for future success. "People in the field must seek advancement in a continuous manner and take the initiative to face challenge," Ms Chun stresses. "Prospective recruits should be dynamic and ambitious, but a sense of integrity and dignity are part and parcel of professional development."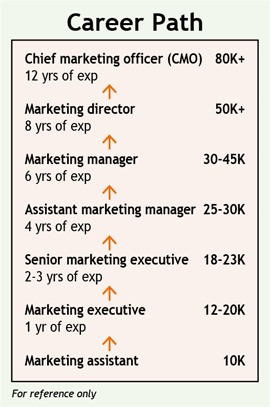 Taken from Career Times 7 January 2011, B10

讚好 CTgoodjobs 專頁,獲取更多求職資訊!