Money Matter
Court takes stern view on late wage payments
by Hong Tran, partner, JSM

Article exclusively contributed by JSM
The Sing Pao group of companies (the group) had been convicted of 11 offences relating to late payment of wages and delayed termination payments. The group argued in mitigation of sentence that the delay in payment had been less than three months and that the group had been in a state of turmoil after all its chief officers and senior managers stepped down. The group further submitted that it had mislaid most of its records after the spate of resignations, and that wages could therefore not be paid on time.
Under the Employment Ordinance, wages are due at the end of the last day of the wage period and should be paid as soon as possible, but no later than seven days thereafter. Any employer who contravenes this provision without a reasonable excuse is guilty of an offence and liable for a maximum fine of HK$350,000 and three years' imprisonment.
After the magistrate fined the group a total of HK$4,200 on the 11 counts, the secretary for justice appealed against the sentence, arguing that it was inadequate. The magistrate's view had been that since the offences were not commissioned intentionally, but as a result of the confusion resulting from management changes, lower fines should be imposed. However, the secretary of justice contended that the crucial factor in determining culpability should have been the delay in payment and not whether the offence was committed wilfully and without reasonable excuse.
In overturning the magistrate's decision, the Court of Appeal ruled the following:
The magistrate had underrated the importance of punctual payment of wages and termination payments and failed to grasp that this was the principal purpose of the relevant legislation.
The magistrate had failed to consider the serious view taken by the legislature on this issue. In March 2006, the legislature increased the maximum penalty for late payment to employees from a fine of HK$200,000 and one year's imprisonment, to HK$350,000 and three years' imprisonment.
The magistrate should not have compared the culpability of the group with that of employers who deliberately delayed payment in order to punish or harass their employees.
The fact that unpaid wages are of a low amount should not serve as an excuse for employers. Citing an example, the Court of Appeal pointed out that it was no excuse for employers to say they were only withholding HK$3,000, when that amount represented an employee's entire monthly salary.
Employers who repeatedly delay payments to employees should be subject to substantial fines or even imprisonment.
The Court of Appeal further stated that it would not wish to push a struggling employer over the brink and that an employer's means should be taken into consideration in cases such as these. Employers that have fallen on hard times and have made honest and reasonable efforts to salvage their businesses needed to be encouraged. However, in this case, the group had not been suffering any financial hardship and the only reason for late payment was the chaotic state of its management.

The Court of Appeal looked at the substantial increase in the number of convictions related to late payment of wages from 2002 to 2006, as set out in the following table: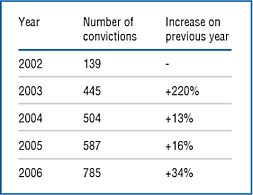 In view of this upward trend, the Court of Appeal ordered the group to pay a total fine of HK$39,000 in respect of the 11 charges, saying that this was to ensure that the Employment Ordinance acted as a deterrent. Employers ought to realise that citing disorganised management as a reason for late payment would not exempt them from high fines.

Q & A on late payment of wages
| | |
| --- | --- |
| Q1 | What does the Employment Ordinance consider late payment? |
| A1 | Wages are due at the end of the last day of the wage period and must be paid no later than seven days thereafter. Any employer who wilfully and without reasonable excuse contravenes this requirement is liable to a maximum fine of HK$350,000 and three years' imprisonment. |
| | |
| --- | --- |
| Q2 | Is disorganised management an acceptable excuse for late wage payments? |
| A2 | No. Although the Court may consider it a mitigating factor, depending on the facts and circumstances of each case, chaos in management is not a special consideration for imposing a lower fine. Companies must pay sufficient regard to the importance of punctual payment of wages and termination payments. |
| | |
| --- | --- |
| Q3 | Is financial hardship faced by employers a relevant consideration? |
| A3 | Yes. Courts would not wish to push struggling employers over the brink and will take their financial means into consideration. |

Taken from Career Times 22 August 2008, p. B15
(Last review date: 23 August 2013)
讚好 CTgoodjobs 專頁,獲取更多求職資訊!
Disclaimer: The opinions expressed in this article are those of the contributor