Self-enhancement
Creating a winning look
by Alex Lai
Top tips on standing out in the business world
Mary Cheung, managing director and founder
Mary Cheung & Associates (International) Limited
Photo: Wallace Chan
A well-written cover letter may lead to a job interview, but getting that interview does not mean winning the job.
To stand out in a sea of applicants, it takes more than just eloquence. "You need a professional image," says Mary Cheung, a high-profile image consultant.
Speaking at a recent Career Times seminar on Standing Out in the Business World, Ms Cheung, managing director and founder of Mary Cheung & Associates (International) Limited, offered prospective job applicants valuable tips on grooming and personal presentation.
Drawing on her extensive experience in coaching employees of multinational companies and government departments, Ms Cheung stressed that making a good first impression, both in job interviews and business meetings, is the very key to professional success. "A good image always gives you the upper hand," she noted.
Looking good
At the seminar, Ms Cheung presented a number of professional guidelines on projecting the right image.
Maintaining eye contact is a well-known signal of self-confidence. First and foremost, she advised her audience to keep their eyebrows tidy. "Women may consider using waterproof mascara to accentuate their eyes, but avoid green or shimmering eye shadow, as those colours don't flatter Asian skin tones. Brown, purple or blue are better choices," she said. "Go easy on the eye makeup though. Too much can make you look gaudy."
People who wear spectacles should keep them clean and choose frames that do not "block" the eyes.
When it comes to personal grooming, every little thing counts. Ms Cheung reminded her audience of the importance of personal hygiene, such as cleaning behind their ears and maintaining good oral hygiene and clean teeth.
"At business gatherings, avoid food that may linger between your teeth," she remarked, adding that since air-conditioning and dry weather can cause dry lips, a lip balm always comes in handy.
In the world of business, simplicity represents confidence and poise. In particular, Ms Cheung pointed out that highly fashionable hairstyles are not always appropriate. She advised the men in the audience to keep it simple. "Just make sure your hair is clean and well cut. If you're prone to dandruff, use an appropriate shampoo, and don't overuse hair styling products."
Likewise, women should avoid looks that are too "girly", as well as long, untidy fringes and bold hair colours.
"A natural and healthy look always creates a positive impression," Ms Cheung stated, recommending the use of good skincare products, including foundation with SPF 25 or higher to protect the skin against sun damage and blemishes.
It is also important to look after hands and nails. "Clean and trim your nails regularly and use hand cream when necessary," she added. "Wear jewellery sparingly. Large, dangly earrings are a no-no."
However, even the best grooming techniques will fail in the absence of "inner beauty", including a good temperament, education, knowledge, manners and etiquette, Ms Cheung observed. "People who perform consistently and project a calm demeanour always come out tops eventually," she said.
She also noted that people gain life experience as they age and this is what makes every individual unique.
"People are expected to project the right image according to the context they found themselves in. For example, it is appropriate for women to be motherly when they are with their children, but they need to assume a more professional role in a business context," she explained.
Dressed for success
Ms Cheung stressed that it is crucial to get the dress code right for business and social events. "You have to learn the difference between black tie, lounge suit, formal and smart casual. Tone-on-tone, avoid large prints and bold designs, and limit your whole outfit to no more than three colours."
She also suggested some must-have items. These may include an all-weather coat, elegant scarf and shawl, bags with straps, a file-sized briefcase or handbag. "A quality watch can help project a professional look but stay away from any ostentatious items," she said.
Body language and facial expressions are important too and Ms Cheung highlighted three simple rules: "Make others feel comfortable, be considerate and show respect," she told the audience. "Make it a habit and you'll soon find yourself reaping the rewards."
She stressed that it is of equal importance to observe appropriate social and business manners at all times. This includes shaking hands at the right time, exchanging business cards in the correct way and conducting oneself appropriately at meetings, social occasions and even in lifts.
"Competition is tough in the business world, and employers expect job candidates to come prepared both physically and mentally," she concluded.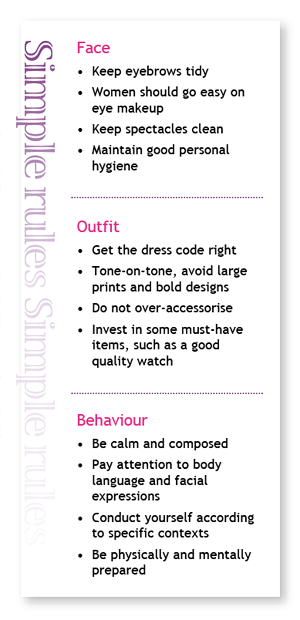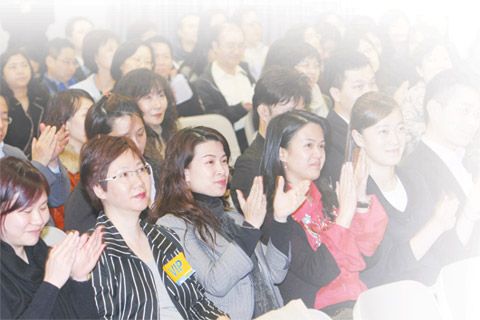 Taken from Career Times 20 March 2009, p. B9

讚好 CTgoodjobs 專頁,獲取更多求職資訊!