Self-enhancement
Creating perfect partnerships
by Aldric Chau
Merchandising and purchasing professionals need comprehensive knowledge extending well beyond the supply chain
Stephen Chan, chairman — programme committee
the Institute of Purchasing & Supply of Hong Kong
Photos: Wallace Chan
Companies often outsource some of their functions, for a variety of reasons. They may want to focus on developing their core businesses, they may lack logistics expertise, they may want to benefit from a service provider's sophisticated IT system or reduce investment risk or staff numbers, according to Stephen Chan, chairman — programme committee, the Institute of Purchasing & Supply of Hong Kong (IPSHK).
Speaking at a recent Career Times seminar on Achieving Total Quality in Merchandising, Mr Chan and two colleagues explored how professionals in the field can increase business success and gain from constructive partnerships.
Managing service providers
"Every business should have its own specialty and it's important to get the right person to do the right thing. That's how the idea of outsourcing evolved," Mr Chan told the audience.
Certain products are in greater demand at specific times, for example, soft drinks in summer. "After the peak season, you don't want to have a full logistics team sitting idle waiting for orders," he said.
While outsourcing has many benefits, there can be strong resistance from both customers and employee unions. "There is also a danger of becoming over-dependent on a service provider in the long run, and losing in-house expertise," Mr Chan cautioned.
However, there are plenty of ways for purchasing teams to make it work if the positives outweigh the negatives once potential risks, cost control and the response from other involved parties have been considered.
The purchasing team is crucial to the process, responsible for drawing up tender documents, analysing bids and conducting field inspections. The first step is to clarify roles within the multi-tasking team. One core function is to manage contracts and service providers.
Mr Chan suggested a number of key areas to keep in mind when evaluating supplier performance. "Firstly, look at the company profile. If its business nature is competitive to yours, or it is currently servicing a competitor, you must consider the potential risks of a conflict of interests," he noted.
The company's track record also needs to be scrutinised. "Information collected from the supplier's previous clients or other sources can reflect how well your vendor performed in comparison with how they claim to have performed in their tender document," Mr Chan pointed out.
Other important aspects to determine are whether the supplier has a sound financial background and adequate industry know-how.
"Choosing the right vendors may be easy, but getting them to consistently provide the service you expect can be a challenge," said Mr Chan. He advised companies to provide vendors with clear key performance indicators (KPIs) to systematically monitor their performance. They should also be rewarded or penalised according to their performance.
"Once you've found the ideal partner, all that is left is the paperwork, which may involve drawing up a sales contract," he noted, adding that this is often more of a challenge than expected.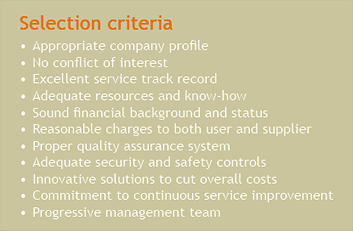 Contractual protection
There are always cases where manufacturers are not paid for their products because of recall or mishaps at the retail end. This can result in long and painful legal proceedings and irretrievable damage to the client-supplier relationship. Professionally drawn-up contracts are therefore crucial.
Johnny Shu, honorary secretary, IPSHK, explained that a contract binds all the terms and conditions between the buyer and seller.
Johnny Shu
honorary secretary
the Institute of Purchasing & Supply of Hong Kong
He said that a legally binding contract should consist of seven essential elements and the relationship between the two parties — whether it is a subsidiary and a parent company or a joint venture between two friends — needs to be stipulated in the contract.

"Consensus" refers to whether the two parties agree under the contract that they are talking about the same products or services when it comes to transactions, Mr Shu explained.

"Capacity to contract" focuses more on the key people involved in signing the contract, including whether they are legal entities, which is not only determined by age, but also by physical and mental condition at the time that the contract is signed.

Mr Shu recalled a case where a batch of perishables was to be shipped by a vendor. However, due to adverse weather conditions, the shipper diverted to an alternative port and decided to sell the perishables to minimise the damages. Unaware of this, the clients had already taken orders from end-users of those perishable goods.

In determining who should be responsible for the loss in such cases, the contract of sales would be a key consideration before a court, Mr Shu noted.

He cautioned that the giving of gifts between buyers and sellers may impact on the contract because of the transfer of interests. He suggested that by providing nominal "consideration", namely any amount of money, in exchange for a gift, the element of consideration would then be included to complete a legally binding contract.

While it is usually a legal adviser's job to work on sales contracts, merchandising professionals should also be aware of the general issues involved, he stressed.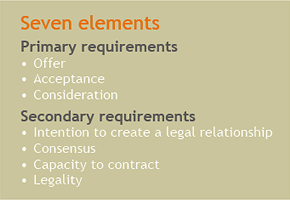 "Sales terms must serve to protect both parties' interests," Mr Shu noted, adding that whether the parties accept the contract details ultimately depends on factors such as the scale and scope of the project and value creation.

Worst case scenario

Even once contracts are sealed and operations appear to proceed smoothly, there can be unpredictable changes in business and mistakes, leading to product recall.

"This is the worst, but often inevitable, scenario in the manufacturing industry," said David Lee, vice-chairman, IPSHK. Mr Lee said that recall can seriously damage brand image and customer satisfaction levels. It can happen anywhere in the world on any brand, not only in developing countries where cheaper products are manufactured.
David Lee
vice-chairman
the Institute of Purchasing & Supply of Hong Kong
According to the latest McKinsey survey, about 60 per cent of companies are choosing to outsource production units to reduce operating costs, but some are not paying close enough attention to the quality of the output, he pointed out.

A number of root problems can lead to product recall, he stressed. Often, a product's long, complicated specification document is not understood by all parties, with staff on different levels approving papers mechanically without finding out what these entail.

Even where all parties understand the specifications, communication between clients and vendors is another challenge. Messages can be delivered to the wrong person, resulting in incorrect action. This can be exacerbated by language and cultural differences, particularly where manufacturing units and clients are in different parts of the world.

"Whether they are in New York or Beijing, even the best suppliers experience problems. It is impossible to achieve zero deficiency, or it is achievable only at an unjustifiable cost," said Mr Lee.

However, there are actions that can help avoid product recalls. Firstly, vendors should provide clear product specifications. This is the first step in detailing what the product is about and setting out every part of the production process.

Secondly, companies should regularly meet with their suppliers, or even subcontractors, and conduct site visits to get insights into the production processes and management.

Thirdly, since there is such a huge amount of information to exchange, clients should filter through only the necessary information. When design and specifications are put on paper for approval, purchasing executives and decision makers should not blindly endorse them, but peruse them carefully.

It is crucial that companies and vendors maintain a close and healthy relationship. The two parties often tend to fight for the best margins and lowest costs, but this can damage the quality of communication between them. It is therefore at some point worth considering taking less or giving more, so that both parties can work together to satisfy the end customers.

"If a vendor is working below budget and compelled to compromise on production quality so that you can enjoy a greater profit margin, this will ultimately affect you," Mr Chan added.

By embracing the idea that the company and vendor form a team, both parties, as well as the customers, ultimately benefit, he concluded.

The outsourcing process
Before contract commencement
Appoint project manager
Form working teams
Hold preparation meetings
Make operation transition arrangements
Set milestones
Obtain progress updates
After contract commencement
Schedule review meetings
Update processes
Have regular operations meetings
Review KPI performance
Suggest improvements and solutions
Ensure supervision

Taken from Career Times 04 September 2009, p. B10

讚好 CTgoodjobs 專頁,獲取更多求職資訊!