Financial Planning / Wealth Management
Dedication pays dividends
Alfred Sit (left) receives award from Arthur Yuen, deputy chief executive
Hong Kong Monetary Authority
Photo: Wallace Chan
Young wealth management manager sees the bigger picture, Charles Mak reveals

With less than three years of financial planning experience under his belt, Alfred Sit, an HSBC wealth management manager, already exudes the confidence and poise exhibited typically by his senior counterparts. His professional demeanour impressed the team of savvy adjudicators during the nerve-wracking third-round presentation session in the annual Hong Kong Institute of Bankers Outstanding Financial Management Planner Awards, and at the awards presentation ceremony last Friday he took home a well-deserved best presentation award and the grand award in the group A category among planners in a similar capacity.

Double accolades

A young professional who has always welcomed a fresh challenge, Mr Sit states that the entire experience lured him away from his comfort zone and broadened his professional horizons. "It was a major confidence boost to be nominated by the bank, let alone winning two awards in one go," he remarks.

Hard work and diligence reap rich rewards but Mr Sit emphasises that his achievement in the HKIB Awards in particular was the finest example of teamwork. "The three-pronged assessment involved planning for succession and China tax issues," he recalls. "I was able to leverage the expertise off of my senior colleagues from respective HSBC divisions."

He is grateful for his family and work colleagues' support and encouragement, which helped him to ease the intensity of the competition. Previous award winners from the bank also lent a helping hand. "Aside from this, I've learnt a great deal from the interaction with members of the judging panel in the final-round presentation session. They were in the best position to scrutinise my performance," he adds. "Their input was invaluable."

The past six months was tough, he concedes, but during this time he had ample chance to polish his skills and build up a larger knowledge repertoire. "The awards essentially tell me that I'm doing something worthwhile and that I'm worthy of praise," he reflects. "They also stand testimony of HSBC's business practice, ethos and service philosophy."


Andy Hon
head of retail distribution
HSBC Hong Kong
Photo: Edde Ngan
Insight and intelligence

Increased competition in the financial planning industry requires of practitioners flair and finesses alongside technical knowledge. "A truly competent planner must be prepared to exercise these and take into consideration a customer's financial aspirations, preferences and objectives," notes Andy Hon, head of retail distribution, HSBC Hong Kong. "A quality frame of mind and good time management are also indispensable."

A preferred employer in Hong Kong, HSBC has in recent months stepped up human resources to fill frontline positions including premier relationship managers, wealth management managers, financial services officers and general banking officers. Mr Hon says however that getting the right people onboard is only the very first step towards achieving talent sustainability in the long run. As such, the bank puts a premium on staff training and development. "Even the best and brightest talent need a solid foundation," he stresses. "It is our aim to provide this."

Mr Hon says in praise of the extraordinary performance that Mr Sit gave in the final presentation session, pointing out specifically that he was able to showcase a thorough understanding of the fast-paced financial planning industry and the significant values of trusting and respectful relations; and explain how this constitutes a long-term client-planner partnership. "A piece of good advice is one that is substantially supported and well articulated," he remarks.

"An essential part of a financial planning job is to ensure customer interaction," he reiterates. "Trust and respect are often key in his regards, and as an employer, we make sure that our people are guided by good ethics and professional responsibility."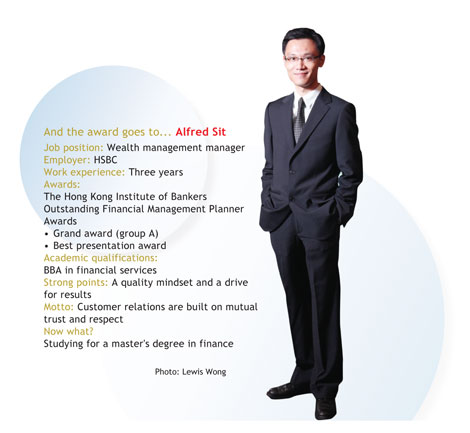 Taken from Career Times 5 November 2010, A5

讚好 CTgoodjobs 專頁,獲取更多求職資訊!