MT Opportunities
Developing an appetite for success
by Grace Chan
Catering household name develops young talent



With a business portfolio of more than 70 brands and a staff complement in excess of 14,000, leading catering conglomerate Maxim's Group regards its workforce as key to its success.

In order to boost business sustainability, the group this year launched its first management trainee (MT) programme, aimed at grooming a new generation of talent to take the business to the next level. Following a stringent selection process, a batch of six graduates was admitted to the programme in July.

The intake corresponds with different business units' human resources needs and their pace of development, says Molly Lam, division manager, cakes & bakery, Maxim's Caterers Ltd, who also leads the MT programme.

This year, the group recruits for its various brands as well as supporting departments such as group human resources, IT and finance.

The group's extensive and diverse business portfolio promises talented young newcomers a bright career path. "We want our trainees to grow with us—not only for a year or two, but in the long term." notes Ms Lam. "People with a genuine interest in the field will find ample development opportunity with us."

The intensive training schedule will equip MTs with the essential skills and knowledge via a series of placement exercises at the group's different business units and supporting departments, preparing them for middle management positions once they have completed the programme, in accordance with the group's long-term people development principles, she adds.

Management commitment

Maxim's top management aims to devise an ongoing leadership development plan for MTs. In order to facilitate this, a steering committee headed by the group's chairman and managing director, in conjunction with the general managers from different divisions, meet regularly with the trainees to check on their progress and get their feedback.

The trainees are placed on customised, individual development programmes to stretch their potential and help them meet their career aspirations.

The group realises that young graduates look at not only career prospects, but also work-life balance, when they consider prospective employers.

"We expose our MTs to a range of learning opportunities and encourage them to participate in our corporate social responsibility initiatives such as community services," says Ms Lam.

Given the enormous resources invested in the trainees' development, the group has high expectations of them. "Apart from business acumen, they must demonstrate a passion for people and service, as well a strong commitment to the industry. Plus, they should be good team players. A passion for good food is an added advantage," Ms Lam points out.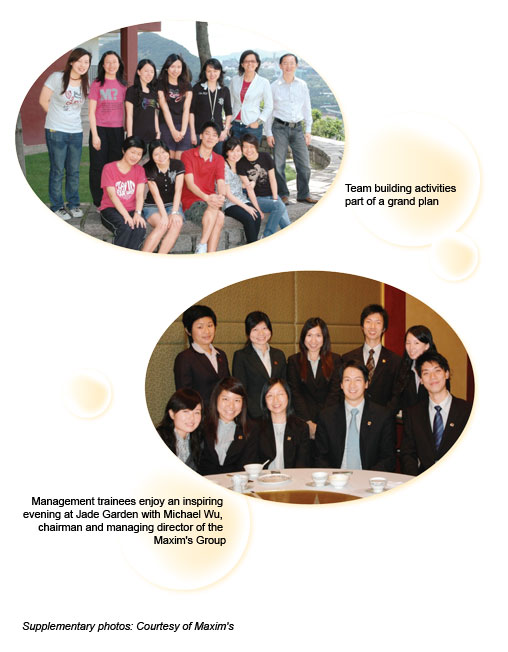 Comprehensive training

The one-year training begins with a two-week business assimilation programme, incorporating classroom lectures and team-building exercises, followed by two to three attachments where trainees learn the ropes in frontline positions as well as in supporting roles in specific business units.

"Rotating every three to four months from a frontline servicing role to a middle management position gives trainees a comprehensive view of a business unit's operation," says Ms Lam.

Supervisors act as coaches to assist trainees on a daily basis. She notes, "Other division mangers are appointed as mentors, who facilitate fast-track development and initiate regular discussions and casual meetings with MTs."

The diversity of the group's business portfolio gives these young talent a solid platform to develop their aspirations and confirm the areas of interest. "If trainees find that they are interested in another business unit, lateral moves are possible. There is room for vertical advancement even within business units," says Ms Lam.

Growth opportunities

The catering industry is physically demanding because of long working hours and its service oriented nature. Recruits must therefore have a real passion for the field and enjoy interacting with people in order to advance, says Ms Lam, who joined Maxim's Group a decade ago and has made several lateral career moves within the organisation.

In her pervious roles managing Starbucks coffee shops, Japanese conveyer-belt restaurant chain Genki Sushi and Maxim's Cakes, she gained a wealth of skills and knowledge in operations as well as in supporting divisions.

"I consider myself lucky to have been able to gain the kind of extensive exposure to various catering business models within one company that is rarely possible within a single organisation," she points out. "My job requires me to dine frequently at different outlets—it's a good thing that I love eating and cooking."

Ms Lam notes that some job candidates bring in their recipe collections to interviews, while others show photographs of their own cooking. "Some applicants have been really impressive," she says.

It is important to recruit people who will fit into the group culture and Maxim's requires short-listed candidates for the MT programme to complete an aptitude test before their final meeting with the general manager.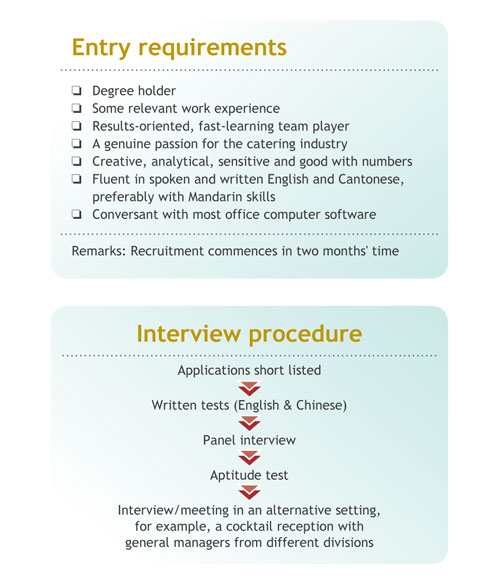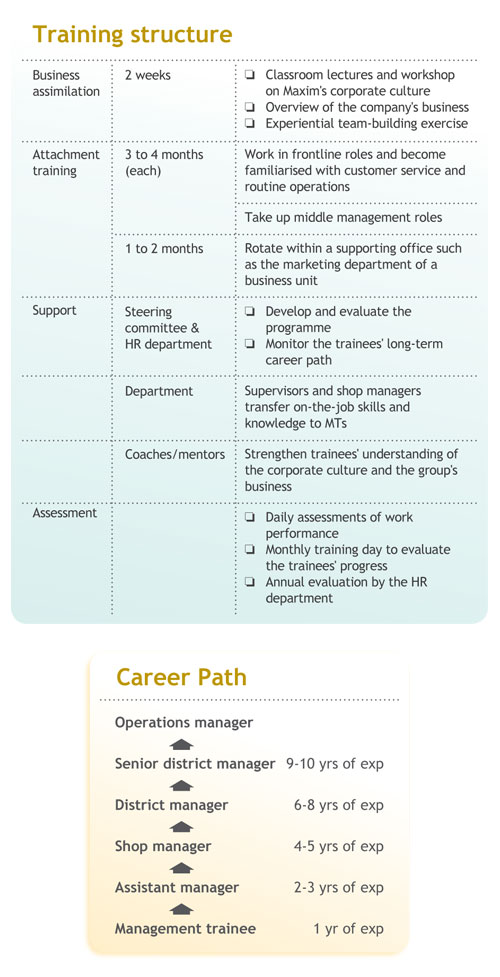 Taken from Career Times 5 February 2010, B16

讚好 CTgoodjobs 專頁,獲取更多求職資訊!