Corporate Banking
Early exposure
by Wendy Shair
Shengman Zhang (middle), Citi Country Officer, Hong Kong, with Eric Chang (right), Acting Dean, Faculty of Business and Economics, and Tsui Lap-chee, Vice-chancellor, The University of Hong Kong
Photos: Wallace Chan
Banking immersion programme gives university students real life experiences

Smart university students nowadays tend to acquire practical work experiences during their studies in order to get a head start in their careers. A banking programme offered by Citibank in conjunction with The University of Hong Kong (HKU) offers exactly this.

First launched in 2004, The University of Hong Kong—Citibank University Banking Course is offered to selected second- and third-year undergraduates from the HKU's Faculty of Business and Economics.

Funded by the Citibank Foundation, the four-month programme, which kicked off earlier this month, aims at giving students the fundamentals of finance and banking, and providing a comprehensive overview of modern banking operations and practices through nearly 30 hours of classroom lectures, a visit to a Citibank branch, a mid-term test and a final presentation.

In order to make it an interesting and inspiring experience, the programme incorporates interactive sessions with seasoned Citibankers who offer participants an invaluable opportunity to gain insights into the highly competitive banking world.

Inaugurated in Taiwan in 1998, the Citibank University Banking Course now covers major Asia Pacific cities in mainland China, Indonesia, Korea, Malaysia, Singapore and the Philippines. "The programme demonstrates Citibank's long-term commitment to enhancing the financial capability of these young individuals by providing them with access to financial knowledge," notes Shengman Zhang, Citi Country Officer, Hong Kong. "Through this, we also underscore the importance of financial management and hope to see that young people in Hong Kong become financially responsible early in their life."

Rigorous selection

A popular learning experience, the programme attracts a great number of applicants who are required to sit a written test and take part in a group interview.

Kathy Cheung, Country Corporate Affairs Director, Citi Hong Kong, remarks: "These students have a strong interest in the banking sector and they demonstrated this throughout the selection process."

She adds: "The banking industry is moving quickly and by enrolling in the programme, students are able to learn how the current banking system works and how new regulatory systems impact the banking sector. This knowledge will stand them in good stead when they enter into employment later."

However, those selected to the programme must be prepared for the intensity of the learning process which comprises modules such as consumer banking, investment banking, treasury cycle, risk management, investment products and advisory services, commercial banking, insurance, cards business, unsecured lending, secured lending, sales acquisition, branch operations, compliance and control, as well as bank marketing and branding. "Another key focus is to impact skills and knowledge in managing personal finance," Ms Cheung explains. "Other topics may include economic empowerment and financial asset building."

Practical experience

According to Mr Zhang, the uniqueness of the programme lies in the powerful combination of the bank's diverse business portfolio and financial expertise. "This year we included a new module on corporate social responsibility, reflecting the rising awareness of social and environmental issues, especially among young people," he says.

He explains that a series of lectures will give students a better understanding of how Citi balances its business development with that of the community and the environment. "In so doing, we equip our future banking leaders with the knowledge to sustain Hong Kong's position in global banking and finance," Mr Zhang says.

Tsui Lap-chee, Vice-chancellor of the HKU says a key strength of the programme is its capacity to nurture future business leaders by imparting both theoretical knowledge as well as practical problem-solving skills. "The programme provides a unique opportunity for our students to acquire a sound grasp of modern banking operations and knowledge of essential banking practices at source," Professor Tsui emphasises.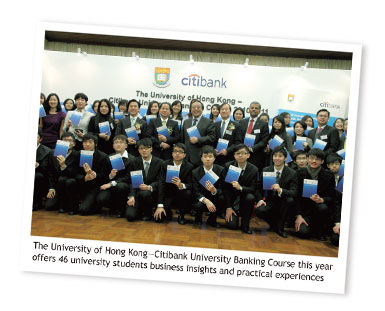 The bigger picture
Intensive banking programme covers myriad banking disciplines
Undergraduates gain career head start via business-academia collaboration
Learning programme sheds light on corporate social responsibility issues
Participants learn to become financially responsible early on
Taken from Career Times 18 February 2011, A5
讚好 CTgoodjobs 專頁,獲取更多求職資訊!