Education
Equipping managers for three key sectors
by Ada Ng
(left to right) Theresa Lau, programme director (human resource management)
Geoffrey Lieu, programme director (health services management)
Carlos Lo, programme director (public sector management)
Master of Science in Management
The Hong Kong Polytechnic University
Photo: Edde Ngan
Focused master's programmes harness specialist skills in general management

As the business environment becomes more complex and consumer demand for improved quality and service grows, company managers face increasing challenges in terms of accountability, knowledge and skills. Consequently, there is a definite need for educational programmes addressing specialised management requirements.

The Hong Kong Polytechnic University's Graduate School of Business offers three master of science in management degree programmes, focusing on helping health services, human resources and public sector professionals develop the necessary expertise to handle their particular roles and enhance their career prospects.

Specialised skills

Modern managers need to monitor the working environment in order to get the best results, says Theresa Lau, programme director, MSc in management (human resource management).

HR managers' tasks extend way beyond manpower planning and training. "The job requires them to take on a strategic role to develop employment and staff retention strategies in line with departmental and corporate policies," Dr Lau notes.

The MSc programme therefore provides focused professional and academic training that allows students to develop the ability to contribute effectively in a cross-functional organisational context.

"At the same time, it broadens students' management skills and opens up opportunities for them to advance their careers in areas other than human resources," Dr Lau emphasises.

Management practices in the public and non-profit sectors are also undergoing profound changes, points out Carlos Lo, programme director, MSc in management (public sector management). "Government bodies and statutory organisations are under pressure to streamline their operation models, improve their services and respond to public grievances and business interests," Professor Lo notes. "Orthodox methods following rigid rules are no longer appropriated in the public sector."

Considering the complex stakeholder relationships in the government service, the public sector management programme examines different international practices and evaluates how they fit into the Hong Kong and mainland China scenarios.

"Our students ultimately learn to develop problem solving skills and techniques essential to managing the expectations of different parties and to improve public service," says Professor Lo.

Many healthcare professionals in mid-level or senior positions lack the proper people influencing and decision making skills that are important to lead an organisation, adds Geoffrey Lieu, programme director, MSc in management (health services management).

"The health service management programme gives practitioners the knowledge to understand the different functional aspects of healthcare management, including leadership and people management, quality service delivery and managing resources and policy changes," says Dr Lieu.

Feedback from students indicates that the programme has helped them to broaden their career prospects and equipped them with practical knowledge and skills. "They also find the problem solving training helpful in their work. Some graduates are continuing their studies, pursuing doctorates to research and develop innovative solutions for their specific practice areas," Dr Lieu adds.

Hands-on training

The three MSc programmes have five general management foundation subjects in common, covering essential knowledge on aspects of accounting, customer management, diversity, change and international business.

A case-study approach ensures that students learn through practical, real-life examples, which they can then use to contextualise theoretical concepts, says Professor Lo.

Dr Lieu explains that students have an average of seven years' work experience. They exchange ideas and experiences through classroom discussions and project-based activities. "This often gives them the necessary insight into developing new solutions at their own workplaces."

Students need to complete three core subjects relevant to their particular professional interest or practice area. Those in the HR programme, for example, are required to interview key executives within a particular company, identify an issue related to human resources within the firm and then develop a strategic solution and plan for the organisation.

The university also arranges visits to multinational companies for students to broaden their scope and gain understanding of different HR practices.

Meanwhile, students in the health services stream were given the opportunity to work directly with hospitals and other healthcare related organisations to establish development plans for new facilities and healthcare services, points out Dr Lieu.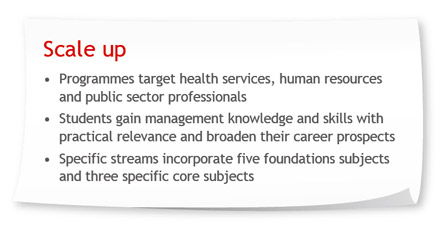 Taken from Career Times 26 February 2010, A7

讚好 CTgoodjobs 專頁,獲取更多求職資訊!