Self-enhancement
Everyone can be a leader
by Grace Chan
Companies who encourage employees to develop their inner power ultimately get the better of adversity
Robin Sharma, CEO
Sharma Leadership International Inc Photo: Courtesy of Sharma Leadership International Inc
In times of economic stress, companies that inspire their staff to lead and perform will see new opportunities for moving forward. This is the teaching of personal development expert and author Robin Sharma.
Chief executive officer of global training firm Sharma Leadership International Inc and an expert on leadership and personal success, Mr Sharma has shared advice on leadership, change management and high performance with many senior executives of Fortune 500 companies and other international organisations, including Microsoft, FedEx, Oracle, IBM and Nike. He is also the author of highly acclaimed management books such as The Greatest Guide series and The Monk Who Sold His Ferrari.
"New times call for new and better leadership models," says Mr Sharma, whose key message to organisations in a changing world is to "lead without title".
This particular leadership framework allows for companies to focus on training and developing leaders at all levels, inspiring individual staff members to demonstrate their own leadership potential. "This will result in innovation and greater productivity," Mr Sharma says.
Take ownership
"Every person can be the CEO in his or her own role. For example, frontline sales staff can become 'CEOs' of the division or business they're responsible for. This enables them to assume job ownership and foster a sense of freedom to control their own careers," says Mr Sharma.
The responsibility for running the company remains in the CEO or MD's hands.
"The best employees do not necessary have big egos, but they're usually proud to do great work. The role of great leaders is to help their staff to realise their own potential, driving them to do their best and work towards excellence," Mr Sharma notes.
He remarks that Microsoft and Oracle are two such organisations that have adopted the "lead without title" model, where every member of staff works to contribute to the success of the organisation.
"Employees are given opportunities to work for excellence, rather than just for products or services," Mr Sharman adds. "The management has created a pleasant workplace where employees feel that they are part of the dream."
In short, the new change model aims to lead both employees and the organisation towards transformation while changing people's behaviour, often resulting in great ideas — a key role in success.
Leadership roles
Contrary to the old leadership model, this change in leadership style is an ongoing process, and so are the training and development for staff to explore their inner leadership.
"All of us are born with natural leadership potential. As long as this is explored and unleashed, every one of us can make a difference by doing better than yesterday and working in an innovative way," Mr Sharma says. "In other words, they learn to focus on opportunities rather than problems and to raise their total work standards."
He further notes that: "Average operations generally lead to average companies, which are usually too busy reacting to problems than to respond to opportunities." He reminds leaders of organisations not to be busy merely for the sake of being busy.
"While you're seemingly busy all day replying to emails or having meetings, you must ask yourself what you've achieved or what results have been generated. Otherwise, you're wasting so much time being busy for nothing," he adds.
In times of adversity, people often tend to think negatively and dwell on frightening business scenarios. Mr Sharma cautions that negative thinking can be contagious while optimistic people tend to spread positive energy.
He adds that successful companies always spend additional resources on research and development, as well as staff training.
"The best leaders focus on looking for new opportunities and adding more value for their stakeholders like customers and employees, while preparing to grow their market share as the economy recovers," he expands.
It is easy to demonstrate good leadership during times of economic boom, but most companies panic when times get tough. However, those who pursue new challenges with enthusiasm eventually emerge as the most successful.
Inner strengths
When it comes to developing inner leadership in difficult times, Mr Sharma believes it is most important to be strong and remain optimistic.
"Reflect on events instead of just reacting to them," he advises. "Competent leaders also have the ability to pull back from noise and think."
His magic formula for turning everyone into a better inner leader is through introspection. "Spend time at least once a week thinking about how you can achieve excellence in your work or communicate more effectively," he says. "As our awareness grows, we can ultimately cultivate and demonstrate our inner leadership."
Mr Sharma also believes it is a good idea to wake up earlier in the morning. "Take 60 minutes to develop yourself, either reading inspirational business books or exercising," he suggests. "Both activities boosts energy levels, helping you to think clearly so that you can set the goals you want to achieve."
Exploring and developing all employees' inner leadership are ways to create their source of happiness and motivation at work, Mr Sharma emphasises.
"When an employee is full of doubt, or lacks confidence, he can easily overlook new market opportunities. Also, if staff members are constantly stressed and angry, they can pass this 'toxicity' to their customers and ruin the company's business," he explains.
By making use of his "lead without title" model, every company and employee can learn to turn adversity into opportunity.
How to achieve nothing?
Fixated on communications such as replying to emails that achieve little
Spending hours in meetings with no results
Only thinking of ways to survive
Being trapped in a panicky and stressed state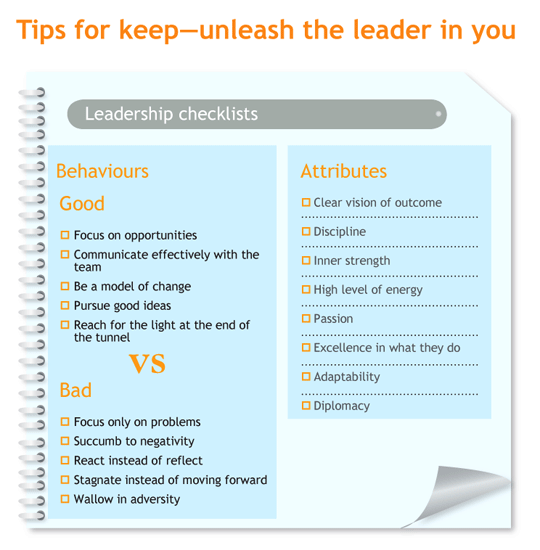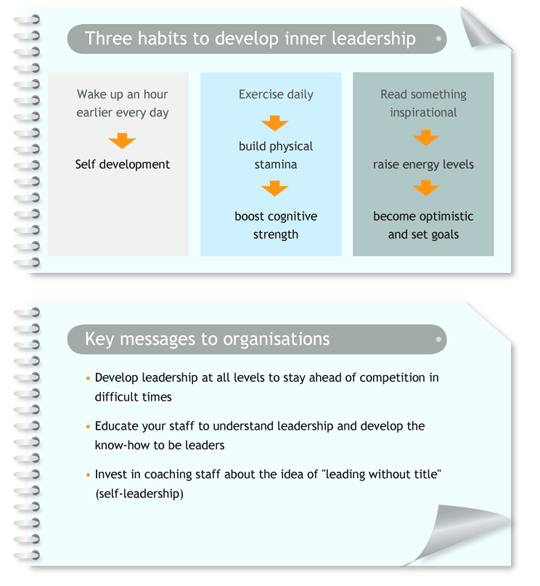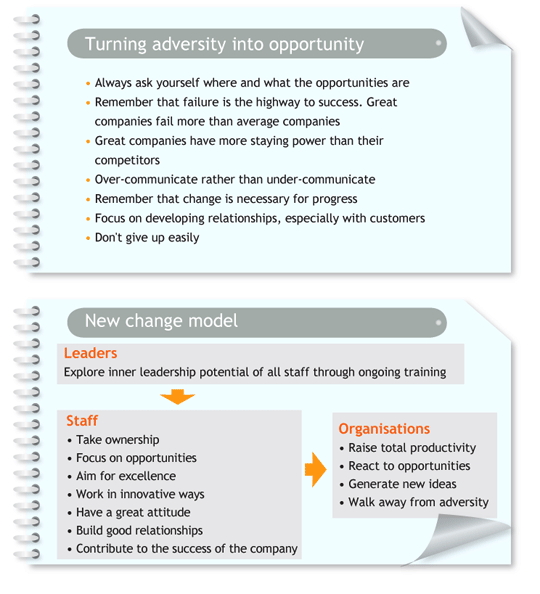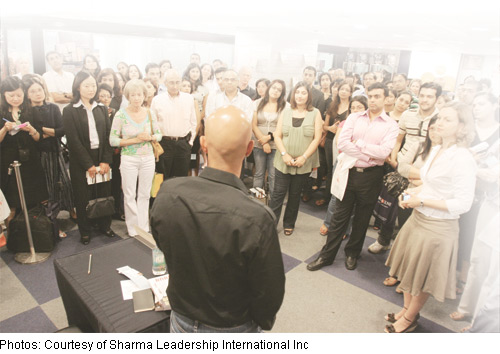 Taken from Career Times 08 May 2009, p. B11

讚好 CTgoodjobs 專頁,獲取更多求職資訊!