Self-enhancement
Fighting dryness throughout the year

This is the final article in a four-part series on beauty tips for office ladies

Dry skin is not only a problem in winter — it can also affect a person's looks and self-esteem in summer. In winter, cold winds, low temperatures and low humidity contribute to dry skin, which can make fine lines more visible and have an ageing effect. In summer, air-conditioning, exposure to sunlight and a polluted environment all draw water from the skin.
About 70 per cent of the body's fat-free mass is made up of water, and it is important to be well hydrated in order for all internal organs to work properly. To remain hydrated and in optimum health, experts recommend drinking at least eight glasses of water a day.
The skin is the body's biggest organ and it can lose up to a litre of water a day. While this may be obvious during the hot and humid Hong Kong summer when the body loses fluid easily through perspiration, it should also be maintained at other times of the year.
In other words, it is important to be aware of the importance of hydration throughout the year and to combat skin dehydration on a daily basis.
Whole-body hydration tips
Skin performs at its best when the stratum corneum, or outer layer of the epidermis, which is made up of dead, and flat skin cells, is well hydrated and balanced. If the skin surface is strong and healthy, it allows better absorption of soothing creams applied to the skin.
Here are some tips for keeping skin and hair hydrated: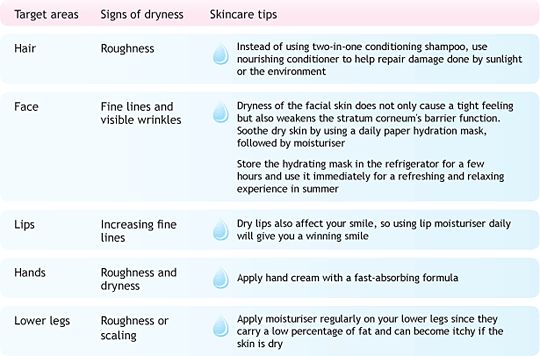 Contributed by Christabel Cheng, professional marketing & public relations manager marketing department, Johnson & Johnson Consumer Hong Kong
Email: ccheng6@jnjhk.jnj.com

Taken from Career Times 15 August 2008, p. B15

讚好 CTgoodjobs 專頁,獲取更多求職資訊!