Financial Planning / Wealth Management
Financial specialist scoops elite accolade
Eric Lok (left) receives grand award from Chan Ka-keung (right) Secretary for Financial Services and the Treasury
Photo: Wallace Chan
Good team spirit is a determining factor to success, Charles Mak finds out

Budding investment consultant Eric Lok from CITIC Bank International Limited came up trumps in this year's Hong Kong Institute of Bankers Outstanding Financial Management Planner Awards. Proud winner in the group B category over his fellow candidates boasting more than three years' experience in serving general wealth management customers, Mr Lok's success is attributable to his own endeavour, good team spirit, as well as the bank's dedication and commitment to talent development.

Savoir faire
A humble soul endowed with the best qualities and virtues of a professional financial planning practitioner, Mr Lok attributes his success primarily to team excellence. "I received a wealth of support from my colleagues and supervisors, and the six-month assessment process is akin to that of a real-life one, only more intense," he notes. "I feel very privileged for the opportunity to represent the bank in this highly-regarded event and subsequently won over my counterparts."

Participation in the competition has also expanded his capacity to understand and appreciate the skills and expertise of his colleagues. "I owe this achievement to their insightful suggestions to the financial plans and the final presentation," he underscores.

On a different note, Mr Lok believes the HKIB event indisputably confirms the important role that Hong Kong's financial planning industry plays. "There's certainly room for further growth," he reckons. "The majority of Hong Kong people hasn't yet get to grips with the concept and I'm only too happy at the prospect of staying at the forefront of development."

A soft approach to customer service helps him to gain trust in a client relation and this gives him a real edge. "The bulk of information that a customer has to digest can be overwhelming so I focus on facilitating the thinking process," he explains. "A seemingly straightforward financial plan can have various implications and each of these can have an impact in the long run so it's important that my customers have a clear understanding of all items contained in a portfolio."

Respect and communication make a real difference, Mr Lok reflects. "Financial planning is not just a sales job," he states. "The HKIB competition substantiates our role in society and it is an excellent benchmarking exercise and I've leant a great deal from the experience."

Felix Lau
executive vice president & head of sales and distribution, retail banking group
CITIC Bank International Limited
Photo: Raymond Yick
Green pastures
Quality rules the roost in the financial planning sector, says Felix Lau, executive vice president & head of sales and distribution, retail banking group, CITIC Bank International Limited.

"It benefits both sides of the employment equation," Mr Lau emphasises. "Banking institutions want staff who deliver quality. People of high calibre, in turn, look for nutrient-rich soil for their careers to root and grow. It's all relative."

Company support is key to long-term career. He points out that a responsible employer must allocate resources and invest in staff development, which is part and parcel of corporate health.

Mr Lok is obviously one who benefits from the bank's core value of "building people, building team". Mr Lau observes, "Eric is a resourceful person who displays such strengths as professionalism, positive attitude and a keen customer focus. He is also a well-liked individual who is able to build good rapport with his colleagues and create synergy within the team."

He stresses that Mr Lok's performance in the HKIB competition deserves a round of applause. "Participation in the event helps promote public awareness of the industry," Mr Lau says. "Educating the public about financial planning is part of a planner's responsibility."

Enhanced professionalism will continue to reshape Hong Kong's financial planning industry. "Product innovation and strategic talent development can maintain the upward momentum and sustain Hong Kong's hard-earned position as a world-class financial hub," he believes.

Hong Kong's proximity to mainland China has led to a strong demand for professional financial planning services. Positioned to become the "China Bank of Choice", Mr Lau reveals that CITIC Bank prioritises talent development as part of its agenda: "We aim to step up training and sharpen our insights into the Chinese economy." The bank has this year opened three new branches and another three will complement its expanding network in 2011.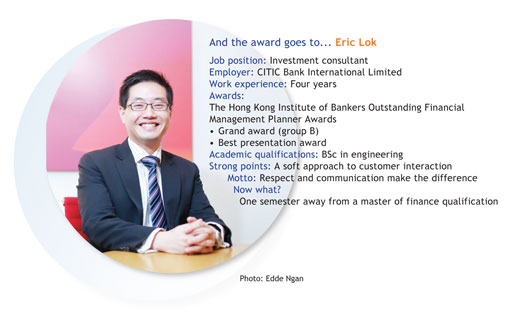 Taken from Career Times 5 November 2010, A9

讚好 CTgoodjobs 專頁,獲取更多求職資訊!